Gratitude turns what we have into enough, and more. It turns denial into acceptance, chaos into order, confusion into clarity… it makes sense of our past, brings peace for today, and creates a vision for tomorrow.

– Melody Beattie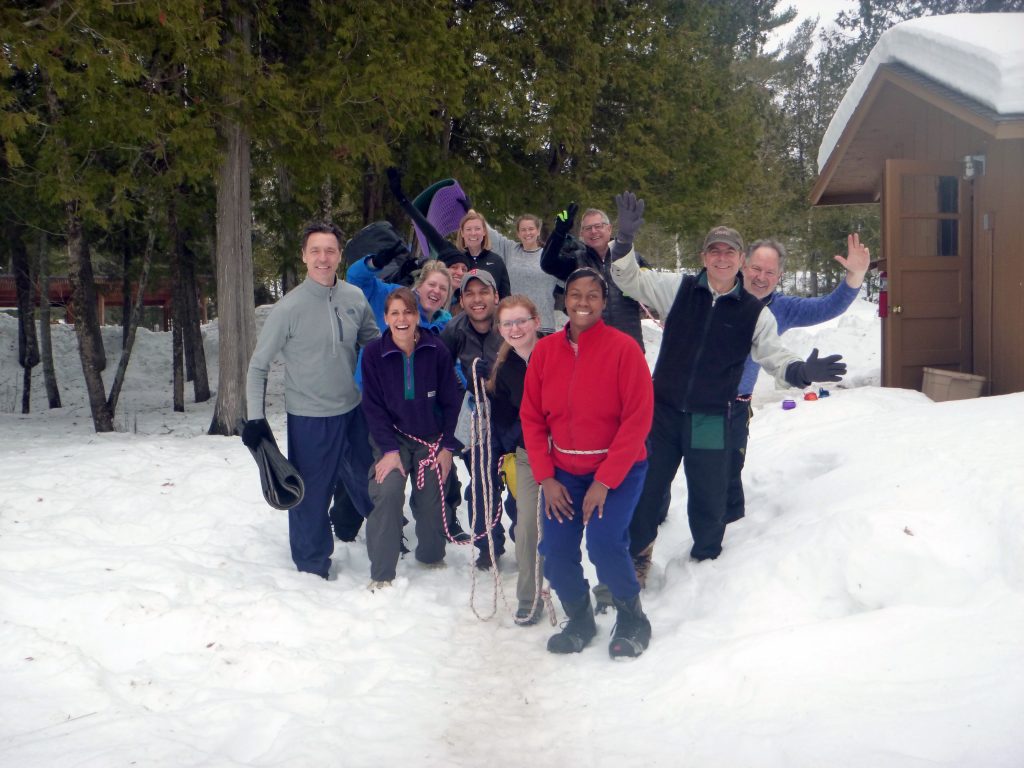 ---
Adrienne Jordan is a lot of things, but winter camper and dog lover do not make the list. Dog lover only because she's allergic to them but winter camper… because it's cold! However, one year ago last March she experienced both. I had the pleasure of talking to Adrienne about her VOBS dog sledding course and getting to know what leadership, partnership and gratitude mean to her today.
---
Monumental Moments
Q.) Where do you work? And what inspired you to pursue a career in this field?
A.) I currently work as a Strategic Planning Senior Consultant at The Prouty Project. I've had a pretty non-traditional career path. I started my career at General Mills both on the business and foundation side. I worked in the Minneapolis Public Schools on the superintendent's leadership team and then found myself working with the Minnesota Vikings and the Super Bowl Host Committee.
Prioritizing a healthy and fun workplace culture, led me to The Prouty Project (and Marcia Ballinger from Ballinger | Leafblad for making that connection!). In one of my positions before Prouty, I had a life "aha" moment when I found myself in a negative space. I had been trying really hard to change my current situation, when really, the situation was there for me to change, not vice versa. It's so important to listen to those inner voices that are helping you grow as a person.
Gratitude and Doing Good
Q.) What is the best advice you've ever received?
A.) "Trust God, and do good" – Joyce Meyer. My parents always modeled that. It gave me permission to be all about the experience. Trust that everything will work out, because it will. Focus on doing no harm and listening to that inner voice.
Q.) What is the best advice you've ever given?
A.) "Let go of expectations and pick up gratitude." Whatever is happening to you in life, is presenting itself so you can learn from it. If you shift to that mindset you can bloom in the experience. I am currently undergoing chemo treatments for breast cancer (my final dose was Feb. 19!). I am doing just fine and the tumor has dissolved! Next step is surgery in March and I'm on my way to healing!
Although this journey hasn't been easy, I'm trying to choose to experience all of this with joy, positivity and love. I definitely have bad days and I can sometimes get down about it; however, I have a community of friends, family and my coworkers at Prouty that are fighting this right along with me. I'm finding ways to pick up gratitude every step of the way.
Q.) What is your advice for future leaders?
A.) "Everything is going to be just fine." Right moves, or wrong moves, you will learn from it. It's that simple. I found myself tested by that advice going through cancer. As the saying goes, "life is lived forwards but understood backwards."
Q.) What is your favorite outdoor activity?
A.) After my switch to Prouty and going dog sledding with VOBS I started, going on spiritual walks. First just 15 minutes at a time but then up to two hours. I've been inspired to notice nature more and the importance of it.
Q.) Tell us about a person that changed your life for the better?
A.) My grandfather, my dad's dad. He was a marine, he had his Masters and for 30 years he worked two full time jobs. He was a Special Education teacher by day and worked for the Post Office at night. On top of all that, he prioritized family and education. He read three newspapers a day and always asked us what we thought. I grew up knowing the importance of family and excellence.
Lifting Up Leadership for Others
Q.) VOBS is thrilled to be partnering with you and your team on a new initiative this year. Can you tell us a bit more about Prouty i•will and how you are working with women in leadership?
Listening to your inner voice and addressing your whole self as a leader is the inspiration behind our new program Prouty i•will. I've had the pleasure of launching this program with 20 amazing, strong and connected women in our women's leadership cohort and my three partners at Prouty.
We're excited to be partnering with VOBS on this program as well! Together, we're bringing transformation and connection to women seeking to develop their best selves at work and at home they are supported by other inspiring professionals ready to name and embrace their "inner why."
Our second cohort for female leaders kicks off September 2020 and registration will soon be open. If you or someone you know is interested in participating in this transformational experience, please email your name, address and phone number to jayna.wallace@proutyproject.com. For more information visit www.proutyiwill.com.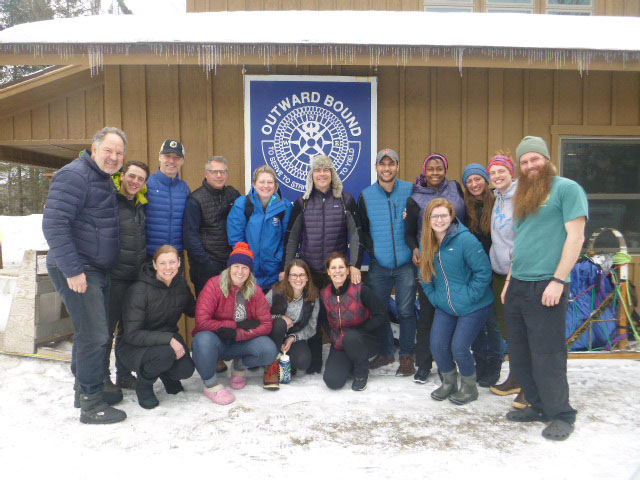 Team building
Q.) How did you first hear about Outward Bound?
A.) I heard about Outward Bound through VOBS Board Member and The Prouty Project President, Peter Bailey. I had heard about OB over the years but Peter made it an experience. He felt it was important for our team at Prouty to participate and learn on a course together, and it was.
Q.) Why did you want to go on course?
A.) Honestly… I didn't! The outdoors and camping (let alone winter camping!) was not a part of my life growing up. Dog sledding was not on my list of top ten things to do… I am not a fan of being cold, I'm allergic to dogs and I've never been camping; however, I opted in because I value taking time for team building. I went in with no expectations and because of that I grew – both through intellectual challenges and physical activity.
Learning in the Moment
Q.) What moment(s) from course do you think about the most?
A.) I love that we now have this shared experience as a team. We reminisce often in the office about our course experiences. We've grown closer and speak a new language together. While trying to hold it together on course, whether it was eating in the rain or pushing a 500 pound dog sled, I started using this phrase, "This is great! Just the way I like it!" At first it was this sarcastic way of trying to stay positive. Now, we use that phrase all the time in the office. It gets a laugh every time.
There was even this point at the end where here I am cross country skiing for the first time, and I'm falling about every five minutes. We have three miles to go and I'm feeling miserable. Even though the course was hard, I hit a point where I realized I needed to be done feeling sorry for myself. I wasn't living my best life. That last three mile ski was hard but I was met with support by my team and I got through it.
When I didn't take myself so seriously, all of those hard moments turned into joy. Like when Ruben , Mike and I were on the dog sled together and Mike and I fell off. Ruben was able to stay on and Mike was hanging several feet behind still holding on to the rope. That visual of Ruben's face looking back at Mike hanging on with all his might has the three of us cracking up all the time.
Finding Courage and Compassion
Q.) How did VOBS impact the way you live your life today?
A.) I notice nature all the time now and I'm a better facilitator. Going on a dog sledding course allowed me to be a student again and learn from the Instructors, when I'm so used to being the facilitator myself. It helped me reflect on how I could show up as a better teacher and leader. I have another level of empathy around challenge. As the founder of Outward Bound, Kurt Hahn, once stated, "It was wonderful sir, except at the time."
Q.) Our values are: Compassion, Integrity, Excellence, Inclusion and Safety. Which Outward Bound Value is your favorite and why?
A.) Compassion. On course and in my world today there is so much overwhelming support. Going through these cancer treatments and trying to continue to lead with love.
Q.) Why should people go on a VOBS course?
A.) It stretches you to grow and offers a new perspective.
Q.) Why do we NEED VOBS in this world?
A.) It gives a unique ability to offer both experience and insight. Outward Bound Instructors are expert facilitators who lead you on a journey as an individual and as a team. They're responsibly leading people to grow with love and care and a big push out of their comfort zone!
Q.) What is one word you would use to describe VOBS?
A.) In-Courage. The courage to show up and encourage others to show up too.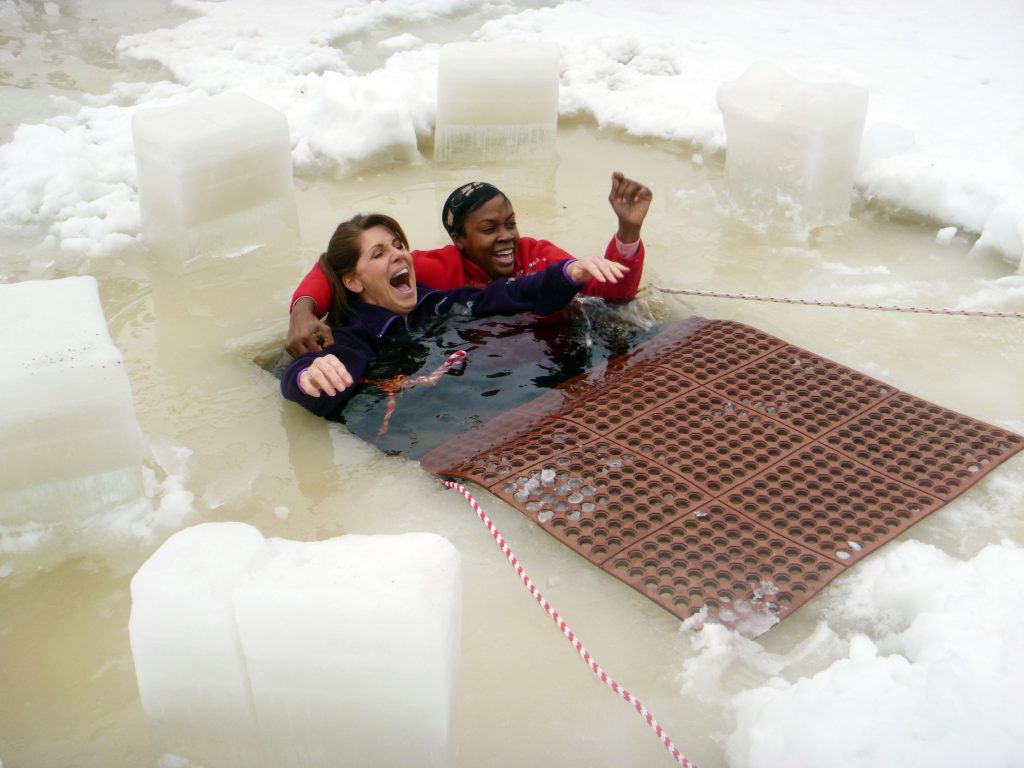 Giving or Going Outward Bound
If you would like to make Voyageur Outward Bound Programming possible for students that could not otherwise afford it, join our growing list of supporters. You can donate online with this link, send me an email or give me a call: (651) 401-0635.
If you would like to have your own VOBS experience, check out our list of Voyageur Outward Bound Courses here.
About the Author