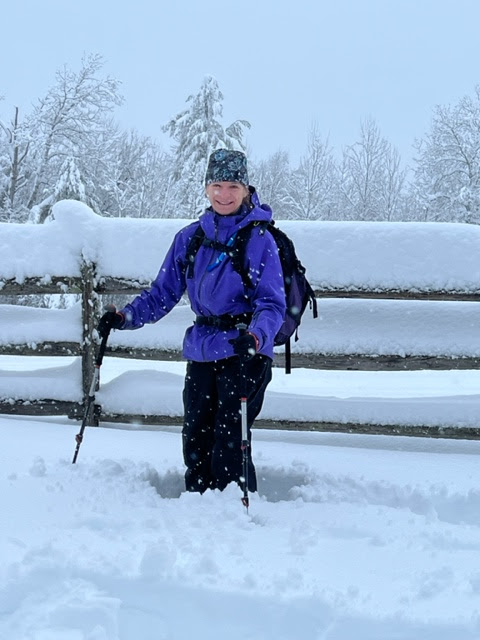 A registered nurse living in West Fairlee, Vermont, Bridget Brennan has a meaningful and enduring connection with Outward Bound. She worked for Outward Bound for 10 years, beginning in 1989 at the Voyageur Outward Bound School (VOBS) and later at North Carolina Outward Bound School (NCOBS). She was an instructor, course director, and finally the transport, logistics and intern coordinator at VOBS.
Bridget credits her time at Outward Bound as being the beginning of her appreciation for people's differences. She learned how to work with a variety of people and personalities, and also got to see participants learn to appreciate their peers' unique qualities. "Traveling in a wilderness setting can reveal talents and strengths that might otherwise stay hidden, and it was always exciting when a group learned to see each other differently by the end of the course," she said.
Bridget recalled that no matter how different they seemed from each other at the outset, students gained a sense of belonging during their wilderness expedition. She reflected that by the pinning ceremony (the culmination of an Outward Bound course), coursemates felt a sense of belonging in the group because they had each individually helped make the trip happen.
Years later, Minnesota's Boundary Waters still holds an important place in Bridget's heart and a love of the wilderness fostered during her Outward Bound days still remains a passion. "The BWCA lends itself really well to bringing groups out into the wilderness and getting to spend time away from towns and cities," she remarked. "It's an incredible place to drink water from the lakes and cook over an open fire." When she's not working, Bridget volunteers with a local land trust helping ensure that the protected land is being stewarded well.
Today, Bridget is no longer instructing courses, but she stays connected to VOBS as an annual donor. Having gained invaluable skills and perspective from her time at Outward Bound, she gives to VOBS because she has seen first hand how it provides high quality programs for participants. She wants people from different income brackets to be able to participate, so it's important to her that Outward Bound provides scholarships to enable people of all walks of life to get involved. Bridget has an emphatic personal appeal to others considering a philanthropic donation to VOBS: "If you're reading this, you now know me, and I encourage you to make a donation to Voyageur Outward Bound School."
About the Author