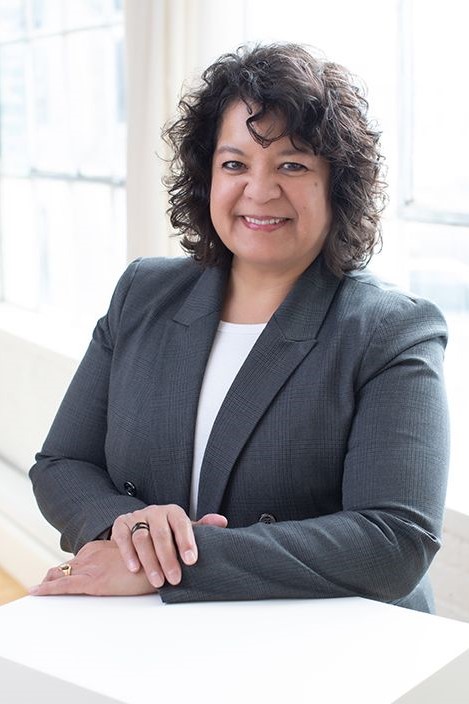 Greetings VOBS Friends,
Voyageur Outward Bound School has served women and girls in Minnesota since 1965.
Our leadership team is majority women. While we strive for greater racial diversity, over half of our field staff identify as female or non-binary. Today we have a scholarship to support female and non-binary students. This scholarship is named for Jean Replinger, a pioneer in the field of outdoor education and a champion of girls and women in the field for more than half a century. One of our five organizational values is inclusion, and our commitment to serving female-identifying students drives fundraising and program efforts as we pursue our mission to change lives through challenge and discovery. We offer Intercept and other leadership expedition programs for girls, and now we seek to forge partnerships with organizations that support women in leadership.
Partnership programs–the courses we build for schools, colleges, nonprofits and for-profits–are key to VOBS' strategy to serve more students, and more diverse students. Partnership programs allow us to grow deep and lasting relationships with community members and organizations; see my message about Open World Learning Community last week for a great example of partnership at VOBS. Through this work, we innovate to meet students at their starting point and lean into that organization's goals. From the achievement gap, to the glass ceiling, we program for potential. In the past year, our Director of Partnership, Marlais Brand, has worked with several vital Twin Cities organizations to begin serving women in leadership with Outward Bound programming. One of these organizations is the Business Women's Circle, led by founder and CEO, Lani Basa. This week, I've invited Marlais and Lani to share a bit about our evolving partnership, and to lift up Lani's pursuit of inclusion in our community.
---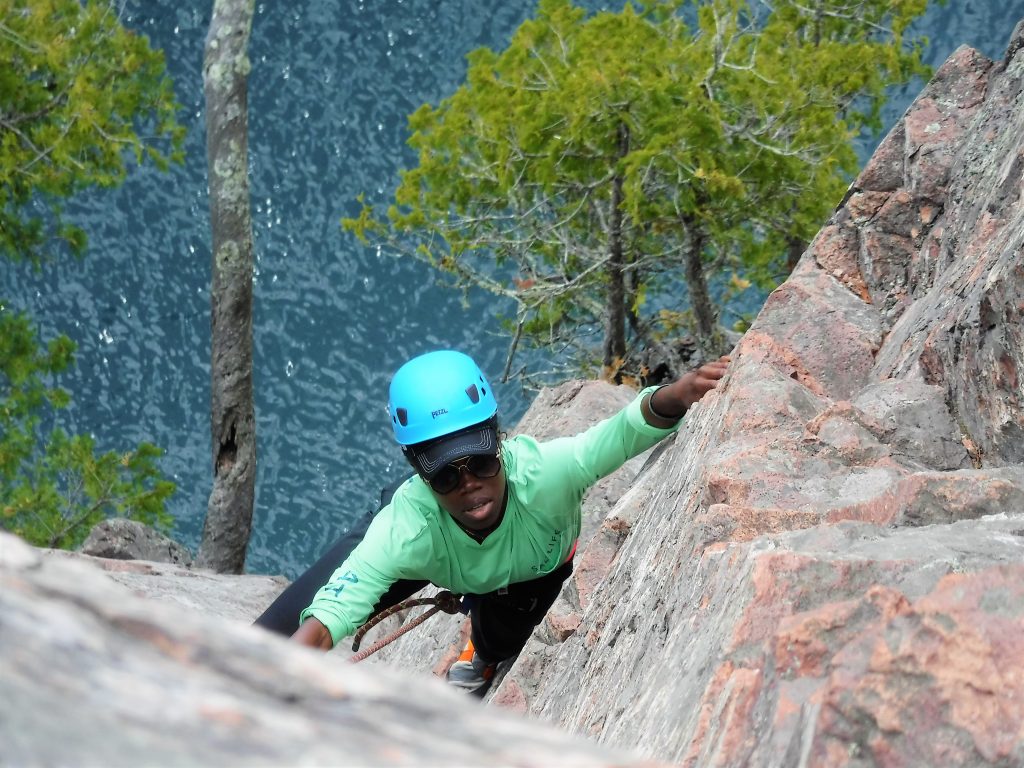 Courage Over Fear
What does it take to jump off a cliff?
Do you have to be fearless? Or do you have to be courageous?
Lani Basa was hoping to find out what it takes this year. Lani and eleven other female-identifying leaders were going to go Outward Bound and rappel down an actual cliff seventy feet above one of the largest lakes in the world. Then they were going to climb back up, and talk about it.
Lani isn't crazy about heights, and she's never done any rock climbing. So why the big risk? If you want to understand the difference between fear and courage, inviting discomfort with a dose of adrenaline might be a good way to go. Inviting calculated risk-taking with other people might be even better. And turning what some consider a traditional "bro" activity on its head and re-purposing it to learn about your own relationship to risk, as a woman, alongside a supportive peer group of women business leaders might be best.
Lani and I have been trying to figure out how to collaborate for the last two years. I'm a Business Women's Circle member, and Lani is the co-founder and owner of BWC. I Direct Partnership development at Voyageur Outward Bound School and Lani makes a habit of collaborating with community organizations to innovate for the women BWC serves. BWC is all about discovery and growth, and so is Outward Bound. Voyageur Outward Bound has been serving women and girls in Minnesota since 1965, and the BWC has been serving women in business in the Twin Cities for a decade. We both have a keen interest in supporting leadership development for female-identifying people, and both Outward Bound and BWC see vulnerability as a superpower.
Match made in heaven, right? Right. Until COVID-19, that is.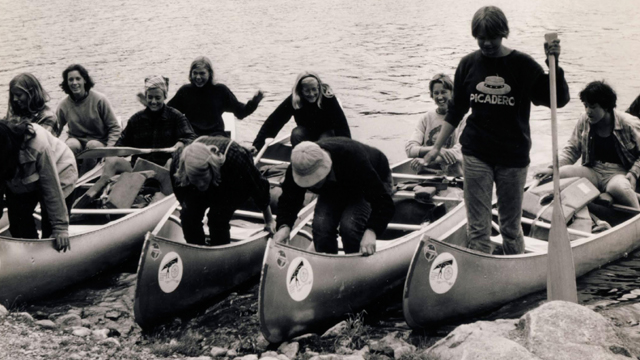 In early 2020, Lani was looking forward to the BWC's Annual Forum in July, and she was planning a "Year Of Courage Over Fear." That's right, courage over fear. So very Outward Bound, and it's like Lani was looking into a crystal ball and could see exactly what we'd all be trying to cope with come summer.
Outward Bound uses challenge and adventure for self-discovery, and that's just what we were going to do with BWC members in June– invite women to experience hands-on challenge and adventure to discover their relationship to courage and fear. It would be a big, fat experiential metaphor in the form of an epic rappel and climb above Lake Superior at Shovel Point. BWC members would have this experience, and then they could share it at the Forum. We had a date, and a plan, and were just about to launch the enrollment campaign with BWC membership when the world changed.
Coronavirus, like rock climbing, is a great experiential metaphor for courage and fear, but it isn't calculated and planned risk-taking, with training, helmets, harnesses and time-tested safety protocols. And rock climbing, as a learning experience, is a peak event, with finite opportunities to make decisions, and then it's over and you reflect. With COVID, there are a multitude of opportunities each and every day to choose courage over fear. COVID has turned mundane activities into life-or-death decisions, and all of these choices seem to hinge on our relationship to fear.
Should I go to the grocery store?
Should my kid go to school?
Should I eat at that restaurant?
Should I hug my mom?
And the stakes rise or fall depending on the situation:
Will I lose my job if I keep working from home?
Will someone die if I don't wear a mask?
Will I lose that promotion if I keep taking care of my kid?
Will I ever see my grandma again?
Will my business fail?
Will the economy collapse?
Will this ever end?
Most of our questions don't have clear answers. The dilemmas we face don't have easy solutions, but instead seem to demand a mindset.
Can you tolerate this much ambiguity?
Do you have the strength to get out of bed today?
Do you have the courage to make a decision in this moment, and in the next moment, and the next?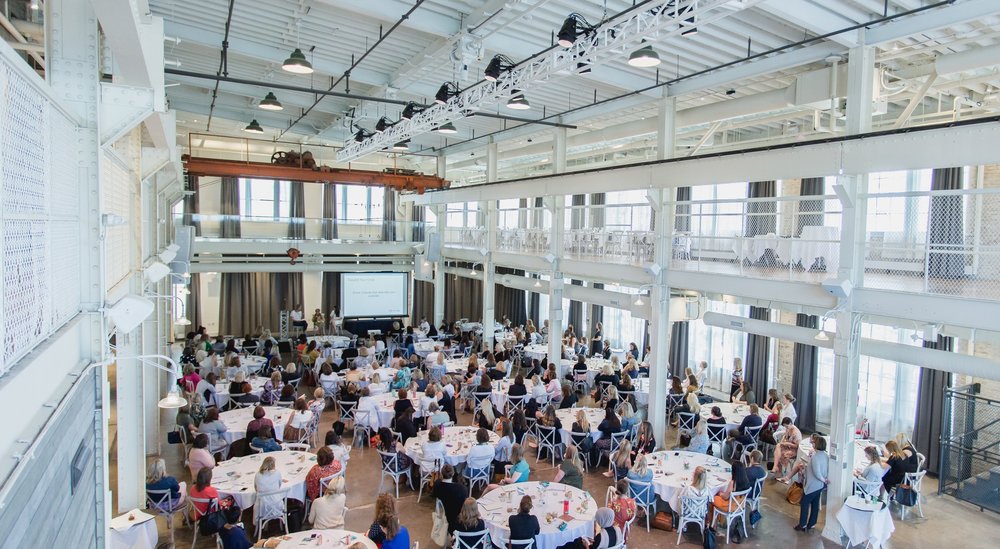 Outward Bound is excellent at creating the conditions for learning how you show up to challenge. When you are invited to an epic experience, like rappelling down a seventy foot cliff, you are invited to make a decision. Stay, or go. It's your choice– "Your" with a capital "Y." YOU, and only you, choose how you want to show up to the challenge. The real deal at Outward Bound is this: you have an opportunity to decide and to evaluate your decisions. This is your moment, and you not only decide, you decide what you learn from your decision. We call this "challenge by choice," and we think it's central to self-discovery. Confront challenge and make a choice. Stay, or go. Staying, or saying "no," can be much harder than taking the leap.
It's the why that's important at Outward Bound (and at BWC), and the why–the reason for your decision–teaches you about who you are today, and who you want to be tomorrow.
As Lani and the BWC membership know, unpacking experience and reflecting on decision-making is enormously valuable. That's why one and half hours of a monthly three hour BWC Circle meeting are devoted to workshopping personal leadership dilemmas with peers. Lani and the BWC value circles just as much as Outward Bound does. Circle up with other people and figure out how you want to grow. We do this every night of an Outward Bound course. BWC and VOBS know that we learn best through experience, and from each other. At Outward Bound, we rely on activities and habits that reinforce what we call a "growth mindset." Same thing is true at BWC. You're on an expedition, a journey to grow. You are invited to be curious about who you are, and how you want to lead.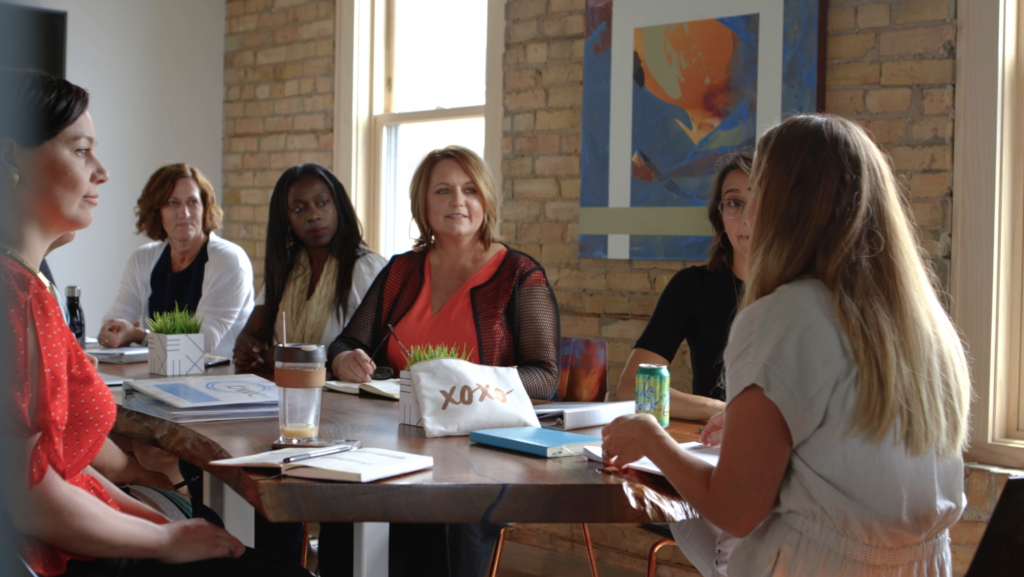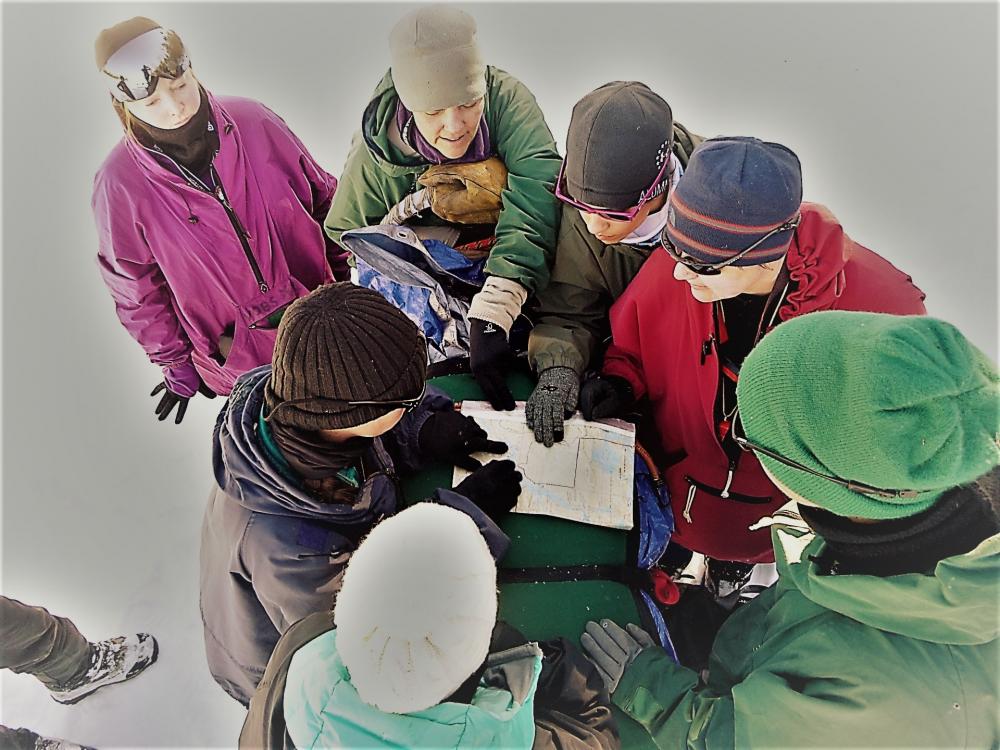 So back to COVID. COVID may have killed our epic June climb, but it didn't kill the BWC-VOBS collaboration for women. Here we are today, sharing a message about our intentions, and telling an important story about choosing courage over fear. Here it is:
Maybe COVID primed Lani for courage, but the killing of George Floyd sponsored her courageous action.
I asked Lani for an interview because she got up one morning shortly after Floyd was murdered and wrote a courageous email to her BWC membership. I re-share that message here with Lani's permission:
Hello,

You didn't get an "End of Week 12" email from me because I have written it in about 3 different versions. The first version was about how I was processing what was happening. The second was the typical– tough week, here are some resources. And the third–well–that was a mess.

Here is why. I took a hard look at some of the experiences in my life and my family's life. I realized that as a woman of color who straddled the white and BIPOC worlds, I had learned how to operate well in "the system." I worked hard, didn't disrupt things outwardly, collaborated harder than some of my peers and always tried to come from the perspective that "they didn't understand or didn't mean it" when I had experienced racism. In other words, I tried really hard not to make my skin color matter.

I don't want to make this about me, but I want to put some context behind my next steps. You see, I have gotten used to hiding and being a "behind the scenes person." I think by nature I am an introvert; I am someone who needs to recharge without people. I do shun the spotlight. But I can no longer do that.

I am the leader of an organization that is about supporting women– every woman. We create learning experiences for growth. We build communities of support. We connect people and resources so they can move forward with their goals and dreams. We have a unique skillset to help make a difference in our community.

I know some of you are thinking: "Great! You should go out and recruit more BIPOC women, so we can be more diverse." I want you to know I have, and I've tried. We have had women of color excited to join us and then "see our organization" and decide not to. Some have joined, but then left as they were the only one in the room that understood some of the unique issues they were facing. As much as we are an amazing group of people– we are seen as a "white" organization.

So, I want to make sure that as an organization, our actions match our hearts in how we support all women.

Here are some of the initial actions I am going to take:

First, I can't do this alone. I would like to ask for at least 4 members who are willing to step-up to help me with asking the tough questions, learning about what our community needs, how can we best use our BWC skillset to help our community heal and planning how we accomplish some of this.

Two, I commit to finding resources that can help us have good conversations in and out of Circles around the topics of allyship, anti-racism, creating an inclusive company and others as identified. I have already asked Renee Power of the Feminist Book Club to help start a BWC Book Club focused on racial justice. We'll be reading White Fragility by Robin DiAngelo and hold discussions in August. More to come on this.

Three, with the exception of the occasional project and a few key clients, I will no longer be doing consulting work, so I can dedicate more time to The BWC and my vision of what we will become.

Four, I commit to doing the personal work that this is going to take. I admit, I don't have all the answers and might get things wrong in the process. But I believe that I need to step up and use the unique combination of my business, leadership and life to help create a better world.

That is what I am committing to do for a start. What will you commit to?

At the least, I ask that you help us open up the dialogue to educate each other, be vulnerable with each other, listen generously, and accept the discomfort that comes with growth.

The work that has to be done for each of us is personal. Just as building your business, becoming a leader or living the life you want to live is also personal. And, just as the BWC is here to help you with the goals you set for business, leadership and life, we can help you with this work.

You may have seen my personal Instagram post with a poem from Leslie Dwight about this year. Many of you have heard me say that we are in the "next normal" and that we should take advantage of this time to "reset." So, let's reset and not go back to "normal." Let's build towards a new normal that is better, inclusive and taking action.

As always, please reach out if you want to discuss anything or have thoughts you would like to share. I am here. I am listening. I am trying.

To a Better World,

Lani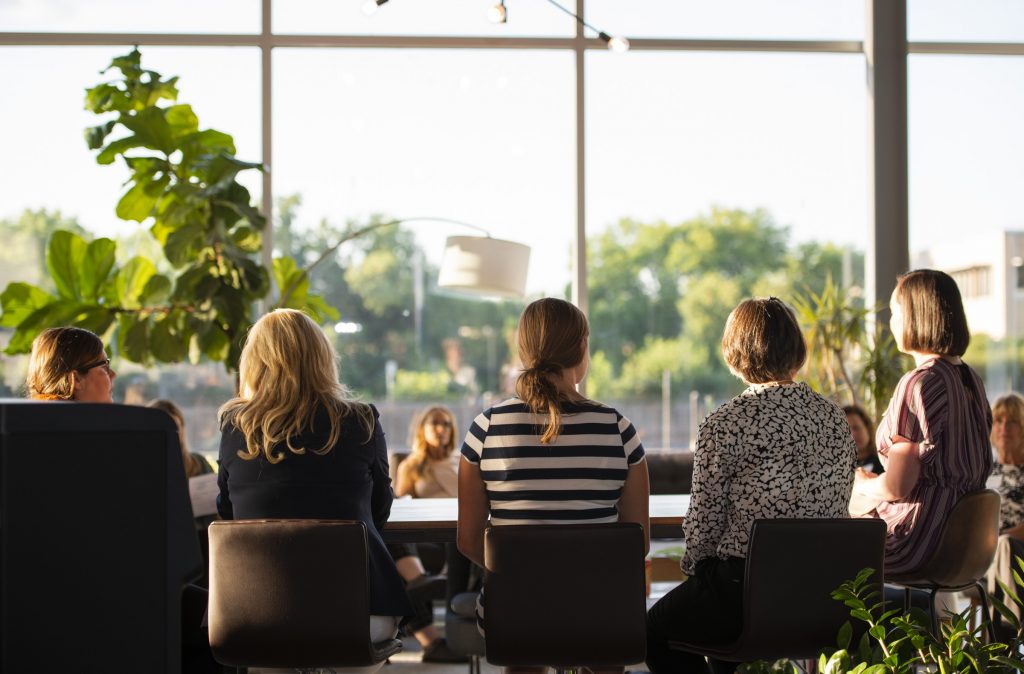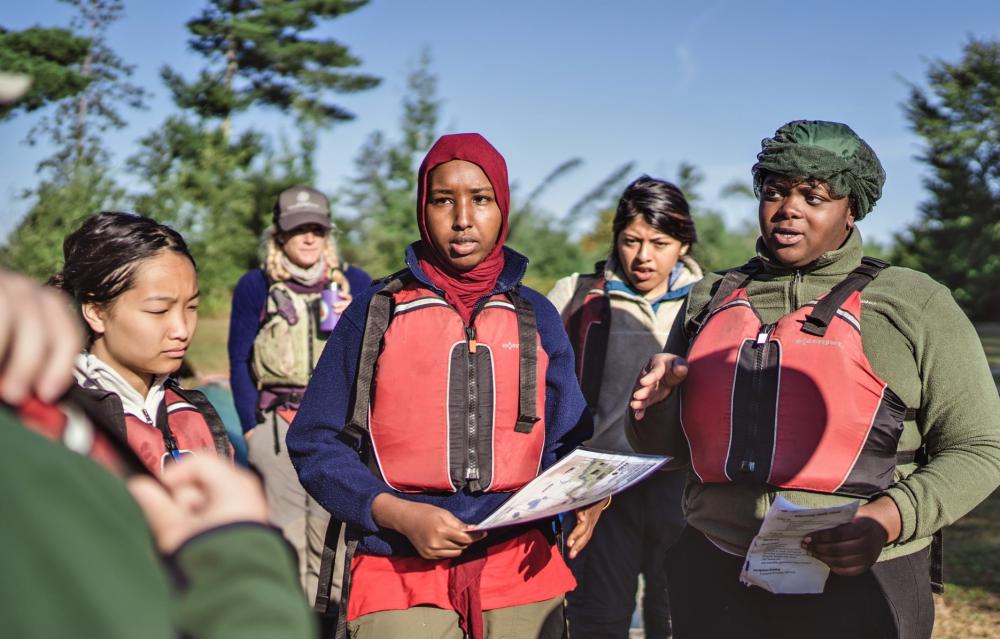 A gift. A challenge. An opportunity. Right there in my inbox.

You get a message like that, and you think, "Yes. This is what courageous, compassionate leadership looks like." I'm grateful to Lani for her honesty and her invitation. I hear echoes of my organization's challenges in those we also face together at BWC. Intentions are good, strategic plans are better, action is best. They all take courage. I may be a well-intentioned white women, hobbled by my limited perspective–as Lani says, "I don't have all the answers and I might get things wrong"–but I've sucked up my embarrassment about that and joined Lani's volunteer team to ask tough questions and help build "a better (more inclusive) world."

You might think, "Yeah, thoughtful action takes time." You're right, but Lani started seizing opportunities to advance inclusion at BWC where she could, as soon as she could. Instead of cancelling the BWC's Annual Forum, she went 100% virtual. This is an event for nearly 300 women and she not only went virtual, she looked at how she could diversify the line up across the board– gender, sexuality, race, economics. The day showcased and included people of color, gay people, straight people, men, women, non-binary folks, scholarshipped and full pay attendees. People played music, delivered keynotes, spoke on panels and we all participated in break out groups where we asked each other tough questions about courage and fear:
When have you been courageous?
When did you let fear get in the way of courage?
Where can you act courageously today?
Sondra Samuels, CEO of the Northside Achievement Zone, closed the day and her why made a big impression on the audience:
"Why do I do this work? My parents are dead, my sister is dead. When you lose people and realize that you have such a short time on earth– so short, you can't really even measure it–you are no longer afraid. It might seem like there's so much to do, you just can't do it. But, you get up and you do the things you need to do every day. And that's enough. Get up and do what needs to be done every day. I'm not afraid, and I'm not afraid it's enough. I just do it, and it will be enough."
I can't say I have that much courage, but Sondra, like Outward Bound, teaches me to re-evaluate how I approach each day and the challenges ahead.

As we do at Outward Bound, BWC Forum attendees found belonging, strength and purpose in shared experience and a common commitment to courage and compassion.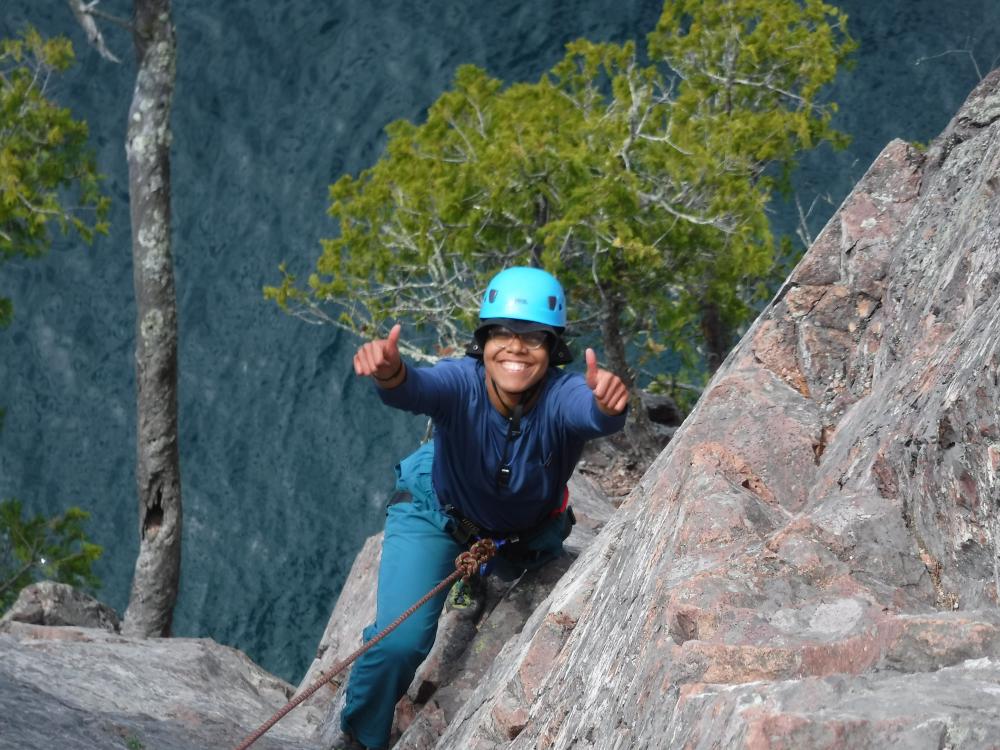 I'm grateful for the examples of courage and compassion I see in my colleagues here at VOBS, and in my BWC peers. I get to work alongside my greatest teachers, and I know that you too will learn something from Lani today. Enjoy this Q & A with Lani:
MB: You are founder, CEO and owner of the Business Women's Circle. How did that happen?
LB: Well, I was working for Target and realized it was no longer the organization for me. I didn't want to go higher and my (very supportive) family and I agreed on a two year transition. I'd take two years to explore alternatives, and if that didn't work, I'd go back to corporate. I wanted to do something entrepreneurial, so I thought, "I need to talk to entrepreneurs, who do I know?" I knew Myrna Marofsky, who was working with WPO and consulting with women business owners. I admired (and still admire) her tremendously. We had lunch and I offered to be her apprentice. Myrna laughed and said, "You don't need me."
That set me back. I felt like I didn't have a clue about how I was going to do this. But Myrna called me the next morning (she gets her best ideas in the shower) and said, "Let's do something together." And that's how the Business Women's Circle was born. We had standing room only for our first info session (Myrna knows everyone), and that told us we had something. Myrna is my business mom. From the beginning she said, "If this goes somewhere, you should be the owner." So Myrna founded it, we launched together, and when things got going she said, "It's time. You can do this." I wasn't so sure about that, but I took the leap. I wasn't sure I could be the face of BWC, that I could walk the talk. I started facilitating some of the Circles myself and I thought, I like this. I really like this. I can do this. BWC is ten years old now, and I've been the CEO and owner since 2016.
MB: Why BWC? What is the mission and vision of the organization?
LB: Our mission and my vision for the organization are evolving. We started with the idea of helping women learn and grow through peer power. Women don't stand alone, they stand in the center of their own circles of life and influence– self, family, work, community–and each one of our circles ripples out. We have the power to make waves and create positive change for each other, and by doing that we get stronger too. So we are the Business Women's Circle and we bring women together in community to teach and learn from each other. Now, with the pandemic, and in the wake of George Floyd's death, I see a greater opportunity to create inclusive community. I want the BWC to serve all women, and that definition should be self-deterimined and inclusive. I want the BWC to be seen as a community asset and resource that makes the world a better place.
MB: Who do you serve today? Who do you want to serve tomorrow?
LB: We serve women, but I want to serve more kinds of women. All women, whatever the definition of woman is for an individual. I want the BWC to be an inclusive place for a greater diversity of members to find connection and build community together. The rising tide needs to lift all boats.
MB: What change are you striving for in your community?
LB: I want BWC and the world to be a more inclusive place. It kinda sounds like I'm saying, "I want world peace." But I really do. I want this for our members, our partners, our community. I want inclusion to be second nature in how BWC operates, in our content, in our events, in our partnerships. I want people to see BWC as a go-to for best practices in inclusive business.
MB: How are you working toward this change?
LB: Listening. It starts with listening. We need to listen to each other and learn. We have to ask tough questions and we have to look for opportunities. So we're starting with listening at BWC, and asking questions. I've invited a group of members to start the conversation with me, and we're also looking for assistance from inclusion experts in the community, like Sondra Samuels. Women are stepping up and saying, "Yes, I'll help." We're taking a look at our current Circle practices, content and events and asking, "How can they be more inclusive?" A big goal will be to have a membership that represents the greatest diversity of women in the Twin Cities, but we're not going to get there until we do some hard work. BWC has to be a place that not only welcomes all women, but supports them once they are here. We need to consistently be the inclusive community that celebrates and advances diversity of experience before we expect all women to join and stay.
MB: What challenges do you face in your work?
LB: I think we all have hard work to do. As a woman of color, I've avoided looking at my own relationship to race in the workplace. A colleague once told me that I got a promotion because I'm a person of color. It was a terrible moment. I asked myself, "Is that true? Can that be true?" I doubted myself and I didn't say anything to this peer. Now I'm puting aside my own consulting work so I can focus on making the BWC an inclusive community. I'm putting these questions front and center. I'm making a commitment to this work. But I have to do my own hard work to make this happen. I'm afraid of messing up, but we all have to get over that fear and have the courage to make mistakes now. We are going to make mistakes when it comes to race and inclusion. We can each grow our own anti-racist mindset and educate ourselves. We need to keep challenging ourselves. That's our job.
MB: What advice do you have for allies?
LB: Do your best to do what's right. If we are going to dismantle systemic racism, we have to get over the fear of messing up and try to do what's right. Social media sets up this "damned if you do, damned if you don't" conundrum. But the work, the real work, is not on social. The real work is in the mirror. It's great if you recognize you've been living in a bubble, or you haven't done enough. Don't let that stop you; let that be the beginning. The real work is doing your own work to make better decisions every day. Look in that mirror every day. What needs to change?
Tune out the social noise and keep the focus on inclusion across communities–gender, sexuality, race, economics. We built BWC for women because, historically and presently, women are still up against many different challenges. Allies can keep it personal, and keep it focused every day. Figure out how your unique strengths, talents and skills can help make change. Leverage your own assets, the way you want to leverage them. That's the VOBS challenge-by-choice we talk about!
MB: What help or support does BWC need?
LB: Membership, partnership, community. We are always open to new members, because they give our Circles and our community strength through diversity. I'm seeking alignment in partnership– like the alignment we have with VOBS. We have the same goal. We want a better world. Let's figure out how to get there together. We need people and organizations to help us make the circle bigger. Today we work with Modernwell and Women Venture. Tomorrow we will work with VOBS and Sondra and others. Today, our members provide a network of businesses and community resources and solutions. We are making this community, here, in Minnesota, more resilient by doing business and seeking support from one another here. As we serve more women, and more kinds of women, our community will grow and we'll make the Twin Cities a better place.
We can change this world, here, together.
---
To learn more about Lani's leadership journey, check out her "My Founder Story." To explore BWC membership, attend a community event or explore partnership, visit: www.thebwc.org.
---
Thank you, Lani, for sharing your work with our readers, serving our community, and exploring partnership with VOBS.

As readers of my weekly message know, VOBS invites individuals and organizations to inspire our readers by sharing their educational, humanitarian or civic endeavors to create positive change in our communities. Our goal is to lift up the work of others and share inspiring community stories routinely.
About the Author