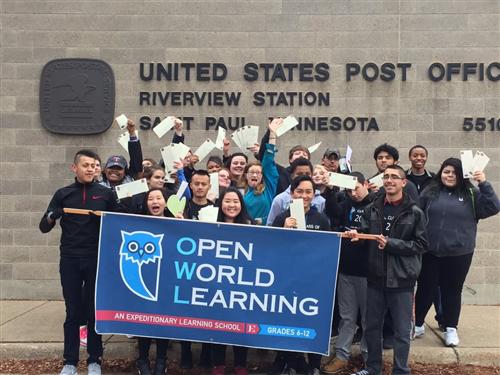 "Imagine a community of joyful, curious, self-directed learners engaged in the world.
Imagine every student inspired, challenged, and prepared for the future beyond high school.
Imagine every family welcomed, respected, and cared for by a responsive staff."
This is what Dave Gundale imagines, and this is the mission of Open World Learning Community (OWL) school, on the "west side" of St. Paul, here in Minnesota. You may say Dave's a dreamer, but he's not the only one. Dave is the principal of OWL, and he's not just a man on a mission, he's a man with a vision and a plan. If you've ever been to a College March at OWL, then you know that what Walt Disney said is true:
"If you dream it, you can do it."
---
Greetings VOBS Friends,
I'd like you to imagine about five hundred cheering students, parents, guardians, babies, teachers, community members and visiting big shots cheering, clapping, whistling and jumping up and down. Now imagine 60 smiling, triumphant high school seniors jogging down the center aisle of this pumping, jumping auditorium like it's a Super Bowl stadium. The seniors take the stage and the crowd not only keeps clapping, they go absolutely nuts and roar like they've just scored the tie-breaking touchdown.
It's not the NFL. It's not even graduation. It's a Friday in December, the day OWL seniors march their college applications to the mailbox. Most of the applications have already been filed online, but everyone leans into this ceremony hard. At OWL, the ostensible goal is that 100% of seniors go on to college or a rigorous post-secondary plan. The fundamental goal is much bigger and it reveals itself during College March day as, one by one, the teens take the mic and testify.
They testify to hardship and achievement; friendship and transformation; discovery and purpose. They tell jokes, secrets and truths. They fist pump and give high fives. They hug and hold hands. Parents, guardians and grandparents take the mic too, and cry. Some parents are translated by their own children, who interpret words, hopes, tears and dreams. And the audience cries right along. One or two of the posturing OWL sixth graders even swipe away tears. Why? Because these kids, teachers and families are crew. They are not passengers; they are in this thing together. The thing is life and they are celebrating learning how to live it. They are dreamers, literally and figuratively.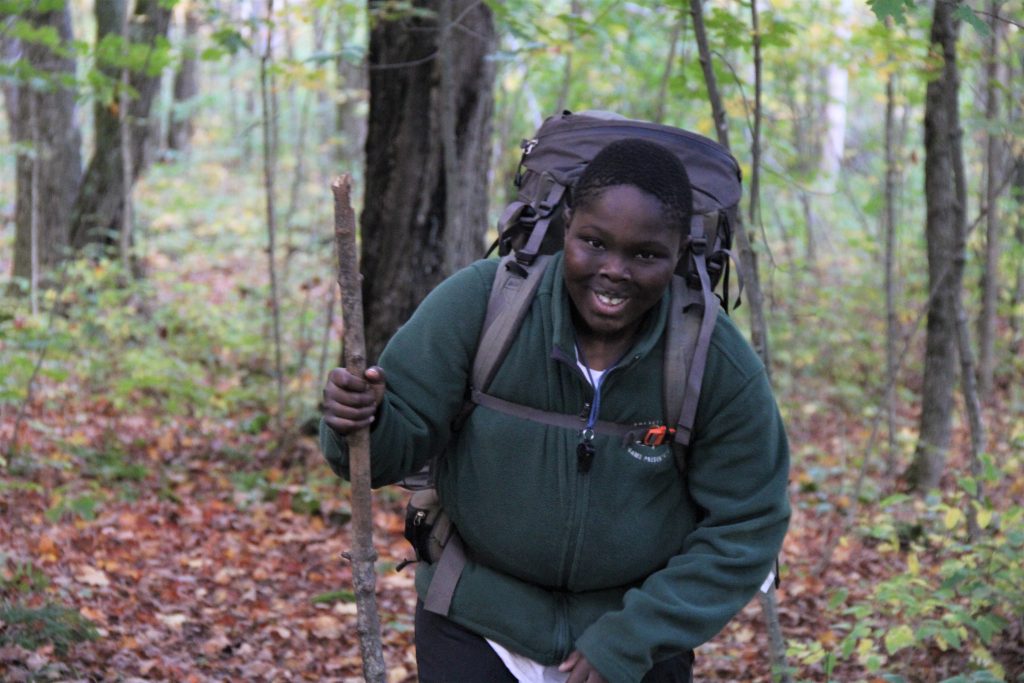 The kids stand and tell their stories. They give advice to those coming up behind them. And, as they speak, they make dreams visible. Generations of dreams become tangible and real, right before our eyes. Many of these soon-to-be graduates are first generation Minnesotans. Many come from under-represented communities.
The stage and the auditorium are filled with a vibrant diversity of life. It's a mix of experiences and backgrounds that is ever more representative of our communities, of St. Paul, Minn., the country and the world. As these seniors talk, and as all these people listen, it becomes plain that there is a future, and it is bright because these young people have done hard things and learned together.
At OWL, students seek belonging. They grow strong together and they share common purpose. They have hope because their experience of community in their school rewards them with acceptance, support and opportunity. When you stand in that auditorium on College March Day, potential is palpable. These people believe in each other, and, as a consequence, you can't help believing in the potential of education and our shared future.
Why remember December 13, 2019 on July 22, 2020? Because we need to remember that we, as champions of young people and the future, have a purpose. Consider this a call to action in the face of COVID-19, the economic crisis and our global reckoning with racism. We reflect on Voyageur Outward Bound School's partnership with OWL today because we need to make sure it continues tomorrow, for the sake of the class of 2021, and for our own sake.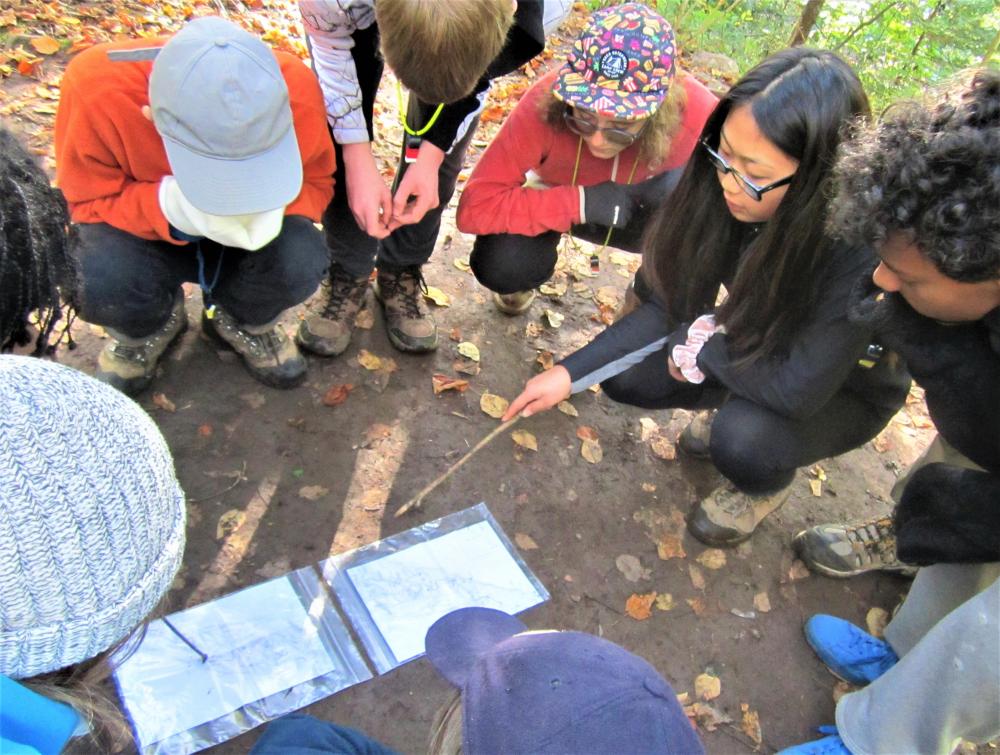 This fall, Voyageur Outward Bound School will have been in partnership with Open World Learning for seven years. OWL is one of our keystone partners at the Twin Cities Center (TCC). OWL is why Poppy Potter founded the "TCC," our urban base in the Twin Cities, a decade ago. With OWL, we serve at-potential students, to support more compassion and resilience in young people, so they are better equipped to change their school and the world. OWL students will make the future a more compassionate and resilient place.
At Open World Learning, dreams do not die. The flames are fanned and the fire is fueled. The students learn to catalyze one another. They learn that they are better together, that more is possible when you serve others. They practice compassion. It's a daily habit, part of a routine that they practice from grade six, thanks to a thoughtful and rigorous curriculum that supports a peer leadership model of learning. These students learn by doing, together. Sound familiar?
If it sounds like Outward Bound, that's because it's got Kurt Hahn's Theory of Change written all over it. Expeditionary Learning schools, or EL Schools, are founded on Outward Bound's principle of learning through the group, for the group. Learning is an expedition, where students are active crew, not passive passengers. Students learn to lead their education, and teachers are facilitators, not bucket-fillers. Learning is project-based and group-oriented.
By the time the seniors take the College March stage, they have spent hundreds of hours together exploring, pursuing challenge, getting outside and serving one another. They have learned what community means by building it together, and they have discovered purpose through identifying strengths and passions with the help of their peers and caring adults.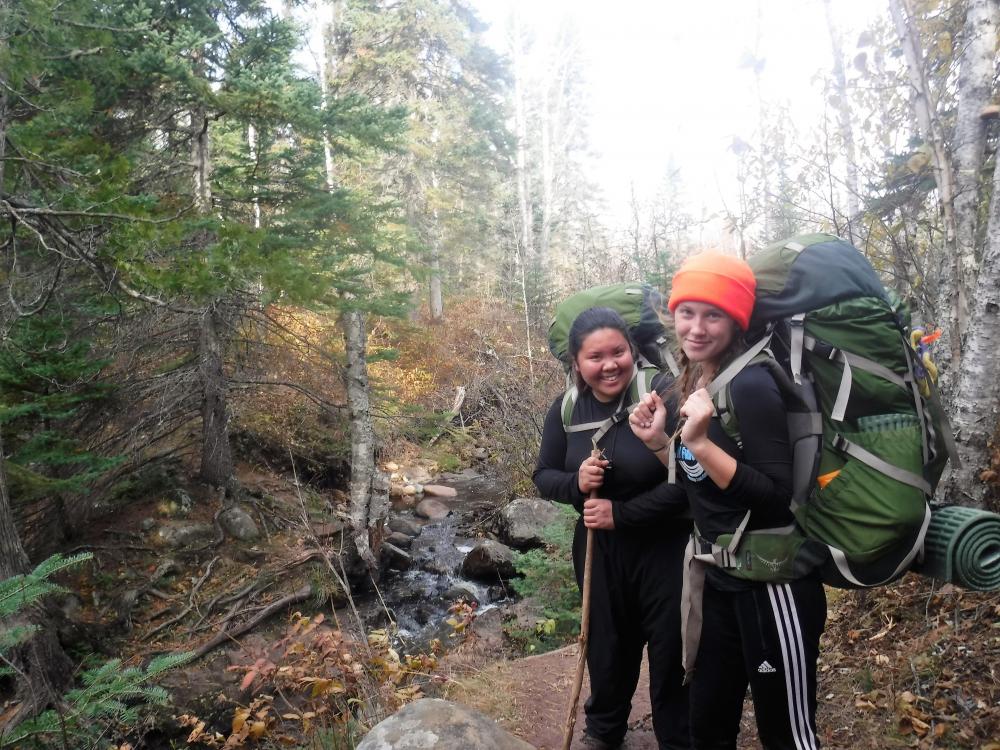 OWL and VOBS work together year round to provide students across grade levels with a variety of purpose-built experiential programs tailored to developmental and community needs. All the ninth graders, for instance, start the year with a Leadership Expedition on the St. Croix River or the Superior Hiking Trail. Through this common experience, they set the tone for a growth mindset and compassionate community. They discover belonging, and, through meeting challenge together, they begin to understand OWL expectations, and to identify a common purpose, which is to succeed socially and academically in high school.
VOBS also serves the OWL senior class with a fall Service Expedition. The entire class heads up to our wilderness basecamp, Homeplace, and together they engage on-site and regional service learning. Last year, they worked with explorer and activist, Will Steger (who is also a former VOBS Instructor), at the Steger Wilderness Center, completed site improvement projects at Wolf Ridge Environmental Learning Center and volunteered in Ely.
Service was complimented with adventure and challenge activities, like climbing and paddling, to explore individual strengths and celebrate crew achievements. In the evening, students worked on personal portfolios, which are a hallmark of learning at OWL, and culminate in a capstone project senior year. Service is a very big component of culture and curriculum at OWL and at Outward Bound.
A crew of tenth and eleventh grade students known as "Hahn Mentors," grow peer leadership skills through a year-long series of Insight days with VOBS. Hahn Mentors help staff OWL's Reset Room, which is a peer resource for students who need individual support and time away from the classroom. The Insight series functions as professional development for these emerging leaders, allowing them to practice intra- and inter-personal skills through near wilderness challenge and adventure.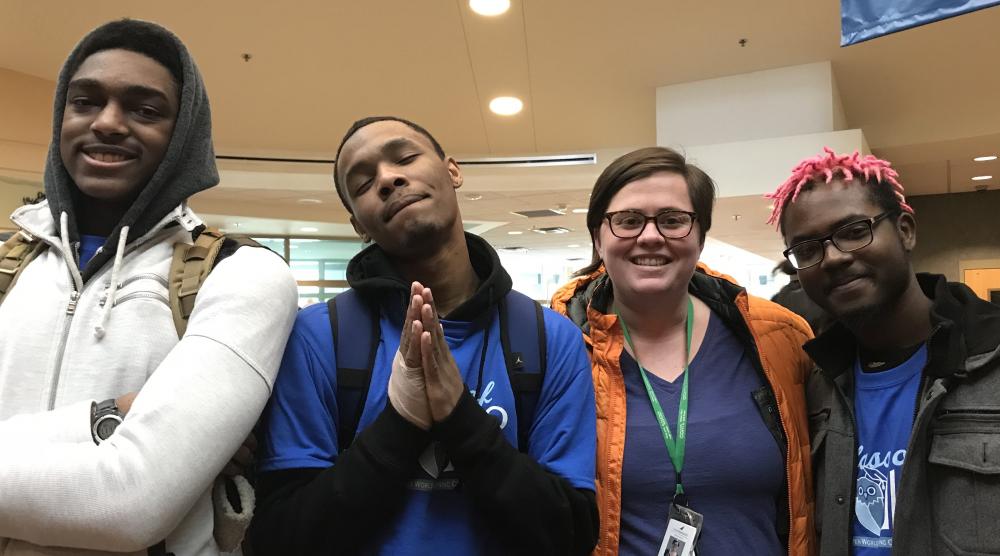 Our oldest and perhaps most innovative program at OWL is Strive. Strive is the invention of Dave and VOBS Director of Foundations and Learning, Poppy Potter. Dave and Poppy put their heads together to figure out how to support boys who kept showing up in Dave's office. These were younger guys, trying to find belonging and purpose, testing limits, grappling with in-class expectations and experimenting with bullying. Dave knew they needed something they were not yet getting at OWL, so Dave and Poppy designed and delivered Strive.
"Strive is a program we created with VOBS to support male students of color in exercising mindful approaches to conflict resolution, positive peer relationships and classroom engagement. Our goal was to develop an outdoor leadership and adventure program where learning habits, social-emotional skills and expectations could be processed and developed. The Outward Bound experiential learning model, coupled with outdoor activities, stretches each student through new experiences and challenges."
Dave Gundale, Principal, Open World Learning Community
Today, Strive is a two-year program for junior high-aged, at-potential boys. The program takes a layered approach to support: in-school, part-day, monthly programs called Launch Days, monthly, out-of-school, near wilderness adventures called Insight Days, and two five day Leadership Expeditions in the wilderness– one in the fall, one in the spring. Strive now has a long track record of success; the boys who stick with Strive and graduate from the program, graduate from OWL; boys who drop out of Strive, tend to drop out of school.
"Strength doesn't come from what you can do. It comes from overcoming the things you thought you couldn't do."
Malik, Strive Alum
It's important to note that OWL has the highest test scores of all St. Paul Public Schools. Dave will tell you that test scores are only just one measurable bi-product of the three fundamentals of the Expeditionary Learning approach:
Character and Culture Development
High Quality Student Work
Mastery of Skills and Knowledge
It's easy to see how Outward Bound's own approach supports OWL's priorities:
On College March Day, the purpose is to celebrate, congratulate, appreciate and inspire. This collective purpose gives the seniors, and everyone else, a jolt of joy and big dose of hope. Those in the audience are electrified by the collective courage and potential of the college-bound students.
I'd like to give you a jolt of that same joy today. Please enjoy the following brief collection of OWL student and parent reflections on the 2019 Ninth Grade Expedition.
Together, with support from the David and Janis Larson Foundation, the State of Minnesota's YIP grant and individual donors, we fund more than 90% of OWL program cost. We're very proud to say that we introduced the entire ninth grade to the St. Croix River and Superior Hiking Trail last year.
This year, thanks to COVID-19 and the economic crisis, the Ninth Grade Expedition, and all of our programs at OWL and beyond, are in jeopardy. We need strong donor support to make experiences like this one possible in the future.
Today, the words of these students give me energy and purpose, and I hope they inspire you to help VOBS change lives through challenge and discovery: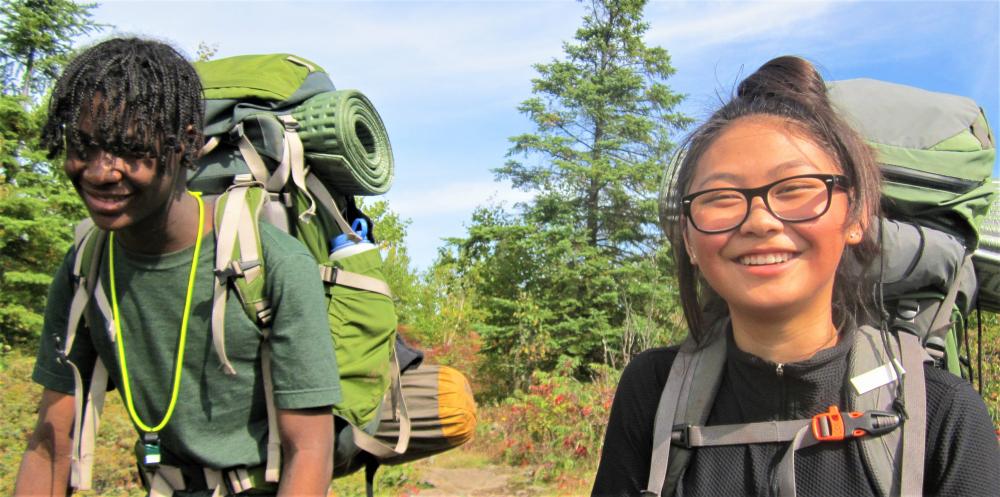 "I was planning on telling my mom how horrible the trip was. Now, as I write, I loved this. I learned about myself, others and so much more. The instructors were amazing. They took the time to teach us things and help us build trust in ourselves. I learned how to really persevere and to look at the present, not the past or future. I will always cherish the things I learned. I count this as a good, life-changing experience."
Sofia
"This trip taught me about everybody in my grade. I learned a lot about these people."
Frankie
"Up until maybe the last day, I didn't realize the importance of this experience. But when I woke up today, I realized I would miss every single thing about this trip. If you open yourself up, this can be transforming, you can be a better version of who you are and want to be."
Isabel
"Thank you Outward Bound for this great experience. It was my first time backpacking. The first day was very hard and I was worried about the rest of the trip, but on days two and three I really changed my attitude to be much more positive, and the trip was incredible. I loved hiking to the mountain peaks and I got to know my classmates much better. Thank you for this incredible trip. I think I will remember this for the rest of my life."
Brodie
"Thank you Outward Bound for giving me the chance to become better friends with my peers. This was my favorite school trip. I am so grateful for this group."
Samantha
"A few take-aways from this trip were that as a chaperone I was really impressed with how the kids took over, owned the experience and took responsibility for their part. Some in the group were very experienced with intense outdoor activities while others were definitely not comfortable; however, after day one, all the kids used each of their own strengths to encourage and help each other. They worked together supporting one another in being a team. Each day two kids had to work together in new leadership tasks, either guiding the hike, cooking the food, organizing the campsite or motivating others. They all rocked it! It was rewarding to watch the kids work together. Respect, patience, humor, physical activity, inclusion, teamwork, confidence, leadership and cheerleading were qualities that I saw strengthened through this experience. By the end of the week, the kids were creating bonds that otherwise may not have happened in their everyday school experience. I know Samantha talks about how much she loved it and that she had the best group ever. I could go on and on about how great this experience was. I wish every kid had this opportunity."
Bonnie, Samantha's Mom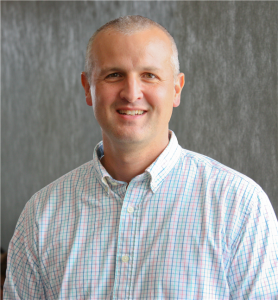 "We have worked hand-in-hand with VOBS for nearly seven years. VOBS programming compliments OWL's vision and mission. In the end, I want to see each of our students grow their personal leadership skills. Everyone has a different starting point. For some, I want them to become leaders of themselves– organized and self-directed people. For others, I want them to step into leading their community– defining and modelling positive culture in the school. I want to see this community of students, teachers and families lead courageously. Now, more than ever, we need allies like VOBS and your supporters who are committed to racial equity and social justice, to help us close the opportunity gap in this community. We need to help students build the character skills for success in school and beyond."
Dave Gundale, Principal, Open World Learning Community
---
Thank you to Dave Gundale and the Open World Learning Community for sharing your stories and leading courageously.
About the Author