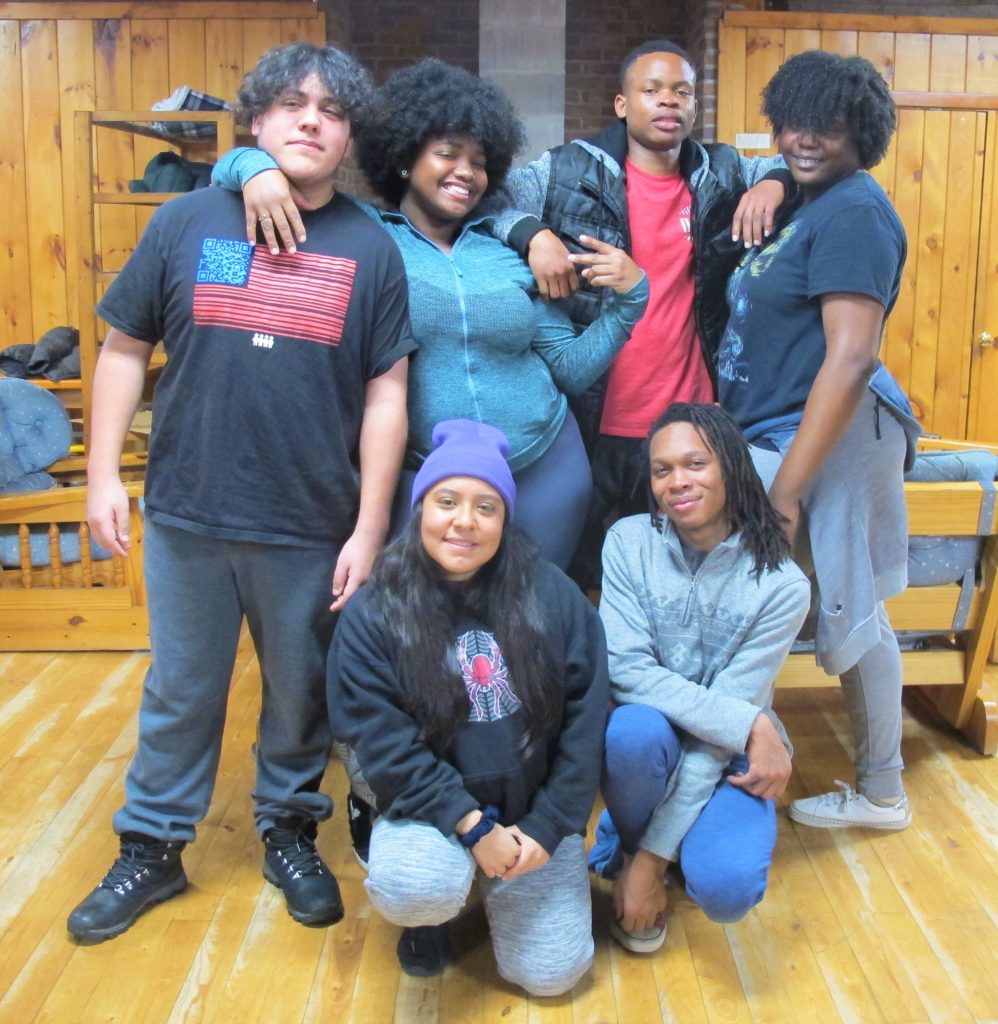 Greetings VOBS Friends,
I hope you enjoyed Mother's Day last weekend.
Some friends and colleagues were fortunate enough to enjoy some social-distance visiting with their moms. Others had to settle for a phone call or virtual visit. Some spent the day remembering mothers, whether long departed or more recently gone.
I enjoyed talking on the phone with my mom in Arizona. And my wife got to spend the day in-person, and at very close range, with all three of our children (ages 24, 22 and 8…. yes, I said 8), which was a little different given the slog of family quarantine. Although life in our full house can be exciting (probably best summed up by an old commercial with two kids arm-in-arm saying, "Sometimes we fight, but mostly we're friends"), we can see so many ways that we're truly fortunate to be together. Today, it's the gratitude I feel for my own family that reminds me to share gratitude for our extended Voyageur Outward Bound family.
I would like to extend gratitude, on behalf of the entire Voyageur Outward Bound team, to all the folks who heard our Give MN call to action last week and stepped up with a contribution to VOBS. Give MN helped us raise about $45,000 toward our $2 million 2020 shortfall.
Thank you for giving today so we can continue to serve fellow Minnesotans tomorrow. We have a ways to go, but together, we are doing all we can to weather this current storm because we know that young people will need Outward Bound in the future. I'm grateful to you, our extended Voyageur Outward Bound family, for joining the crew to build a better Minnesota.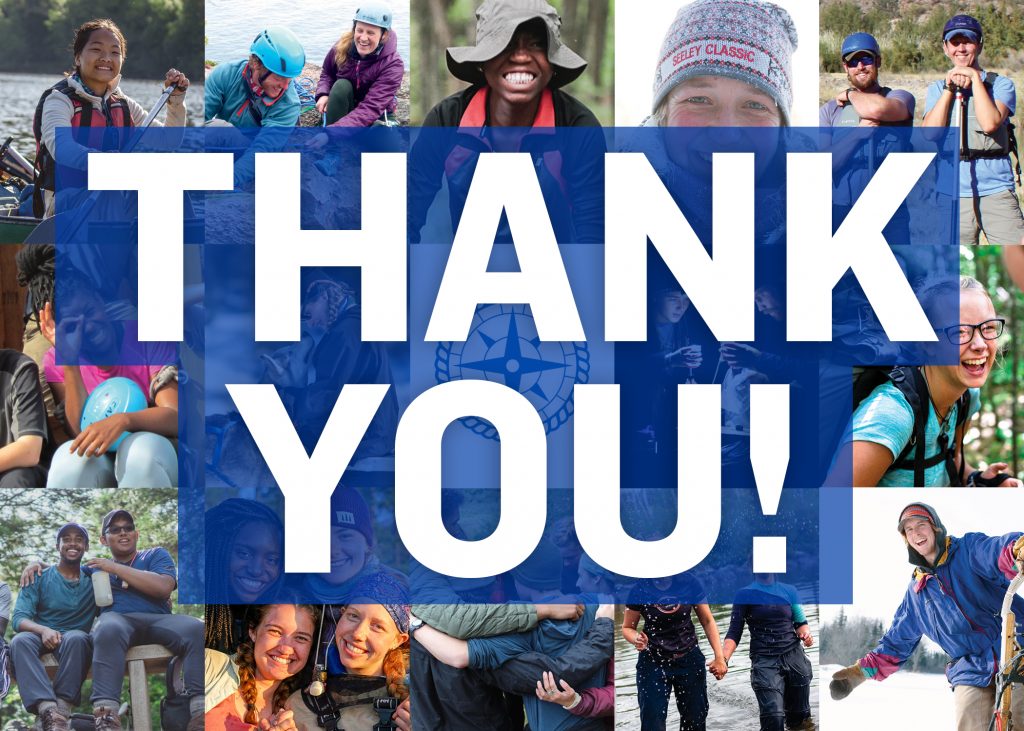 I'm also grateful for Lynda Daniel and her husband, David.
Who is Lynda Daniel? Well, she's part of the VOBS "family" too. And speaking of mothers, Lynda is a mom. And she's a grandmother. And she's a wife. Like moms around the world, Lynda spends a lot of time taking care of other people, and her job is no exception. Lynda works for Discover U in Houston, Texas. Discover U is a youth-serving organization that provides experiential learning and leadership development opportunities for young people in Houston public schools. DU works with nearly 2000 students a year. Lynda doesn't just work for Discover U, she lives and breathes Discover U. Lynda and Outward Bound have something in common: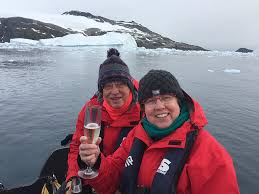 Lynda and Outward Bound are both driven to change the lives of young people.
And that's not the only thing Lynda and Outward Bound share. Lynda, Discover U and Voyageur Outward Bound also share students. VOBS and DU partner to put Houston students on course for success in Texas and Minnesota, and we simply couldn't collaborate without Lynda.
Each year, Lynda and her husband, David, fly with a crew of students from Houston to Minneapolis. Then they rent a van and drive 5 hours north to our wilderness basecamp, Homeplace, in Ely on the edge of the Boundary Waters. Lynda and David love Ely and the Boundary Waters, but not as much as they love the Houston students they serve.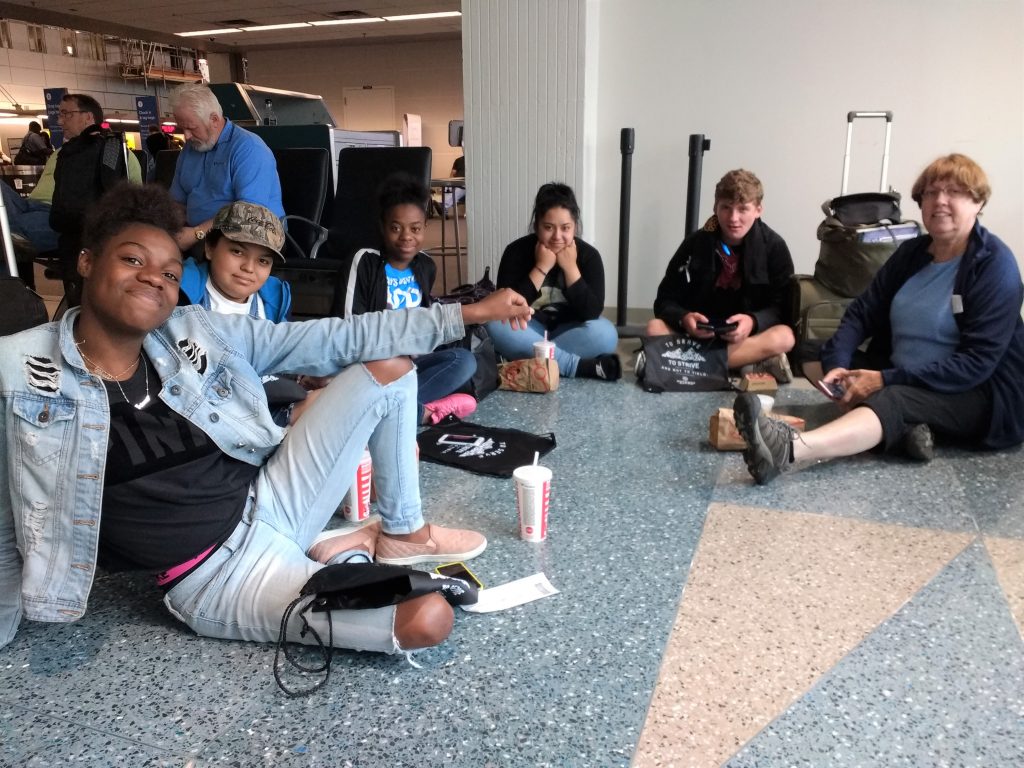 Lynda, who is retired from a long and illustrious professional career in the insurance industry, now leans into her second career as a Discover U Advisor. "Advisor" doesn't really come close to explaining what Lynda does. Lynda goes into Houston public schools personally and finds students who need leadership programs like Outward Bound. She goes in and out of the schools to talk with anybody and everybody who can connect her to young people– teachers, guidance counselors, deans, principals, you name it. Mostly she talks to young people:
Hey, how are you today?
I'm Lynda. What's your name?
I think I know your sister. Do I know your sister?
Nice shirt! I like that. You've got style.
Listen, what're you doing this summer? What do you want to do this summer?
Do you want to go to Minnesota? I'm going to Minnesota. I can get you there.
Have you ever been canoeing?
Now listen, do you know about Outward Bound? No, well then, let me tell you about Outward Bound…
Lynda is a Texan. I understand that everything in Texas is bigger, and that must include Lynda's heart. She is about as gregarious and good-natured as they come. To meet Lynda is to make a friend. I also understand that Texas is the "Friendship State." No surprise, Lynda is so kind, curious, loquacious and friendly, you never realize just how persistent she is.
If Lynda thinks you should go Outward Bound, one way or another, you will.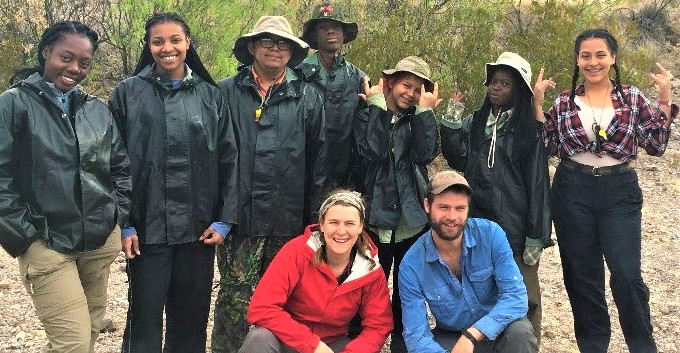 Lynda has made friends with kids only to discover that they might be temporarily homeless or their parent is ill. Empathy and kindness are one thing, but Lynda operationalizes compassion. She and David have brought kids into their home and raised them as their own until those young people could get back on their feet or go off to college. Lynda's own kids are grown and on their own, but that doesn't stop Lynda from "momming" anybody who needs it. And every year, Lynda works to find and recruit students to a one-of-a-kind Outward Bound course: Grieving Teens.
Thanks to New York Life, Outward Bound funds special week-long wilderness expeditions for teenagers who have lost a loved one. The Grieving Teens program gives students a chance to be in the company of peers who are experiencing loss too. It also provides an opportunity to enjoy a new adventure and find belonging, strength and purpose in a new context. On course, teens can process their grief…or not. The point is that each young person gets to choose their own path, and identify what they need. On an Outward Bound expedition, the student is the hero of their own journey. Grieving Teens is not just about a safe space to grieve, it's about joy and recovery. Young people who have experienced loss deserve to laugh again and find ease in belonging. Grieving Teens is about re-discovering hope and growing resilience.
Outward Bound's vision is a more compassionate and resilient world. How do we get there? More compassionate and resilient people. We need all the compassion and resilience we can get right now to deal with this pandemic and to move beyond it. Young people will continue to face new, unforeseen challenges.
Like teens who have lost a loved one, young people around the world will be coping with a base level of trauma from the Coronavirus pandemic.
Who is going to come to their rescue? Who is going to save them?
Young people are going to save themselves.
With a little help from people like Lynda, and Outward Bound, young people are going to be resilient enough to build their future.
With our help, young people will discover belonging.
With our help, young people will keep building strength.
With our help, young people will find purpose.
With your help, Outward Bound will stay the course to serve tomorrow.
Together, we can be heroes so tomorrow they can be heroes.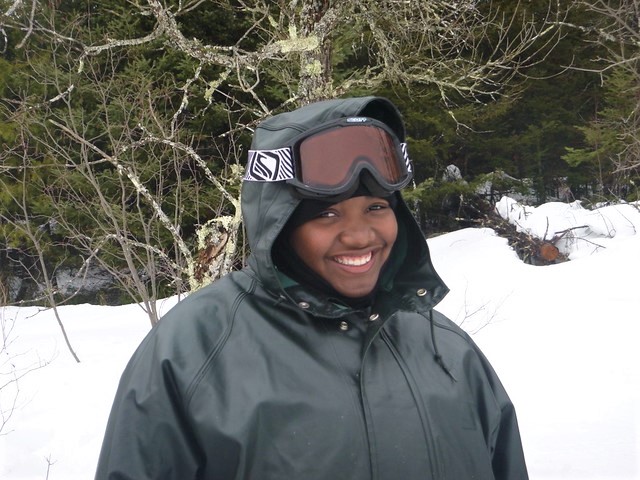 It's a great pleasure to introduce you to VOBS' big-hearted, Texan friend and champion, Lynda Daniel. Happy belated Mother's Day, Lynda! Here she is, in her own words:
Q: How are you connected to Outward Bound? What is your history with our organization?
A: I read a small newspaper article about surviving in the forests on native plants and bugs. Strangely, it seemed logical to me. I felt I should collect this knowledge into my personal tool kit, just in case I was ever in a plane crash and survived! So, in June 1983, I attended my Outward Bound course in the Twisp River Valley in Washington state. Much to my disappointment, Outward Bound did not in fact teach me to eat native plants and bugs. Not a single one! After that course, as soon as I got back to my hotel room, I opened my suitcase and pulled out the Outward Bound brochure. No mention of eating plants, or bugs. I just read what I wanted into that brochure! I did learn other important things, though, like how to overcome fear.
Q: What was your most powerful Outward Bound experience?
A: There are three experiences from that first Outward Bound expedition that stand out in my memory, and I think of them regularly:
Within the first two hours of our trip, we came to a snowy pass that we needed to cross, so we attached ropes to our backpacks and pulled them up to the top of the pass. Then it was time for us to do the same. So we strapped cleats onto our boots, grabbed ice picks and harnessed up. We had to learn how to dig our cleats and picks into the icy and snow to climb to the top of that pass, and I had to conquer my fear. I did it all, and conquered my fear. It was exhilarating!
The second memorable moment was rock climbing. Oh, the sheer terror of looking straight down the side of the mountain! More fear. I have never had much upper body strength, so climbing was really hard. Now, rappelling– that was a blast!
One day for lunch our instructor pulls out crackers, cheddar cheese and sardines. Sardines!? Also terrifying! But he made the case that sardines have the right amino acids to rebuild muscles. His reasoning made sense, so I've been eating sardines ever since. There's a restaurant here in Houston that serves Greek salads and they are traditionally served with two anchovies. Now, I do not like anchovies, but in my mind, they must be related to sardines so I always eat them—in memory of my Outward Bound trip, and in honor of getting outside my comfort zone.
Q: How has Outward Bound changed your life, or the lives of those you care about?
A: I've got so many stories from the last 19 years! Here's one: Jessica and Kay, two high school students who I sent to Outward Bound. They march into my office in August at the beginning of school, hands on hips, "Lynda, we don't know what we were thinking, but we are NEVER doing that again!" Their eyes betray them, however. You can see joy in their eyes. By January, they are considering doing the Outward Bound dog-sledding trip over spring break. Years later, Jessica gets an Outward Bound tattoo.
About a month ago, a student contacted me through Facebook. I haven't seen him since 2002. He talked about how much Outward Bound changed his whole life perspective. He still has a map of where he did his 3 day solo.
Then there is Humberto who was incredibly proud of his brand new hiking boots. Within the first two hours of his expedition, a wobbly rock in the stream pitched him and his heavy backpack into the stream. He was heartbroken. His new boots were ruined! His Outward Bound Instructor says, "Dry boots are a privilege, not a necessity."
This is what I told myself when David and I flipped our canoe up at Homeplace last October: "Dry boots are a privilege, Lynda, not a necessity!"
Q: How do you serve your community today?
A: For the last 19 years, I have worked first with a charter school, now with Discover U, to serve under-resourced students and connect them to leadership opportunities. Since I learned so much from Outward Bound, I saw the value of other young people going Outward Bound too. When they return from an Outward Bound course, students discover that they have learned to speak a new language of hope, and they are grittier, more adaptable and more flexible. And Outward Bound teaches people to care about our planet too.
Q: How do you think Outward Bound helps people cope with the current crisis?
A: Within a week of home quarantine, I began to feel uncentered and off balance. So, I started to draw on my Outward Bound experience. What had I learned on course about this? Well, I had learned how to be patient with myself and any given situation. Then my friend, Jason Stout, who works for Outward Bound USA, posted a piece by Instructor, Nick McEachern:
A major part of an Outward Bound course is what we call, "Solo." It lasts anywhere from a few hours to a few days, but usually means that students are alone, without their usual comforts, and are restricted to a small space in the backcountry. In a way, the entire country is on an unplanned Solo right now. Ask any Outward Bound alumni about Solo and they'll tell you that patience is an important part of completing the process.
I sent both Nick's article and a NYT Op Ed by astronaut, Scott Kelly, to every young person I could think of during our first month of quarantine. I suspect that all of the many students I have sent on Outward Bound trips in the last 19 years are now drawing on the knowledge they gained out there to get them through this pandemic.
Q: Why should young people go Outward Bound?
A: Life doesn't always go the way we want it to go. You've got to be prepared for that. Outward Bound teaches you how to cope and gives you a growth mindset.
The first crew I sent on a VOBS Grieving Teens expedition had a really hard time getting to Minnesota.
We all left Houston at about 3 am. Four of the oldest teens were booked to fly to Duluth via Chicago. David and I flew with two younger teens to Minneapolis, where we planned to rent a van and drive them up to Ely. It can be really difficult to get unaccompanied minors booked on connecting flights, so we accompanied them. In the van, about an hour outside of Duluth, my cell started ringing. The four older kids were grounded in Chicago. The day wore on, more calls. Moms, kids, Outward Bound. The airline agreed to fly the kids to Minneapolis then book shuttle tickets for them to Duluth. They got off the plane and raced to the shuttle only to learn that the airline had not secured van tickets after all. The four were stranded in Minneapolis so Outward Bound just drove down, picked them up and headed north again. By early the next morning, they were at the basecamp, packing out for their canoe trip.
A week later, the kids returned from their expedition and David and I joined them for their triumphant banquet dinner. I listened as they recalled their crazy travel to Minnesota. Then I said, "Well, your course just started a day early, that's all." They stopped talking and looked at me. Then the look in their eyes changed. In that moment, they saw that life is just one big Outward Bound course."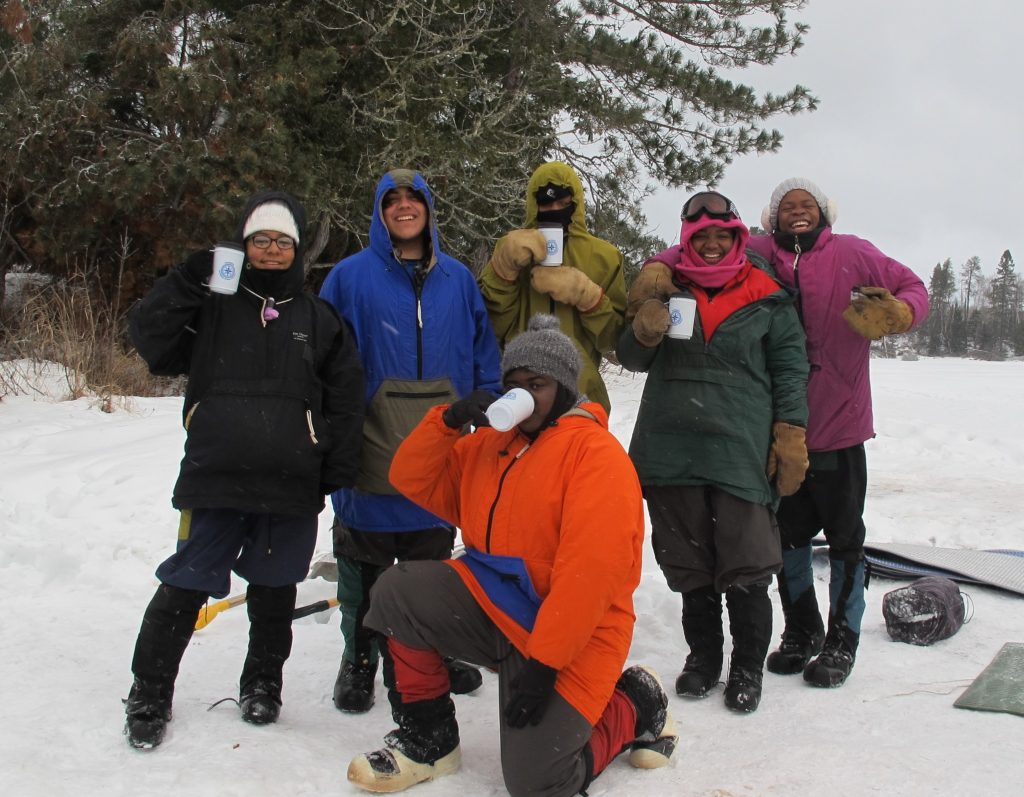 Our thanks to Lynda and David Daniel for their dedication to changing young lives, and their generosity in giving to Voyageur Outward Bound School. Unfortunately, due to the pandemic, we won't see Lynda, David or Discover U teens in Minnesota this summer. But we know that heroes like you and the Daniels will make sure that Outward Bound continues to serve future heroes when it is once again safe to do so.
Thank you for supporting Voyageur Outward Bound today for a better world tomorrow.
About the Author