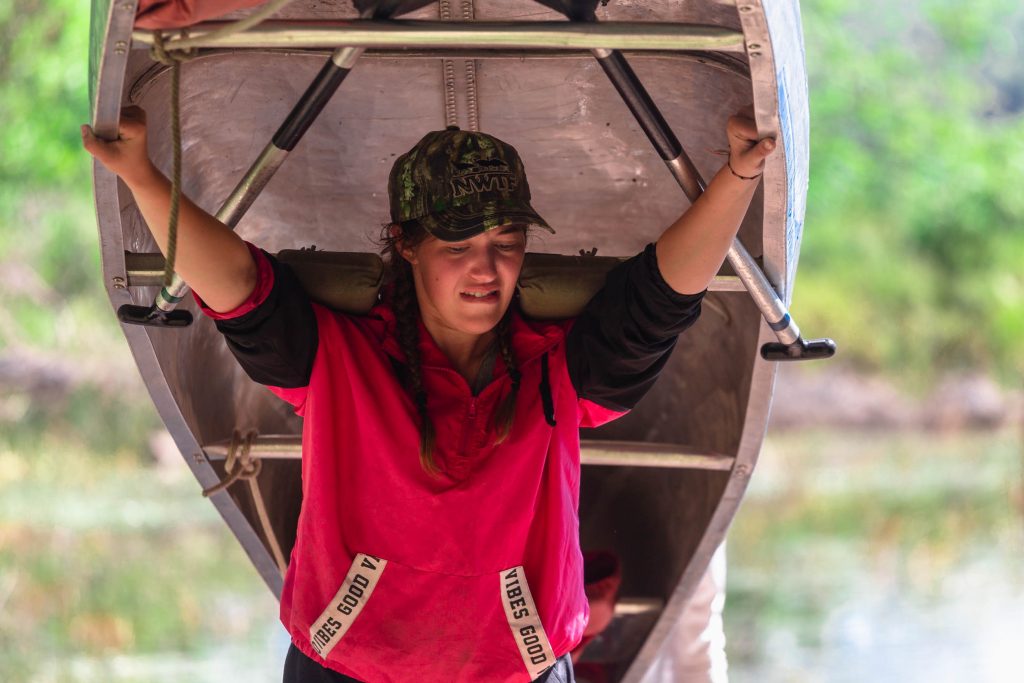 "Take courage, my heart: you have been through worse than this. Be strong, saith my heart; I am a soldier; I have seen worse sights than this."
Homer, The Odyssey
Greetings VOBS Friends,
This is a strange moment for us here at VOBS. This week, we end a month of intensive work with all hands on deck. Next week, we commence a month of wide-spread unpaid furloughs and we'll have only six of our crew on deck.
Thanks to an emergency Payroll Protection Loan, we called our entire team, including Field Instructors, back to work, albeit remotely, for the month of June.
In a single month, we organized, implemented and wrapped up the most comprehensive project work we've ever undertaken here at VOBS. We conducted staff training and equity, inclusion and diversity listening sessions. We developed virtual programming. We conducted community service and infrastructure work. We revised our budget and we fundraised.
Most importantly, we completed a comprehensive Program Resumption Plan so that we can safely return to the business of changing lives in-person this fall.
It's been quite an odyssey.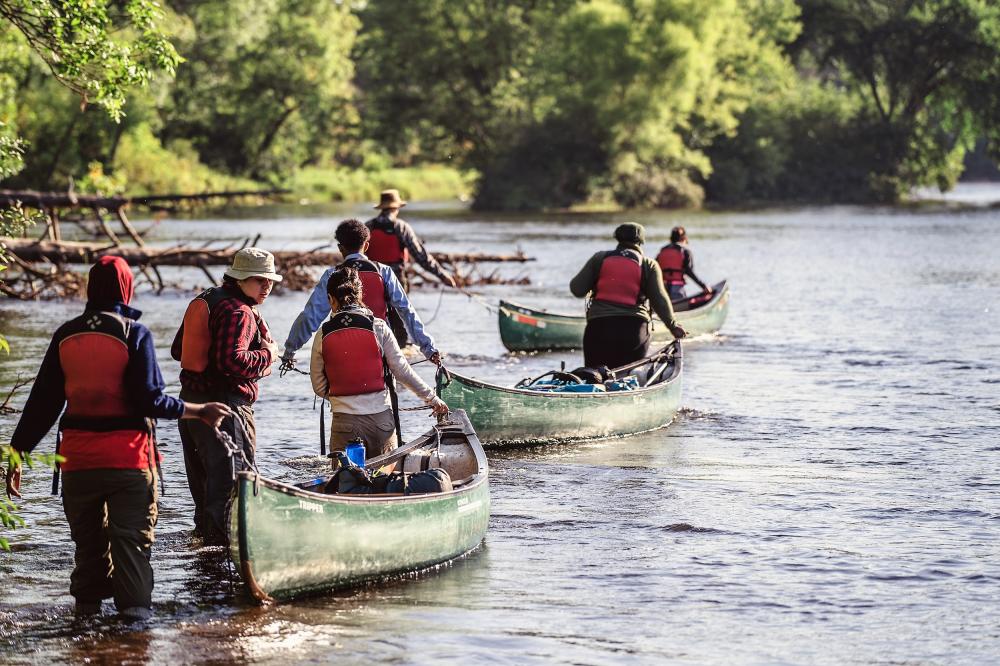 Not only did we chart a course, we created the map and the compass and built the boat while we were paddling. In one way or another, the entire VOBS crew contributed to our survival and success. Our goal is to stay the course so VOBS can serve students again and I have tremendous gratitude for our team's dedication and hardwork. June 2020 will become an important part of VOBS' 55 year history:
This will be the year that VOBS survived a global pandemic and the largest economic crisis since the Great Depression.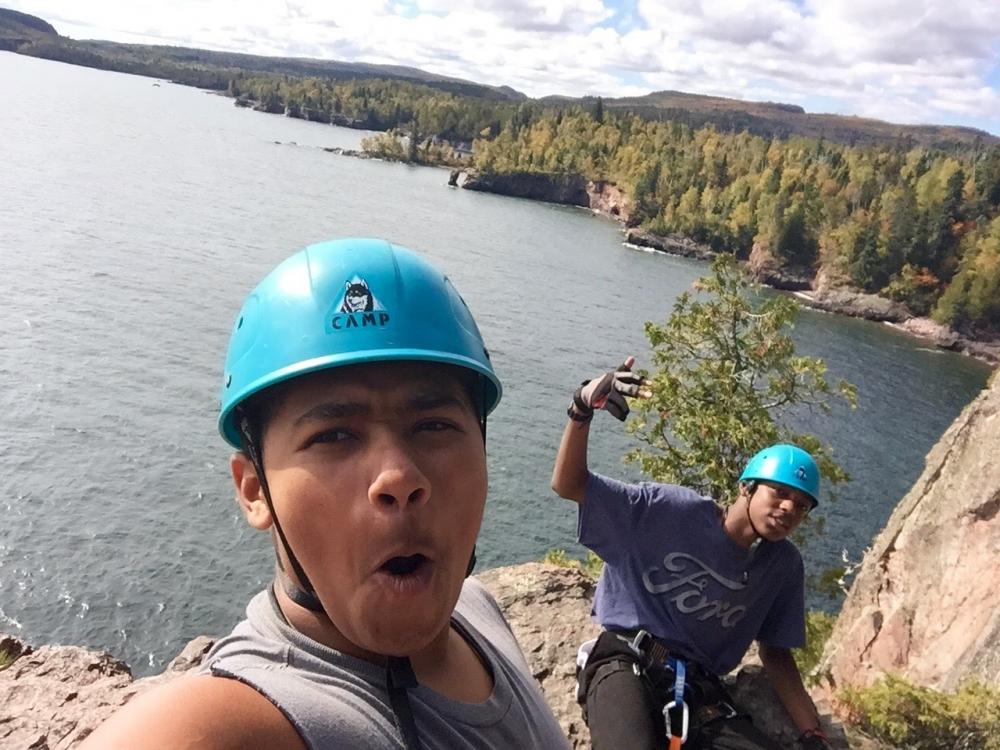 Roosevelt said, "The only thing we have to fear is fear itself," and I'm here to tell you that the VOBS team may have been afraid, but they worked with singular determination and grit in the face of that fear. This June, we have all been Outward Bound and we will continue to be so.
We're going to keep paddling because we are determined to change lives through challenge and discovery.
I'd like to share two unique perspectives on our June odyssey. You'll hear from our Board Chair, Ted Moores, and from Course Director and Instructor, Morgan Moores. Ted and Morgan are father and son and their professional and personal lives are very tied to VOBS.
Both share a love of paddling and adventure. They share a strong sense of humor–although their personal brands are quite distinctive–and they both lead with compassion, but, again, in very different ways. Ted has walked in my shoes, serving as Executive Director well before my tenure here. He leads our Board of Trustees and is very active on our Board Safety Committee. During this crisis, Ted has provided me, the Board and our team with invaluable perspective and steady leadership. I respect his council immensely and rely on his measured and thoughtful approach to problem-solving. I am very grateful to Ted and his fellow Trustees for their commitment to VOBS.
Morgan, like his father, is a proactive and thoughtful colleague, Instructor and leader. He prizes differences of opinion among peers, and in the field. He has the courage to engage challenging conversations because he knows that everyone has something to contribute as we pursue common goals. It should be noted that Morgan's deep whitewater skills were critical in the re-opening of our Texas program and the success of our whitewater courses; his leadership is central to our Big Bend work. Father and son both have indelible characters. You won't find certain details of their personalities in the Q & A below, so I'll share just a few here:
As I understand it, Ted was once in line to be an Olympic gymnast candidate, and, if I'm not mistaken, I believe he gave some thought to joining the circus as a trapeze artist. Ted is also a Canadian by birth. Ted and his wife, Janny (also a VOBSter) met at Homeplace, and Morgan was nearly born on base (see photo).
Ted and family lived at Homplace for a total of fourteen years. Morgan possesses what some might call an impish personality– clearly evident in his baby photo. Like his father, he always seems to have a twinkle in his eye. Morgan has been known to stay "in character" for days. When our Director of Partnership first met him, she took it for granted that he was Australian. Morgan is also something of a hyperpolyglot, having a remarkable ability to pick up, not just accents, but languages (and music) easily. Morgan's sense of humor belies a serious commitment to changing lives, which is evident in this Q&A. 
Please enjoy these two unique perspectives on an unprecedented moment at VOBS.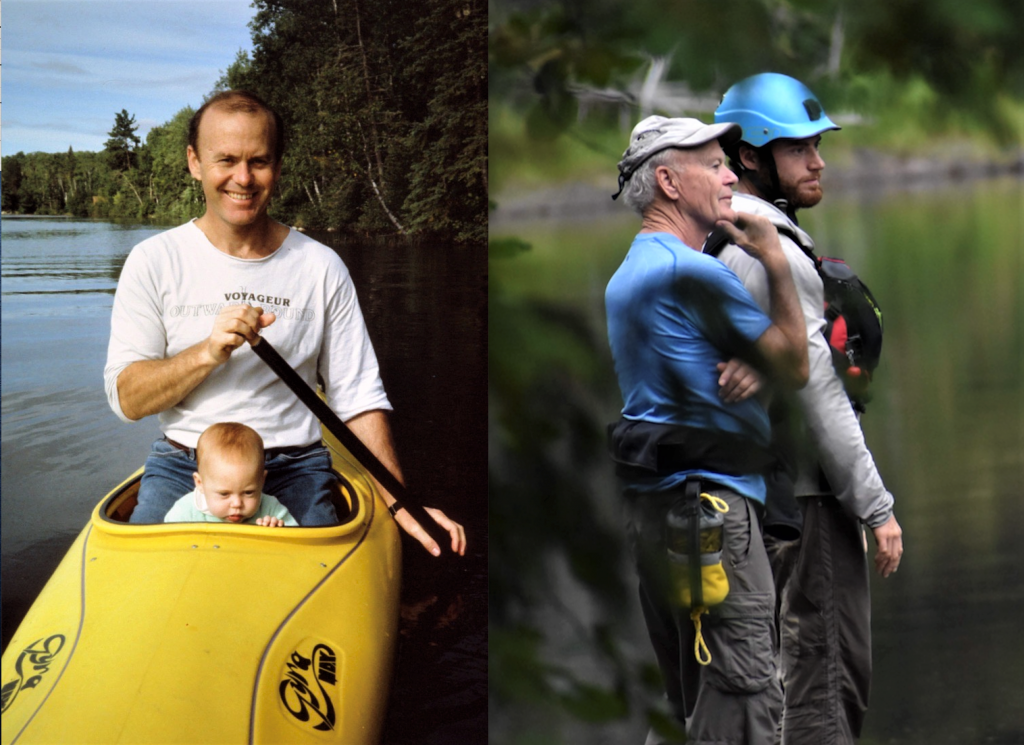 What is your name, and your role at VOBS?
Ted Moores: Ted Moores, Board Chair.
Morgan Moores: Morgan Moores is the name. Course Director, Field Instructor and/or Staff Trainer is usually the game. And now, thanks to COVID-19, I can add "Zoom Facilitator" to my titles.
How long have you been on the VOBS team?
T.M.:   Forty-eight years. I have served as VOBS Program Manager, National Safety Director and Executive Director. When I wasn't on staff, I served as an advisor and trainer and in 2010, I re-joined the VOBS Board of Trustees. I currently serve as Board Chair. My professional and personal history are intertwined with Voyageur Outward Bound School. My son, Morgan, was a baby at Homeplace, and he is now an experienced VOBS Instructor and Course Director.
M.M.:  Depends… This is my fifth year working year-round. I work up in Ely, Minn. out of Homeplace during the summer and migrate down to our Big Bend, Texas base during fall and winter. Before working for VOBS all year, I conducted staff whitewater training and worked seasonally. My first professional gig with VOBS was a "Winternship" (Winter Internship) back in 2012. Before that, I crawled around Homeplace for a few years in the late eighties, when my dad was VOBS' Executive Director. That's when my love of whitewater was born (see photo above).
What usually happens at VOBS in June?
T.M.:   June is a time for excitement and renewal at VOBS. Old friendships are re-kindled and new ones forged. Some folks move into new roles, as their careers advance. All of us—Administration, Program and Field Staff– participate in All Staff Orientation (ASO). ASO is an intense period of preparation and tone setting ahead of our busiest season and it is the most comprehensive component in a year-round schedule of field training. We welcome back seasoned staff, as well as interns.
Each summer, when our new intern class starts, we realize that we are welcoming the future leaders of VOBS. In June, everyone is anticipating a new influx of students and another very busy season of challenge and adventure. Personally, I also look forward to running an annual whitewater training for staff.
M.M.: Usually, in early June, everyone is finishing the better part of a month of training. We educate one another, do hard things together, eat, celebrate and plan together. This is an annual pilgrimage to Homeplace that we acronym lovers call, "ASO" (All Staff Orientation). Unfortunately, ASO requires us to be in close quarters, breathing on each other, so this year it was a "no go." June also sees the arrival of black flies, laughter and students. No doubt the black flies arrived at Homeplace, but students did not, and, as a consequence, it's pretty silent up there.
What happened at VOBS this June?
T.M.:  Well, this year there's no VOBS whitewater training for me, or anyone else. Instead, our focus, and the Board of Trustees' focus, has been mitigating the risk of COVID-19 and the attendant economic crisis. COVID-19 seriously threatens the pursuit of our mission, delivery of programs and VOBS' financial health. Once Outward Bound USA and all 11 Outward Bound schools nationwide decided to cancel 2020 summer programs, we turned our attention to program resumption. I sit on the VOBS Safety Committee and, together with the VOBS Program Team (lead by Suellen Sack, our Director of Programs and Safety), we have spent June figuring out how to mitigate risk in programming.
Our goal is to resume programming this fall and we are on a very tight and rigorous timeline to inventory, assess, modify and improve all safety protocols relative to COVID-19. Outward Bound is an industry leader, especially when it comes to risk-management in outdoor education. We have a unique opportunity to lead the way and also help our peers in the industry. Thanks to a Payroll Protection Program loan from the government, VOBS was able to put our entire human resource and collective brain power to work in three major areas:
Program Resumption Planning & Risk-Mitigation
Fundraising for VOBS Financial Survival
Staff Training & Program Improvement
This was no small feat. In order to keep everyone safe, we had to put everyone to work remotely. 
M.M.:  This June, instead of convening in-person, the staff gathered virtually to train and work together. Across the country and around the globe, we participated in and facilitated structured, virtual training and forums to educate each other. To build a sense of connection, community and purpose, we gathered informally online, conducted self-guided learning, and participated in a wide variety of community service wherever we happened to be. Together, we sought out meaning and tried our best to make progress remotely, and virtually.
What did you and your colleagues accomplish in June?
T.M.: Our June efforts helped us focus on the long term goal:
Deliver our mission
We worked to set VOBS up for a solid future of service. At the end of the month, VOBS submitted our Program Resumption Plan to our National Safety Committee. This was a huge step toward serving students this fall and represents a sea change in our capacity to adapt in the future. Not only are we more prepared to mitigate COVID-19 risks, we are more prepared to meet student needs.
We plan to deliver staff pilot expeditions to model our new safety practices in August and we developed virtual VOBS curriculum to pilot this fall in the Twin Cities. We started drafting plans for a new Equity, Inclusion and Diversity Committee and identified a trauma-informed care trainer for staff. Our staff also reached out to a broad network of past staff alumni to collect inspiring stories and donations (with zero summer revenue, VOBS needs donors now more than ever).
But it wasn't just the work we did, it was how we did it. We did the work together, as crew, not passengers. We were separated by COVID-19, but, thanks to technology, we got a lot done and we remained a team. We are, and continue to be, a close-knit staff. This June, we shared our own Outward Bound "expedition" and I'm very proud to be one of the crew.
M.M.: What we truly accomplished will likely be measured by VOBS' future success and our own personal success. We worked to help VOBS resume programming this fall, we facilitated conversations about equity, and improved our practice as educators. We also engaged in meaningful service to our communities in the middle of a crisis, which felt good and valuable. We had the chance to learn how to use a virtual forum for staff training and workshops– something we've really never done. And then, after the killing of George Floyd, like the rest of the world, we were hurtled through a vortex of self-discovery and difficult questions. We helped each other process the pandemic and racism, and, sometimes we made each other laugh too. I imagine that what we've accomplished during this last month will lead to greater change for the good at VOBS and the world.
What challenges did you and the team face?
T.M.:  To be honest, it was challenging to keep our twin goals of safe program resumption and financial survival front and center after George Floyd was killed. George Floyd's death and the consequent reckoning with racism shine a bright light on VOBS' on-going commitment to inclusion. It was inevitable that our team would want to re-double our equity efforts. Inclusion is one of our organizational values and we can't ignore our role in equity, but our first priority in this moment is safe program resumption and financial survival. If we do not meet these goals, we cannot continue to advance equity.
VOBS is a mission-based organization and our vision is a more compassionate and resilient world, with more compassionate and resilient people. We are educators and we believe that we learn best from one another. Inclusion is fundamental and racism cannot be tolerated. Our staff are committed to pursuing equity in our work; without students though, there is no work and no mission.
So, in mid-May, we had two vital organizational goals, and by mid-June, we had a third to consider: to continue to move the needle on equity, inclusion and diversity at VOBS.
Safety and equity for students is essential, for staff and for operations, but our capacity to make change is hampered by our capacity, period. As Jack says, "We can't do it without you." I will continue to fundraise so we can serve students, but I need your help, and so does VOBS.
M.M.: Probably the biggest challenge we faced as a team was balance. Field staff usually revel in the frenetic, constant engagement of ASO and in their in-person work with students. ASO is a hectic time with lots of intellectual training, physical work, and field work. Work with students is high energy and high intensity. The people we employ like to be with other people and they like physical activity. The work motivates us and leads to an incredible sense of accomplishment and exhaustion.
This year, during June, we had to balance our weird COVID life with a virtual, lower-engagement, professional life. Rewarding engagement was harder to come by and this led to feelings of confusion, indolence and, in some cases, over-stimulation. We are so used to facing adversity head-on in the field, the challenges of working through technology just pales by comparison. For most of us, self-motivation became challenging at some point.
Would you like to share an appreciation for your colleagues, Outward Bound-style?
T.M.:  I'm in awe of our staff. Our crew has gone above and beyond to make VOBS work. The brilliance, creativity, positivity and dedication of staff at all levels is inspiring. We need hope and vision, and our staff have it. My hat is off to the team. They are embodying VOBS values every day: compassion, integrity, excellence, inclusion and safety. They are working so hard and so well together, I know VOBS will thrive. I'm so proud, I can hardly stand it.
M.M.: I appreciate everyone for everything! We organized our remote working groups very quickly. We went from identifying projects, to executing and wrapping them up in a month. After George Floyd was killed, program management and leadership juggled program resumption, safety and a financial crisis with a renewed conviction to advance equity. Meanwhile, we've all had to show up in a virtual workplace, battling distractions, worries and uncertainty as we do. I appreciate the effort that our entire team has put into maintaining a sense of flexibility, while providing enough substance and purpose to hold on to.
What do you miss most about working with VOBS students?
T.M.: I don't work directly with students anymore but I miss all the things that make working in the field with them so wonderful: creativity, enthusiasm, ingenuity, laughter, compassion and community. But these elements are always there when I'm working with staff. I'm a little Zoomed out these days, though, and I certainly look forward to resuming in-person connection– I enjoy the energy of live interaction.
M.M.: I miss seeing connections happen when a student learns a new skill. I miss watching a city kid clean out their camp bowl with dirt. I miss watching a smile slowly creep across the face of a reluctant teen. I miss the moment when a student realizes that communication can actually work. I miss when students tell each other to knock it off and go to sleep. I miss the moments of spontaneous hilarity that burst forth at the end of an exhausting day on the trail.
What are your hopes for next summer at VOBS?
T.M.: I'm hoping that we are experiencing the beginning of a "cultural correction," prompted by COVID-19. I believe this correction has been a long time coming. I hope that we, as a society, gain some perspective and start creating a more resilient world together. I hope we focus less on greed, avarice and power. I hope that we focus on compassion. I hope we strive for equity, inclusion and diversity. I'm hoping that at least some of what we've learned in this very hard year will stick. I hope that we see our role in a healthier future, for people and the planet.
There is a big need and Outward Bound is perfectly positioned to provide compassionate leadership. I hope that next summer we have full enrollment, expanded partnerships with diverse organizations, and robust funding to help us advance our mission to serve more students, and more diverse students. I don't think there is any way we'll go "back to normal."  I think we're on course for a "new normal," a better normal, and, with staff like ours leading the way, VOBS' future is in good hands.
M.M.: I hope that we are able to come back up to Ely and dip our toes and paddles in the water with some young people. I hope that we keep struggling together! I hope that we have hard conversations and experience the rush of success. I hope that we come together again next summer as a community, excited to engage in the next normal, and refreshed enough to make that next normal feel like challenge and adventure.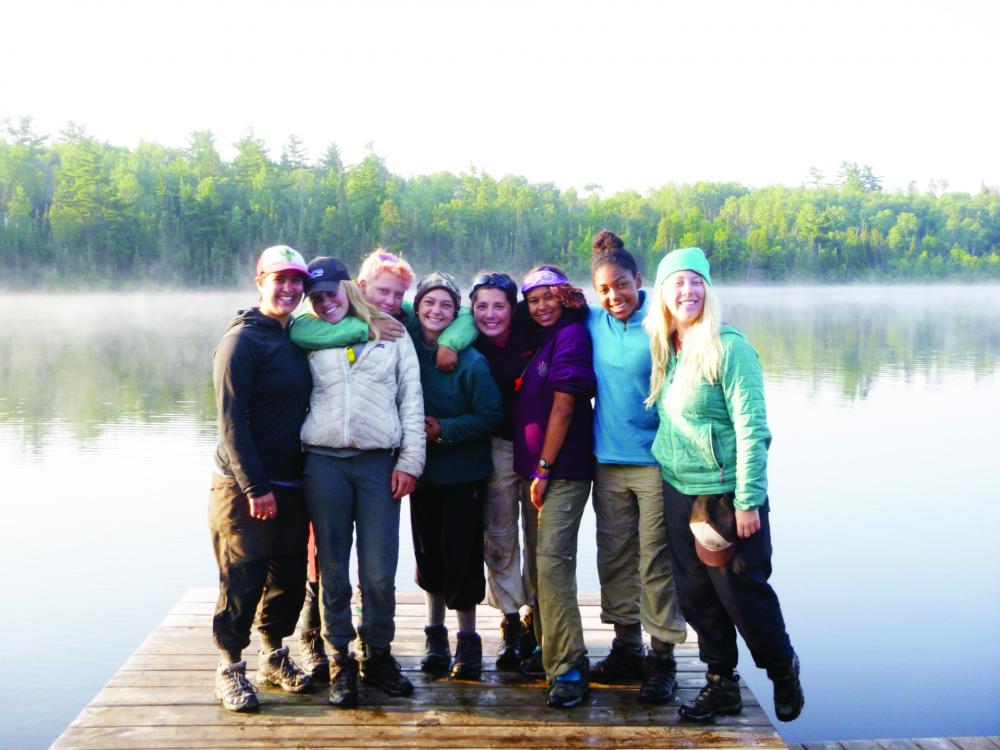 Thanks to Ted and Morgan for their perspective and leadership.
On a pre-furlough call with our entire Admin team this week, Dan Blessing, our Summer Program Director, said:
"I took a walk around Homeplace yesterday, and I realized that it's a powerful place, even a spiritual place. But the power of Homeplace isn't in the trees, or sky, or water. It's a beautiful place for sure, but what makes it powerful is the students. People give Homeplace it's spirit and without them, it's potential is just waiting. We won't maximize that potential until students return."
Help us maximize our potential to change lives through challenge and discovery.
About the Author