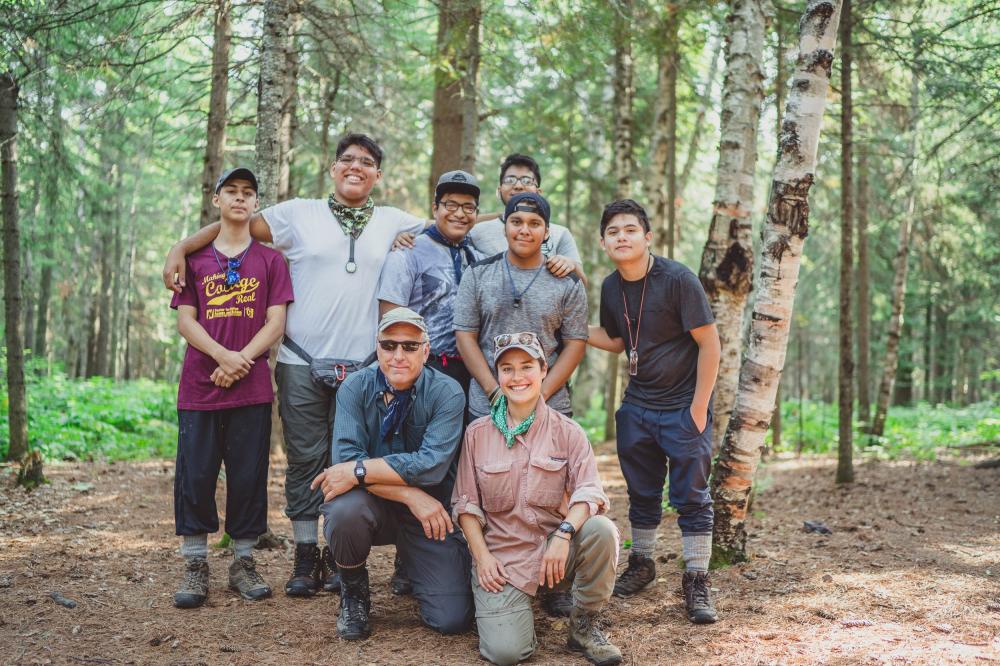 Greetings VOBS Friends,
Have you found your "why?"
Simon Sinek, Peter Docker and David Mead wrote a pretty good book in 2017 called, "Find Your Why: A Practical Guide for Discovering Purpose for You and Your Team." I have no interest in stealing Sinek and friends' thunder, and their work has certainly earned a solid place in the cannon of personal development and self-help books, but, in my opinion, Outward Bound is the original self-help tool.
"Happiness comes from what we do. Fulfillment comes from why we do it."
"There is more in us than we know. If we can be made to see it, perhaps for the rest of our lives we will be unwilling to settle for less."
"Anything I love, I want to share."
A lot of people go Outward Bound because they want to find their path, catalyze their potential and discover their purpose in life. Outward Bound is a hands-on tool for asking and beginning to answer big questions about who you are today and who you want to be tomorrow. The mission of all Outward Bound schools is to change lives through challenge and discovery. This mission is also the "why" for our staff.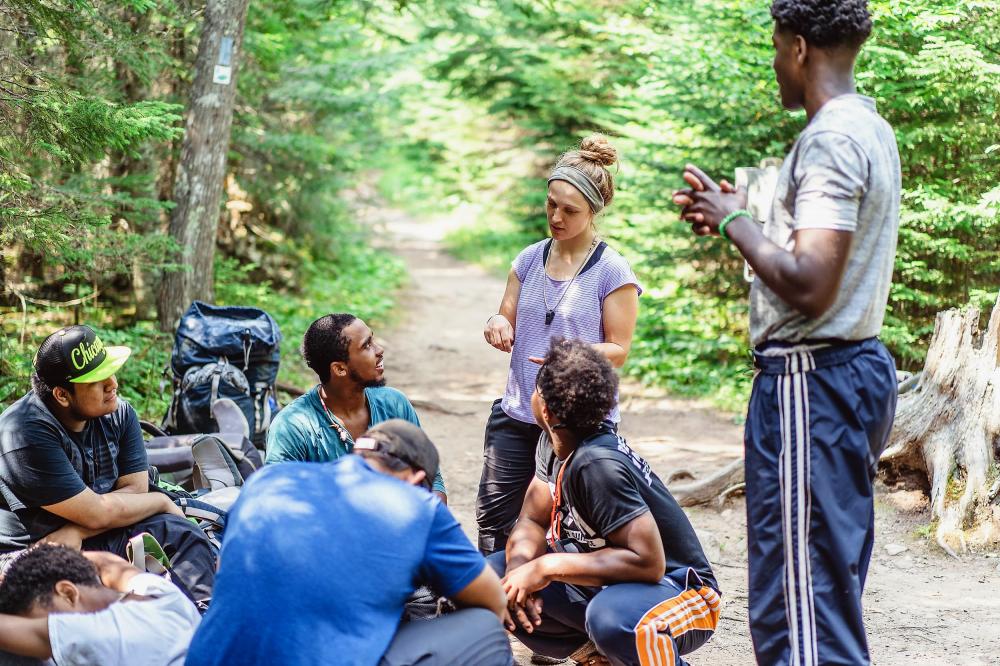 I've never encountered a person who has nothing to say about why they work for Outward Bound. In interviews, our staffing teams ask, "Why do you want to work for Outward Bound," and the answer of most candidates, and certainly the strongest ones, is a variation on one theme: the mission.
People work for Outward Bound because they believe in human potential. They believe that we learn best from each other. People who work for Outward Bound want to make transformation possible for other people. Our staff also believe that VOBS' organizational values are great values to work and educate through:
compassion
integrity
excellence
inclusion
safety
As readers of my weekly message know, compassion comes first at VOBS for a very good reason. Compassion is the "parent" value of the other values. In our work and instruction, we lead with compassion, "above all."
Compassion implies a host of practices and traits, including, but not limited to, listening, kindness, empathy, patience and courage. In my experience, compassion demands an ethic and practice of service. To practice compassion is to identify and serve the needs of others. Service is my "why" as a leader. I lead to serve Voyageur Outward Bound School, our staff and our students. I consider myself a servant leader.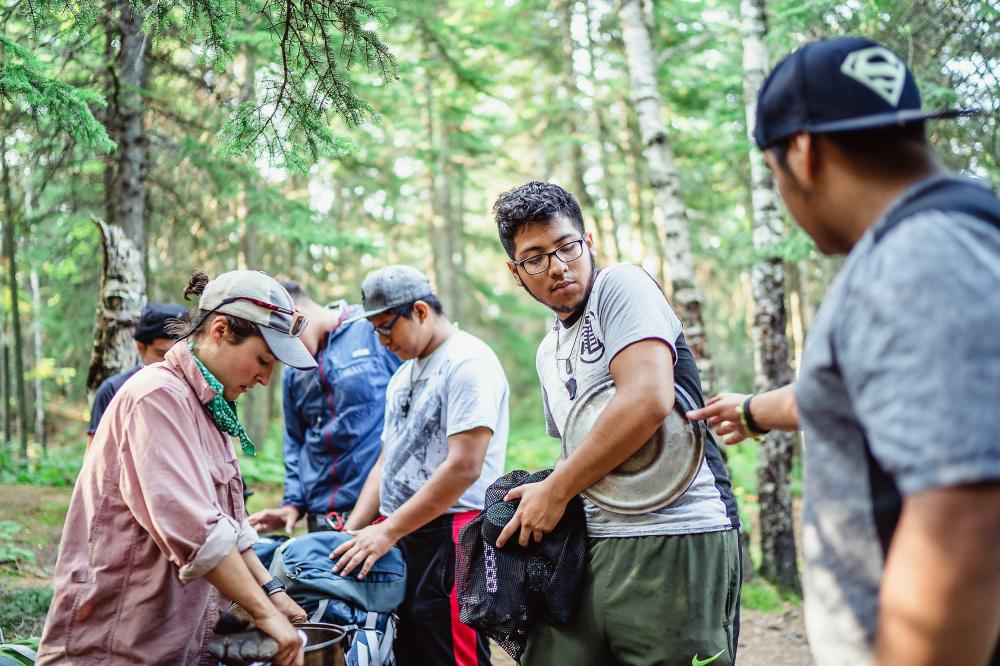 Outward Bound Instructors, who work directly with students, not only practice servant leadership, they view service as their primary purpose as educators. Our Instructors believe that compassion–identifying and meeting the needs of others–is a best practice in education. Compassionate service drives their sense of purpose as professionals: "We are servant leaders; we are educators."
Our team has worked very hard all summer to prepare to resume programming with students in-person next month. This has been a labor of love. The prospect of serving students again has been the primary motivation and carrot for our staff. One very hardworking member of our crew is Abby Dare, our Staffing Director.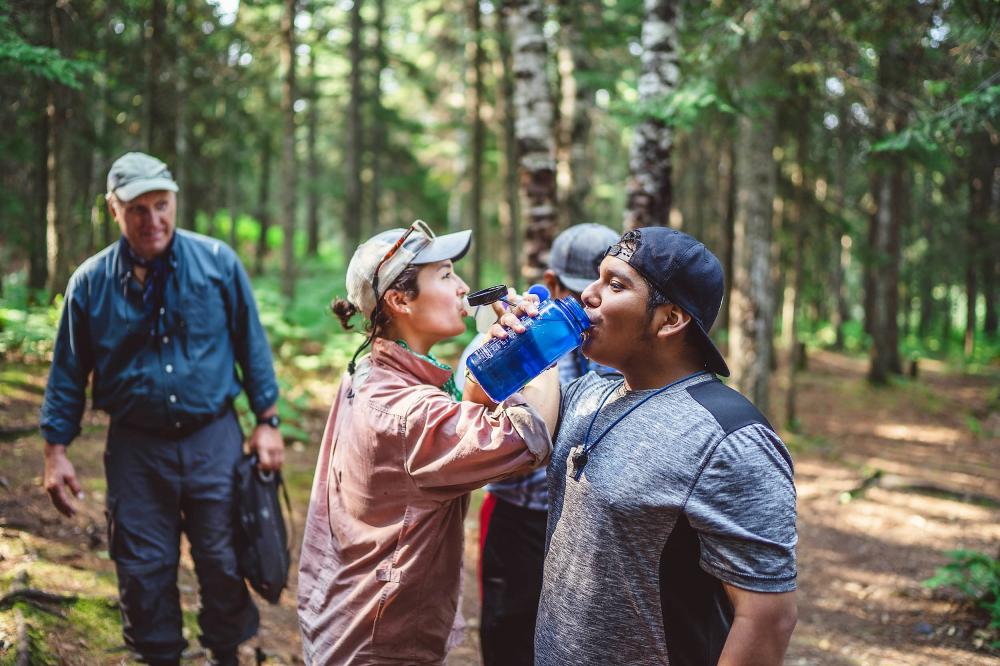 Abby is responsible for staffing the crucial programs that will serve students again this fall. Abby is very aware that our Instructors are key to our success in the best of times. Now, in the age of COVID-19, Instructors are beyond essential to compassionate, integrous, excellent, inclusive and safe programs. In light of that, one of Abby's top priorities has been to stay in touch with our furloughed field staff.
Abby knows that Outward Bound Instructors do not grow on trees; our staff are some of the most experienced professionals in the field of outdoor education. These are dedicated folks, and yet, Abby was a little nervous before she started to reach out and gauge interest in returning to work. Would people be ready and willing to return to the field? Would they feel the risks were too great? Would they be reluctant or worried? Here's what Abby discovered:
"It's such a relief! Most of our staff are more than ready to return. They feel like now is the time. Now, more than ever. They have so much work to do. Students need them, and there will be so much to dig into, talk about and learn together."
Outward Bound Instructors are very safety-focused, so they naturally come to the return-to-work conversation with many helpful questions about new physical and emotional safety protocols for students. But, in Abby's experience, what Instructors really seem to be looking for is information on how to serve students better in a time of unprecedented need.
---
"Our staff do want to be as safe as possible for their students, their colleagues and themselves, but they are really motivated by purpose. They want to be prepared to serve.

I've been talking with many instructors over the past couple of weeks about their upcoming work in the field. Working for Outward Bound is a huge commitment, always. You are required to pack up your life and put it all on hold for a month or more while you live in the wilderness with teenagers… hoping to help them build skills and grow new perspectives on life. Packing up your life is hard! I get it. I've done it. And, with COVID-19, packing up your life might be more complicated than ever– to the point that people might say, 'No thanks!'– but staff are motivated and excited. Work is their 'why.' No question. Our work with students gives VOBS Instructors a strong sense of purpose. So, like me, they are really relieved and excited to get back to working with students. They have purpose and they can't wait.

Field staff are excited about working with young people again, not in spite of COVID-19, but because of it. We are living in such a unique time. Outward Bound courses always have a lot to talk about– a crew of people come together to learn from each other and work together to accomplish a massive expedition. Of course there's a lot to talk about! And now there is even more to learn… this pandemic is a massive shared experience in the world right now, and it is affecting everyone, but we're each experiencing it in a unique way. Instructors see this as a big opportunity to explore equity, justice, communication, leadership and more.

Instructors want to facilitate important conversations, and hope to send young people home with a new outlook on how to interact with the world and make positive change. That's the point, right? Change the world. Make it better. More compassion, more resilience, more peace."
---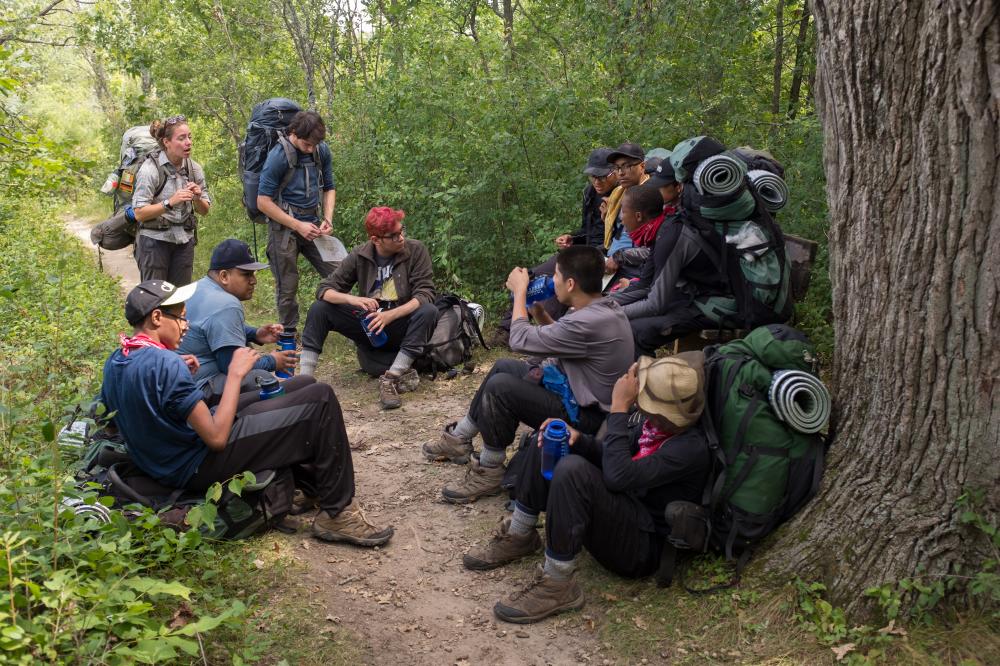 I am very grateful to Abby, our staff and our Instructors. Please join me in thanking the VOBS team for their dedication, hard work and service!
This week, Outward Bound USA is celebrating service across our nationwide network of 11 schools. Together, we take this opportunity to recognize the vital contributions of our field instructors. Through their service, Outward Bound changes lives through challenge and discovery. Outward Bound Instructors make our shared dream of a more compassionate and resilient world a reality every day.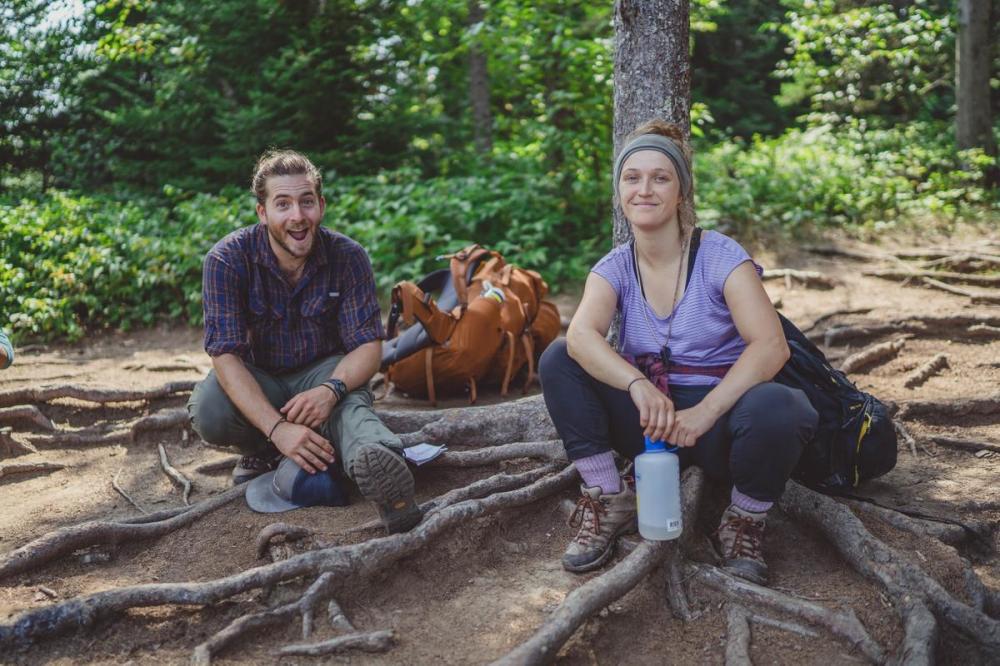 Most of you know that this summer, due to the pandemic, and our economic crisis, VOBS suspended programs and furloughed most of our staff. Thanks to an emergency loan, we were able to call all field instructors back to remote work in June. I think it is worth remembering the power of their purpose. Here is what the collective purpose of a crew of Outward Bound Instructors produced in a single month, at just one Outward Bound school (VOBS):
1,796 hours of community service performed
$14,590 in staff donations raised
807 pounds of trash picked up
203 masks sewn
284 letters written
49 Black Lives Matters marches attended
530 meals cooked for others
799 hours of service to peers
1,000+ hours of professional development
1 Equity, Inclusion and Diversity (EID) Staff Task Force formed
20 Hours of EID listening sessions conducted
4 weeks of Anti-racist education delivered
50 donor calls made
Reconnected with over 600 past staff through phone calls and emails
1 Program Resumption Checklist submitted
1 Program Resumption Plan drafted
One month, one school, without students!
Imagine what happened across all 11 Outward Bound schools.
Now imagine what will happen when all of these purposeful, compassionate Outward Bound leaders return to serving students!
---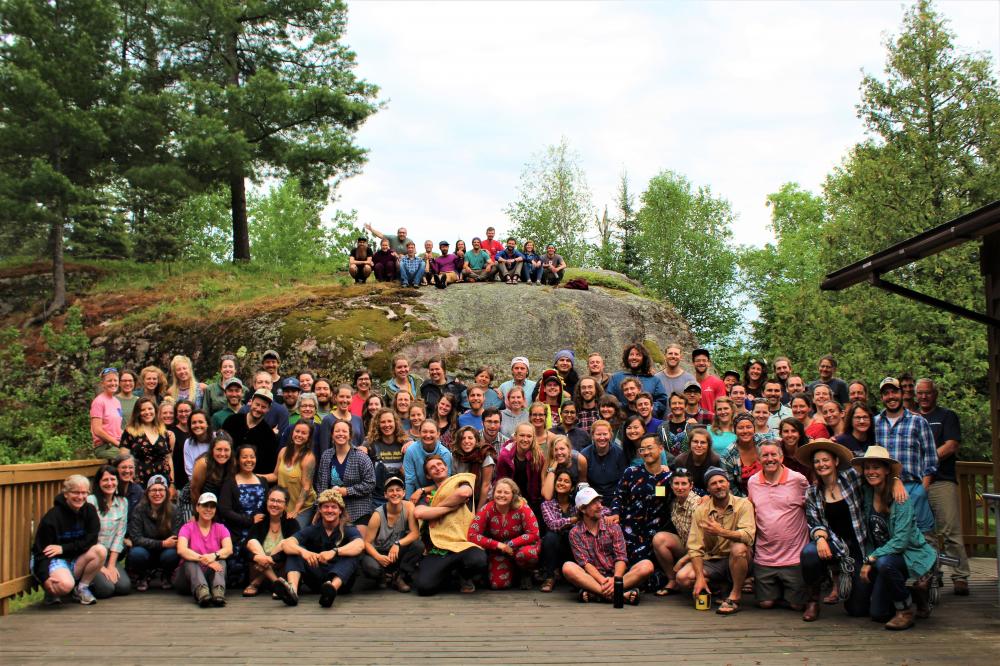 About the Author