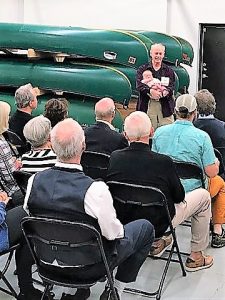 Last Thursday, more than 50 Voyageur Outward Bound School (VOBS) supporters came together at our Twin Cities Center (TCC) in Saint Paul for a festive Open House.
As Poppy Potter, Director of TCC and Group Programs explained, "this year is a milestone for VOBS." We just celebrated our seventh year of TCC programming! Homeplace has been around since 1964, but our Twin Cities Center is the youngster of our three bases. Poppy herself was instrumental in establishing TCC. Poppy signed on to support and activate the original a vision: close the opportunity gap for Twin Cities youth and young adults through innovative partnership with schools and youth-serving organizations. TCC was born in the back of a New York taxi cab. Lee Skold recalls that journey to the airport with Bob Moeller (Lee and Bob have been active on both OBUSA and VOBS Boards): "I suggested we establish Twin Cities Center and that he would be the ideal person to lead the process. Bob jumped at the chance, rallied the VOBS trustees and troops, and signed Poppy up. The rest is history!"
Twin Cities Center History
Seven years later, our Twin Cities Center delivers challenge and discovery experiences in urban and near wilderness settings year round. Our progressive programs are co-designed with our partners to grow leadership skills and character, preparing students for the challenges of school and life. With the help of highly trained Instructors, our students collaborate, solve real problems and set goals for success. In 2016, your support allowed our Twin Cities Center to:  
serve over 2,000 students
provide almost 15,000 days of high-impact programming
sustain partnership with 20-25 local schools and non-profits each year
Community Impact
During our Open House we got to share great stories of program impact. Program Director, Dan Stark, who is responsible for the high quality of our programs, told us about Amiri. Amiri is a student with New Lens Urban Mentoring Society— one of our Saint Paul partners. Amiri has some history with us; he's been working with New Lens and VOBS for three years:
I got to watch Amiri transform from a reluctant member of the group, to a leader of the group. He's now quick to give encouragement, lend a helping hand and make his opinion heard when his group is making a decision. While he struggled on his first Expedition, and wanted to give up, he persevered and made it through. When he showed up for the next trip, he surprised us. We didn't think he'd return. Not only did he return, he had different mindset. He encouraged his peers and set a strong example for his friends. At the end of a summer of programming, he was walking with his head held high and looked like he had grown about 3 inches.
Community Support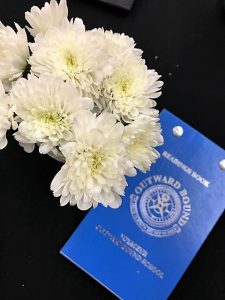 Thanks to your support, our students discover their potential and find out, as our founder Kurt Hahn famously said, "there is more in you than you know." Jack Lee, our Executive Director, shared Nomin's story. Nomin immigrated from Mongolia six years ago and was reluctant to share too much about himself, and he wasn't quite "on board" with Outward Bound:
We thought our instructors were kidding when they demonstrated how to portage a canoe… The first week definitely challenged me a lot….but as days passed by, I started to feel something great. I learned so much about myself on this trip… Once I came out of my shell, I was the one to make everybody laugh and the one to lift everybody's mood up. Also, I learned that I could read people… and support them as well…Last, I learned that, I am much stronger than how I thought I was, physically and mentally. … I wouldn't be who I am today, if it wasn't for you guys.
To paraphrase Nomin: We wouldn't be who we are today if it wasn't for "you guys."  Thanks for your support!
If you'd like to share feedback about the Open House, have questions about our programs or just want to come on in and visit, please send me an email: Courtney.Kupsch@vobs.org or give me a call: 651.401.0635.
To make Outward Bound possible for youth and young adults, donate here.
About the Author