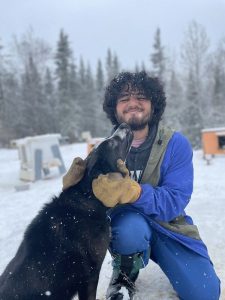 "Welcome back to VOBS!"
"Welcome to VOBS!"
"We're glad you're here!"
"Thanks for going Outward Bound!"
This is what many staff and students will be hearing very soon as Voyageur Outward Bound School kicks off our 58th summer season.
Join us as we celebrate spring in the North, and nearly six decades of summertime belonging, strength and purpose.
Once again, VOBS will welcome hundreds of students to challenge and adventure this summer. Students will discover strengths and develop skills paddling the Boundary Waters, navigating the St. Croix or hiking the Superior Hiking Trail. Each student will have a one-of-a-kind experience and, as newly minted Outward Bound alums, they will return to their communities and enact resilience and compassion in their own unique ways – they will pay purpose forward in ways we can only begin to imagine.
Last week, we were lucky enough to sit down with a fresh and full-of-purpose alum, and his story is emblematic of the promise that every summer holds here at VOBS.
Moises Mezza began his leadership journey with VOBS a year ago, in the summer of 2021.
Called to action by the murder of George Floyd, VOBS partner, Stillpoint Engage, invited Moises and a crew of young leaders of color from the Twin Cities to go Outward Bound last summer.
The goal was to give this next generation of community change-makers an opportunity to enact their leadership and explore their potential. Moises graduated from this first seven-day BWCA Leadership Expedition energized to make change in his community, and hungry for more Outward Bound. A week after his first course, Moises declared he had a purpose: he was going to become an Outward Bound instructor. And not only was he going to become an Outward Bound instructor, he was going to bring the trauma-informed care skills he's been developing with the Irreducible Grace Foundation to the VOBS community.
Thanks to a new scholarship initiative–VOBS Scholars–Moises enrolled tuition-free on a 30-day winter Pathfinder Expedition to continue his leadership journey. This experience helped Moises identify and grow his strengths, and it galvanized his purpose.
This summer, Moises will return to VOBS for a 50-day Leadership Semester Expedition–tuition free–and when he graduates, he intends to join the VOBS team as an intern and begin his journey to instructor.
Today, we share a short excerpt of inspiration from our recent conversation with Moises. His leadership journey is the dream: A young community leader goes Outward Bound, gets inspired, returns to their community with confidence and purpose… returns to Outward Bound for more leadership development, and… dream-come-true, joins us to inspire and teach others.
We invested in Moises, and he invested in himself. Now his community, his family and VOBS benefit from Moises' time, effort, compassion and resilience.
In his own words of wisdom:
I never thought it would be possible, but I'm looking forward to what's to come.
Now, whenever I wake up tired and unmotivated, I remember what I'm striving for.
I remember I'm going Outward Bound again – and I remember I'm going to work for Outward Bound! That motivates me like crazy! Nothing has ever motivated me like this.
Out there, I learned that vulnerability is kind of my superpower.
I can make an intentional choice to be vulnerable–to own and share my discomfort–and it's an invitation to others to be vulnerable and honest with me.
I've realized how common it is to just… avoid conflict. These days, it's so easy to step away from things that make you uncomfortable – especially people.
Before I went on course, I didn't know that vulnerability was a strength. And that I can use it to reconcile differences.
I experience social anxiety and it can be paralyzing, but now I move through that impulse to retreat and hide, because I know I have a superpower, and I have a purpose: I want to help other people – that motivates me.
Now I make a pact with my peers and loved ones – even people I'm not sure I can get along with. Now I intentionally make space for us to connect and communicate. I commit to be honest and own my feelings, with the hope that others will reciprocate.
And they do!
I can't wait for the Semester course. And once I'm done, I'm so there!
I'm gonna be ready to give back and inspire other people, just like my instructors inspired me.
It's my own journey from "I" to "We."
Thank you to Moises, his family, his community and Irreducible Grace.
Thank you to Jane Reilly and Vivian Lee of Stillpoint Engage.
Thank you to VOBS Instructors, Chris, Clara, Julia, Nora and Dan.
Thank you to VOBS Student Services, Program Directors and Course Directors.
Thank you to our fundraisers, funders, stakeholders and champions.
All of you make purpose possible.
Each and every one of you makes change possible in your own unique way.
Here's to our 58th Summer of challenge and discovery.
Now let's get out there and go Outward Bound!
About the Author