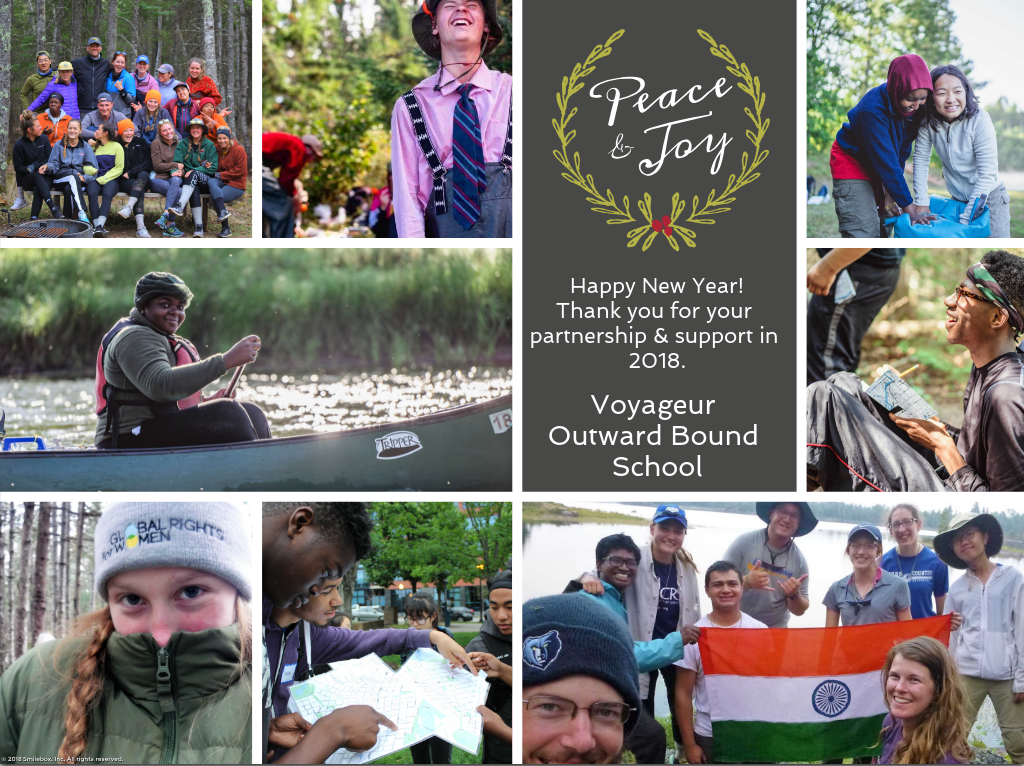 Dear VOBS Partners,
Each year we collaborate with an amazing variety of change-makers to create life-changing programs. We value our our partnership with you–the schools and colleges, youth-serving non-profits and for-profit organizations–who share our vision for a more resilient and compassionate world with more resilient and compassionate people.
Together, we create a community of innovators bent on making the world a better place. You are our "crew," our "brigade." You keep our eyes on the horizon and our compass centered on "true north."
We are humbled by your mission to serve, and inspired by your compassion and determination.
Please join us in celebrating our collective 2018 impact and enjoy the student, staff and supporter reflections that follow.
We wish you all a very Happy 2019 and look forward to future adventures with you!
With gratitude,

Poppy, Marlais and the entire VOBS team
I am capable of being a leader.
New Lens Urban Mentoring Society
I learned the true beauty of active listening and experienced the glory of nature. I have absolutely grown on this course, not only as a leader but also (and more importantly) as a person.
University of Southern Mississippi
VOBS programs align with our mission by offering youth the opportunity to challenge themselves and explore their strengths in a unique setting. 
H.B. Fuller Foundation
One day while I was canoeing I've seen a rock and look how small it was, but it was changing the flow of the river and I tell myself about that moment– if a small rock could do that to the big Saint Croix River, I could do that too.
Upward Bound University of Minnesota
I love the people I work with, but I also love the natural, inspirational beauty of the mountains, lakes and rivers that I get to call my office. The magic of the environment is a powerful main ingredient of every VOBS course. 
VOBS Instructor
Dear Dad, I know you didn't want me go on this trip, but it was actually very fun. I know you saw me as your indoor daughter but I wanted to enjoy outside things….I was able to look up at the sky and enjoy the view it gave off. 
Washington Technology Magnet School
I learned that I am a strong person that will not give up easily. During this trip, I have grown stronger with the help of those around me.
The Fellowship Initiative
I journey with students through their ups and downs — both real and metaphorical storms and sunshine. The dynamic nature of expedition life illuminates the ways people change, learn and grow.
VOBS Instructor
Voyageur Outward Bound creates a path toward resilience and leadership. Participants come away with an increased sense of confidence, development of interpersonal skills, and increased dedication to hard work.
Otto Bremer Trust
Life is a team sport. If we all invest in it, we can move mountains.
University of Notre Dame
Strength doesn't come from what you can do, it comes from overcoming the things you thought you couldn't.
Open World Learning Community
It is from the contrasts and reflections of our own experiences that we learn from those we meet. We find the unique differences and joyful commonalities between where we are and where we come from.
Saint Norbert College
About the Author