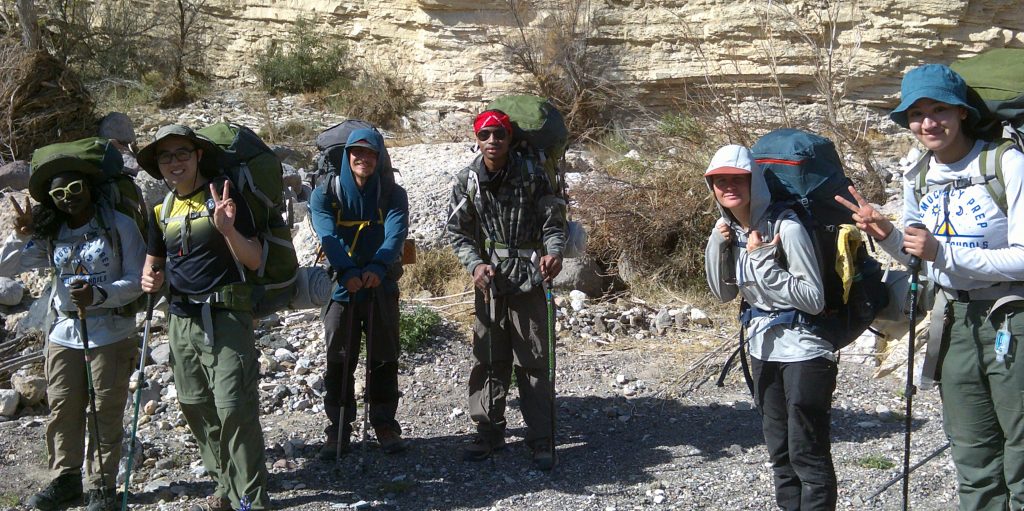 Homeplace instructor Benji Blumenstock has received the Lt. Col. Mark Weber Service Above Self Award. He was nominated by his VOBS peers for exemplary service and dedication to Outward Bound's mission.
The award, named for the late Army Lt. Col. Mark Weber, recognizes staff members who lead with the highest standards of ethics, courage, perseverance, humility and service to community. Weber, a life-long Minnesotan, served as a U.S. Army officer for 23 years and died of intestinal cancer in 2013. In 2009, he participated as a student on a VOBS course for military veterans, and in an interview with the Star Tribune, he said, "It was literally the most powerful and most humbling experience."
Benji, at 25 years young, is already cultivating many of the admirable qualities Weber embodied. A native of northern Massachusetts, Benji came to Homeplace as a VOBS student in 2015. "I grew up camping, I thought I was going on a nice camping trip," Benji shared. But it wasn't a nice camping trip. It was hard. It was uncomfortable. It was profound. He came away deeply moved by the self-discovery, empathy-building, life-affirming experience that it turned out to be.
Benji took lessons from that first VOBS experience with him to Boston College, where he applied these learnings in his daily life. "VOBS was the first place I was challenged to see things from others' point of view," he explained. "I used that a lot in college. I also knew that if I could portage and paddle hard for three weeks straight, I could get my homework done, no problem."
Benji recently celebrated five years as a Homeplace and Texas instructor. He says his stand out experiences include 50-day Intercept courses with young adults who are facing serious life challenges. As an Intercept instructor, he developed self-confidence, was able to experiment, and enjoyed being there for his fellow instructors and students. "The Boundary Waters area is a magical place for me," Benji said. "The Texas desert is amazing, too – but I really appreciate the abundance of water in the Northwoods." He's looking forward to co-leading another Intercept course this summer.
Among his peers, Benji is known as a thoughtful member of the community and someone who truly embodies Outward Bound values. His fellow instructors notice how he creates a welcoming community at both the Texas and Minnesota basecamps. One peer who nominated Benji wrote, "He can be found helping put on events in the community, staying after to help clean up, and/or having deep conversations and being a listening ear to an individual. He truly loves and believes in Outward Bound and goes above and beyond what is expected in curriculum design, student and staff relationships, and community involvement." A student on one of Benji's courses shared his appreciation for Benji's "hard work, love and support that certainly exceeded my expectations."
Benji was humbled and grateful to receive the Weber Award. "It feels unexpected and sweet to be appreciated in this way," he remarked. Congratulations, Benji!
Stay tuned – The Twin Cities Center staff awardee will be announced in August.
Previous Award Winners are:
2013 – Bud Ahrens & Phil Courey
2014 – Jack Willis & Will Zest
2015 – Abby Dare & Emma Schneider
2016 – Rachel Hedlund & Jesse Brown
2017 – Andrea Doerr & Emma Gibson
2018 – Anneke Johnson & Kevin Mack
2019 – Yoshie Fujimoto-Kateada
2020 – All 2020 Field Staff
About the Author