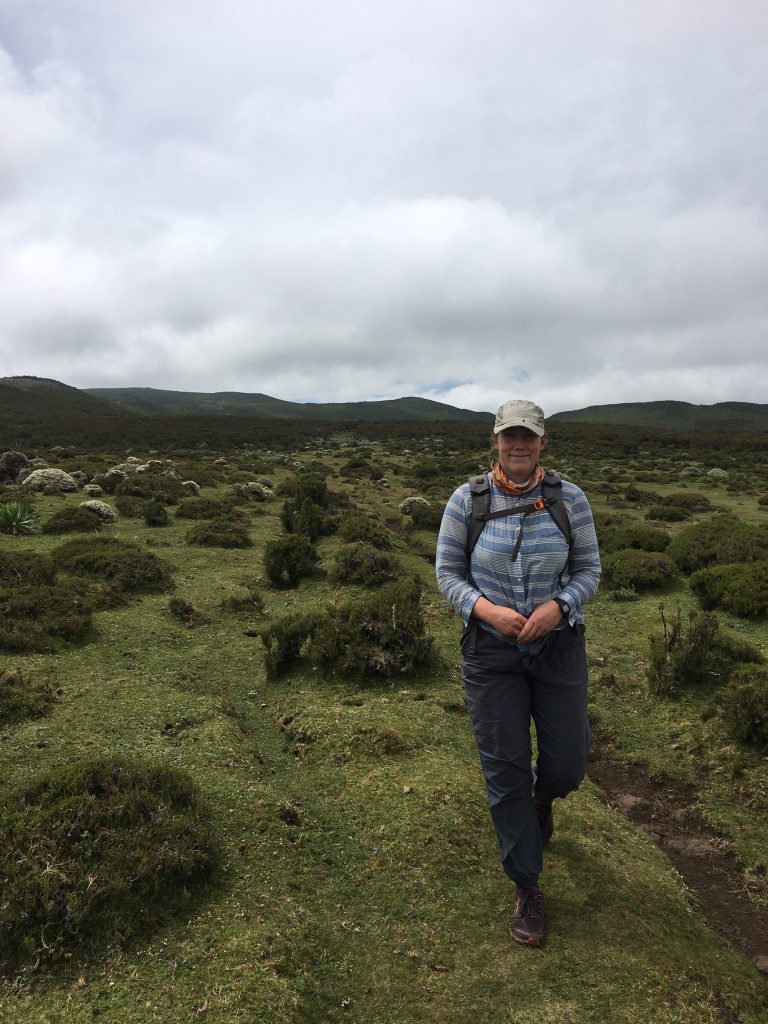 We sat down with VOBS Staffing Director Abby Dare to learn about her VOBS journey and her reaction to receiving the Marina Ewald Award from Outward Bound USA.
Q. Tell us about your background and your early VOBS career.
Abby: I grew up in a great family in the Twin Cities suburb of Apple Valley, MN. After earning my bachelor's degree in Physical and Health Education from University of Wisconsin-Madison, I began an internship with VOBS. I've been working at Homeplace ever since. My journey led me to become an assistant instructor, a year-round field instructor, and then a course director. In 2018, I assumed my current role as the staffing director.
Q. What does a staffing director do?
Abby: I help with year-round staffing oversight for field staff. My main job is summer staffing for Homeplace, which includes around 85 staff members. I'm in charge of interviewing and hiring for new staff, and rehiring return staff as well. I'm part of a team that works on training, and my role is to get everyone in the door and get them to the right place at the right time. I also consult and advise with our other programs.
Q. What do you love about your job?
Abby: Outward Bound is an all-encompassing concept, so we can hire people with any background to work here. Any past experience is relevant to offering the students perspective, which is essentially the crux of the job. I've hired people with all types of education, professional background and life experience, and it's clear to me that all types of people can show up here and add tons of value. As long as they are willing to understand the importance of self-awareness on their personal journey, they'll be successful. Though they are certainly not expected to have it all figured out! The greatest gift Outward Bound can give you, which is similar for staff and students, is the gift of perspective.
Q. As you reflect on your years here, what has VOBS given you?
Abby: VOBS has given me empowerment in my own vulnerability and authenticity. It has allowed me to be surrounded by other people who enjoy being vulnerable and authentic as well. I've gained a wonderful grasp of what a community can be.
I've learned the truth behind certain trite phrases like, "You can be anything you want to be." Through VOBS, I've had moments in my own journey where I realized I can do anything. I feel so lucky that I got to figure that out, and this inspires me to find ways to pass that along.
I also like to reflect on the fantastic coaching and mentoring that I've received over the years. I want to thank my supervisors and mentors who saw something in me and provided me constructive feedback and praise. These are masters of their craft, and I owe much of my success in this field to their mentorship.
Q. What was your reaction to receiving the Marina Ewald Award?
Abby: It was surprising and wildly humbling. My job is a catalyst position that helps other people get excited about their roles. I'm representing a big group of committed program and field staff who are delivering the Outward Bound experience. To know that my colleagues appreciate my role and some of the little things I do (like getting people involved in Swim Club) fills me with gratitude. It makes me happy to know I am making a positive impact.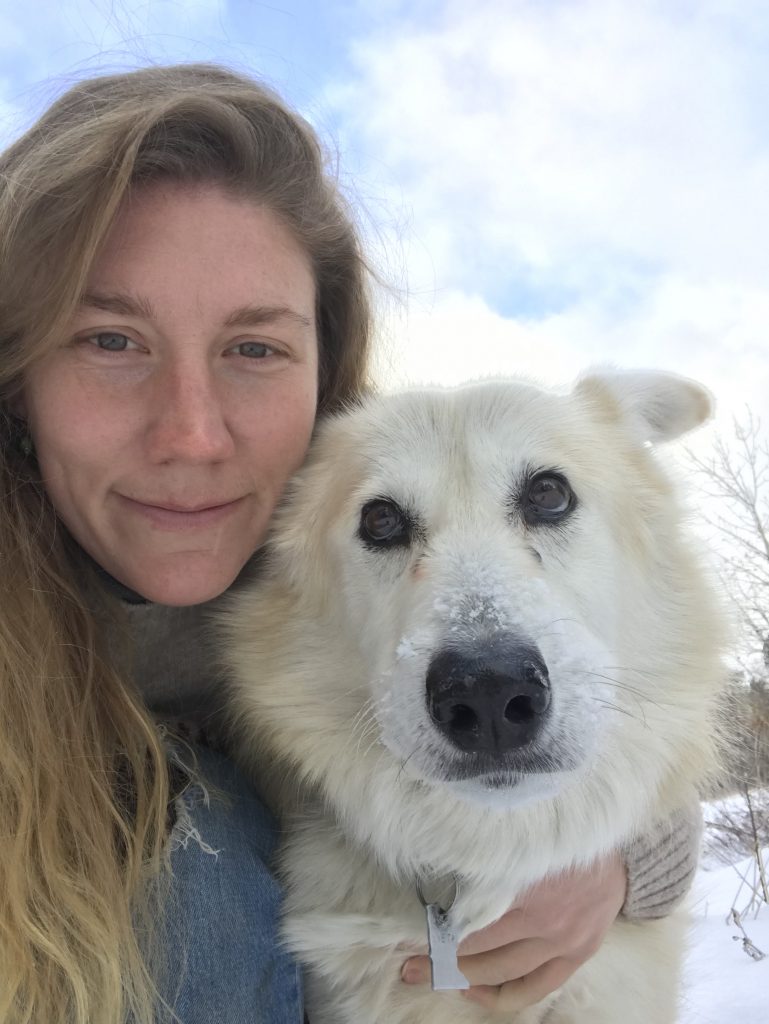 OBUSA Announcement: 2022 Marina Ewald Award
We are pleased to announce that Abby Dare (VOBS) has been selected as the recipient of this year's Marina Ewald Award. The Marina Ewald Award honors an Outward Bound student-facing staff member who has advanced and improved the Outward Bound student experience by courageously approaching problems through the lens of innovation and inclusion, ensuring the persistent improvement of the Outward Bound program model, a model originating with Ewald and Hahn, and continually evolving under the skillful and constant watch of everyday Outward Bound staff.
Abby started at VOBS as an intern in 2012. She spent years instructing year-round in the field, transitioning from paddling to dog sledding courses along with the seasons. Eventually she became a Course Director and started recognizing and refining her gift for coaching and mentoring other staff towards their own exceptional student outcomes. Abby is now the Staffing Director at VOBS, and she still thinks like an instructor every day.
While known to be an exceptional field instructor, Abby mostly left field work behind when she became the Staffing Director. You'll still frequently find her joining Course Directors on their field-checks, managing high ropes course and rock-climbing activities, and cleaning gear in the "Trips" building alongside students, but these days Abby's greatest contributions to the student experience are filtered through the staff she hires, trains, and mentors.
Abby doesn't believe that Outward Bound has an inherent or inert ability to change lives, but rather that qualified, invested Outward Bound instructors, trained in the Outward Bound educational model, outfitted with Outward Bound best practices, and supported by a compassionate and professional Outward Bound community, hold this power. To every conversation, Abby brings a belief in the person in front of her to facilitate the Outward Bound model in unique ways, ways that are authentic to each individual's gifts and experiences, and inclusive of an infinitely broader range of student experiences.
Ask a new Intern at Homeplace, the VOBS basecamp, how they ended-up at Outward Bound and it's not uncommon to hear, "I'm here because of Abby." Abby doesn't just give permission for instructors [to] bring their authentic selves to their work, she expects it, and models this expectation by sharing her own joy, disappointment, and vulnerability in her day-to-day work. As shared in Abby's nomination packet, "The greatest gift Outward Bound can give its staff and students is the confidence to be who they are. Abby is unapologetically herself and invites others to do the same. Abby's authenticity and disarming friendliness have changed the lives of students." Using her authenticity and genuine belief in the power of each unique individual, Abby has played a critical role recruiting and welcoming new staff into the VOBS community, but that's just where the story of Abby's contribution begins.
As Staffing Director, Abby has iterated improvements within her spheres of influence that have allowed VOBS to retain, develop, and further invest [in] field staff at levels not seen anywhere else in the Outward Bound system. During the rising COVID-19 pandemic Abby played a critical role in advocating and then facilitating the use of PPP dollars to pay field staff for their participation in continued VOBS community engagement and online professional development. Abby advocates for staff, recognizing the real-life challenges and hurdles that instructors navigate to make their whole selves available to do life-changing work at Outward Bound. As shared in her nomination packet, "She understands what it means to deeply support and be real with those around her while maintaining a level of excellence and professionalism that is unparalleled." Also shared in her nomination packet, "Abby has been the most important and supportive person in my own development as a human, employee, and community member at VOBS, and I truly believe that since becoming the Staffer she has had the single greatest impact on the student and staff experience of any person at VOBS."
Like Marina Ewald, Abby has found ways to authentically contribute her unique brilliance to enhance student outcomes. On behalf of her nominators and the Marina Ewald Award Committee, please join us in congratulating Abby and honoring her deep competence and daily commitment to authentically shaping innovative and inclusive Outward Bound experiences.
THANK YOU to all who contributed to Abby's nomination and provided content for this announcement.
The 2022 Marina Ewald Award Committee:
Tim Barker – HIOBS
Evelyn Cabrera – NYCOBS
Katie Dalbey – Committee Chair, OBUSA
Lora Doerfer – TIOBEC
Andrea Doerr – VOBS
Shelby Fredrickson – CBOBS
Chandra Hardwicke – OBSG
Kendra Jordan – POBS
Morgan Oyster-Sands – NWOBS
Jeff Podmayer – OBCA
Stiles Rader – NCOBS
Nick Rushford – COBS
About the Author