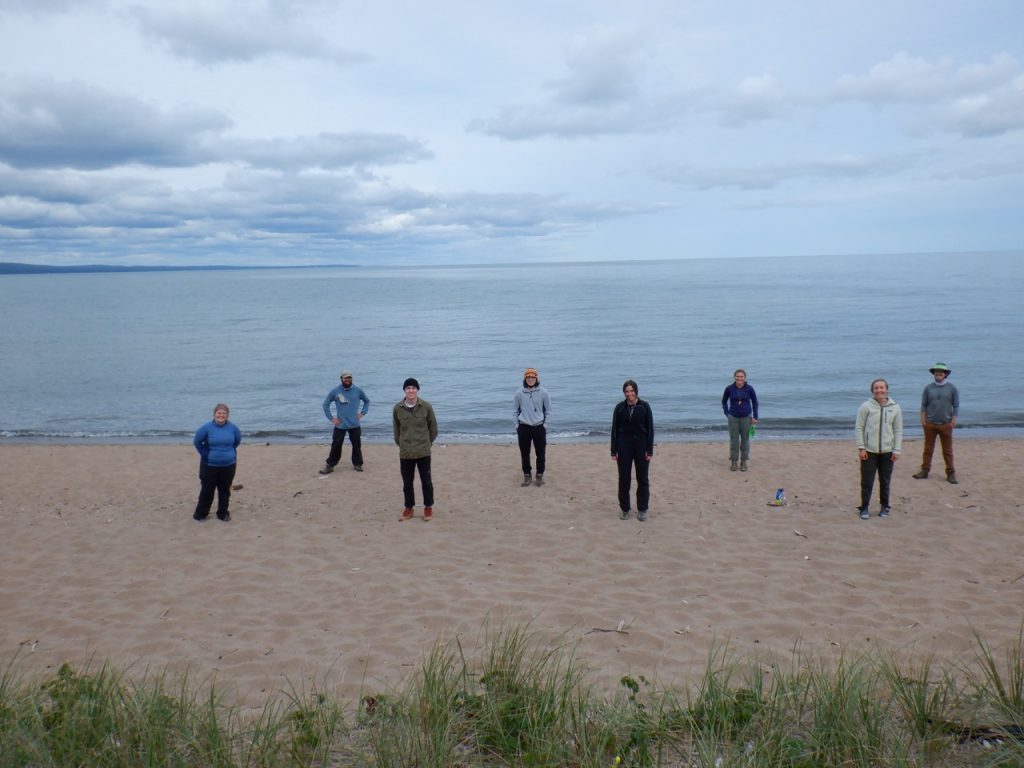 A Curious Phenomenon
It was a warm spring day as we pulled our canoes up on a timeless granite slab of rock just east of Lower Basswood Falls. As students orchestrated lunch, a curious phenomenon caught my eye on the shoreline. An armored alien creature was gradually crawling out of the water. Giant bug eyes and a steel grey plated body were reminiscent of something out of a horror movie.
Moments later, there was a second, and then a third creature, exiting the dark water and creeping slowly up the granite. Our bodies lay still, subtly blending into the smooth grey shoreline. As students started to gather, someone noticed that a shell was cracking, right behind the head. A soft bodied alien was compressed inside the tiny armored bug-like vehicle. What would happen next?
With jerky motions, it started to unfold, revealing a delicate sinewy insect, dopey from the cramped quarters and dark amphibious journey. The questions were flying now. Who are you? How long have you been in there? Do you bite? What's next? By this point, all of the students were on their bellies, eyeball to eyeball with the transformation. (Peanut butter served with a stick could wait.)
Within minutes, the first insect to emerge had stretched out, spread lacelike wings and started to fly… Yes, FLY!! Off it went, into the sky, having revealed itself as the well-known dragonfly. We laid captivated on our bellies long past lunch hour, witnessing nymph after nymph straggle out of the water, bust its shell, find its bearings as a tender winged insect and fly off into the world.
We watched dozens of hatches that afternoon. Over time, the spring hatch would deliver a multitude of colors and patterns and varieties of dragonflies, many who would become acrobatic allies to summer paddlers in the Boundary Waters Canoe Area Wilderness, lauded as the great mosquito eaters of the north woods.
The Pandemic Journey
I share this story because it reminds me of what it has been like to be on the journey toward program resumption at VOBS during the pandemic.
First, there was apprehension of the unknown.
What is this COVID-19 thing really about? Am I willing to put my health on the line to see if we can run courses during a pandemic? Can I prevent transmission? In what ways can I trust the students? What is the science that informs the new field practices? Will these efforts be enough to succeed?
This apprehension was followed by a curiosity about the details of shifting to a new nimble paradigm.
That paradigm became known as The Program Resumption Plan and encompassed new program practices which the field staff would execute. All 38 staff who signed on to work our initial fall roll-out had plenty of skin in the game. It was time to bring our A-game to make this work. A staff travel training, with a week of paddling, portaging and living in the wilderness became the laboratory to pilot the new systems, generate fresh questions and problem-solve in real time.
Procured Items To Support New Program Paradigm
72 single person tents
3,900 gloves (including some compostable ones)
550 KN95 masks (to stock new COVID kits)
25 gallons of Foster's First Defense spray disinfectant
10 gallons of Purell
48 thermometers
1,000 bleach wipes
60 squeeze bottles for hand sanitizer
180 individual iodine dropper bottles
500 rolls of toilet paper
We were honing a team that would work together throughout the fall. We were collaborating and solving real-world problems. How do we do this expedition thing while managing added risks? The questions were unrelenting and ranged from procedural to philosophical to mission delivery. Staff brainstormed new ways to teach skills, so as to maintain social distance. Many times I heard "Oh, darn, I can't teach this lesson the way I always have. How can we adapt it?"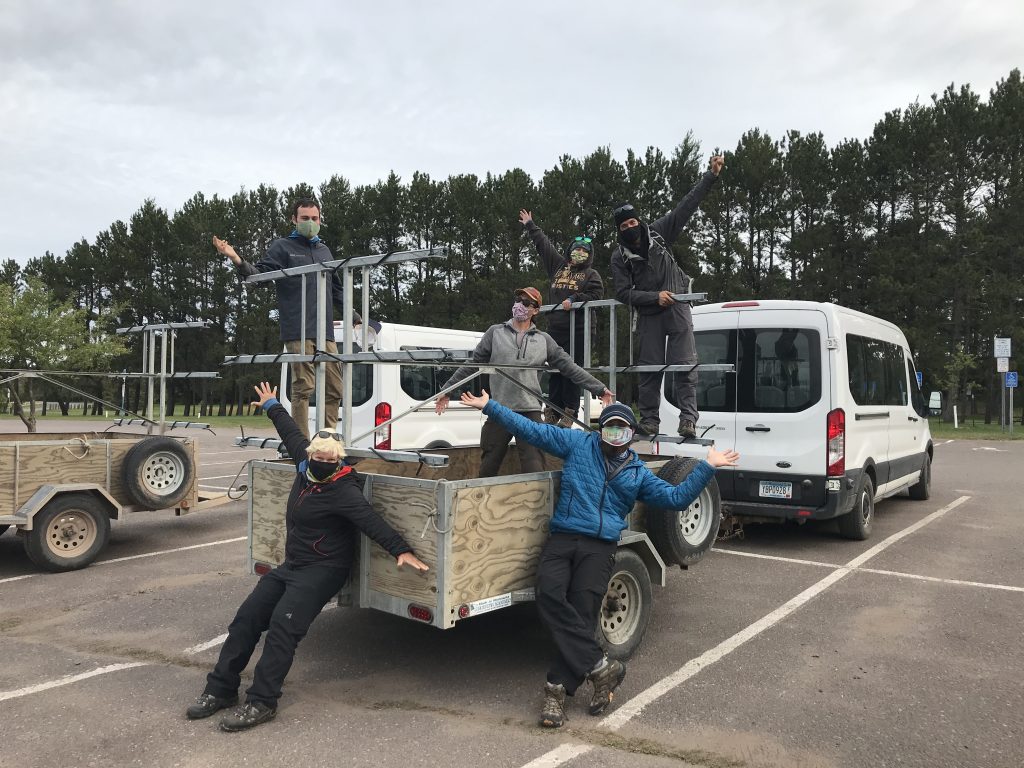 The most challenging questions were the transformational ones. How do we create a sense of belonging when we never come within six feet of each other? How do we communicate a sense of belonging when high-fives and hugs are off the table? How do we express compassion or commit acts of service when lending a helping hand violates social distance and words do not always bridge the distance between two souls? Not surprisingly, the siloed distance that was designed to keep us "safe" was a double-edge sword which allowed social isolation into a program designed to build connection, teamwork and camaraderie.
All this during the shoulder season?
Add to this new rollout, programming in the off-season (known in our world as the shoulder season), during one of the coldest September/Octobers on record. The staff and students definitely had their work cut out for them. Cold water, chilly temperatures, snow and eventually ice creeping in on the lakes, insured a burly and authentic expedition. Handing someone a hot mug of cocoa or huddling around the fire were now fraught with added COVID-19 risks, that then needed to be managed.
At a fundamental level, so much was shifting in how we travel, live, mitigate risk and celebrate together in the wilderness. Staff collaboration strengthened the execution and delivery. Thanks to the staggered roll-out of programs (our first two courses started, then a week later two more followed), staff were able to build on learning and pay it forward in real time.
The challenges and solutions that were discovered in the first training were relayed forward to the next crew of staff and students, so that we expedited the learning and new systems. An example of this was the iconic "Chow Circle". No longer permitted to link arms before a meal, staff brainstormed new ways to create a meaningful socially distanced ritual and were able to relay those ideas prior to the next round of instructors starting their courses.
And then, there was the dragonfly.
Ultimately, this obsession with learning everything we could about mitigating the threat of COVID-19 gave way to the magical spreading of wings. We were, after all, running an Outward Bound course, and determined to change lives through challenge and discovery. That mission never faltered. Rather, it was amplified.
Amplified, as the students who showed up had been quarantining for months – not unlike that little insect crammed inside a dark plated nymph shell. Their lives had been upended; disappointment was a commonality, isolation a theme, anxiety prevalent and big plans on pause. Everyone was attempting to recalibrate amidst the unknowns of a stormy pandemic. Now, more than ever, students needed Outward Bound and everyone needed each other. The proverbial dragonfly was ready to hatch.
The First Course
Early on the morning of September 8th, a caravan of trailers and vans rolled down the autumn tinted gravel road from Homeplace, bound to meet the first Outward Bound students in over six months. Everyone felt the enormity of what we were embarking on. In over 56 years of programming, this was the first summer with no courses at Homeplace. It would be only fitting that the first student to walk up to the check-in desk was the son of a Voyageur Outward Bound instructor from the 1980's. The circle was continuing.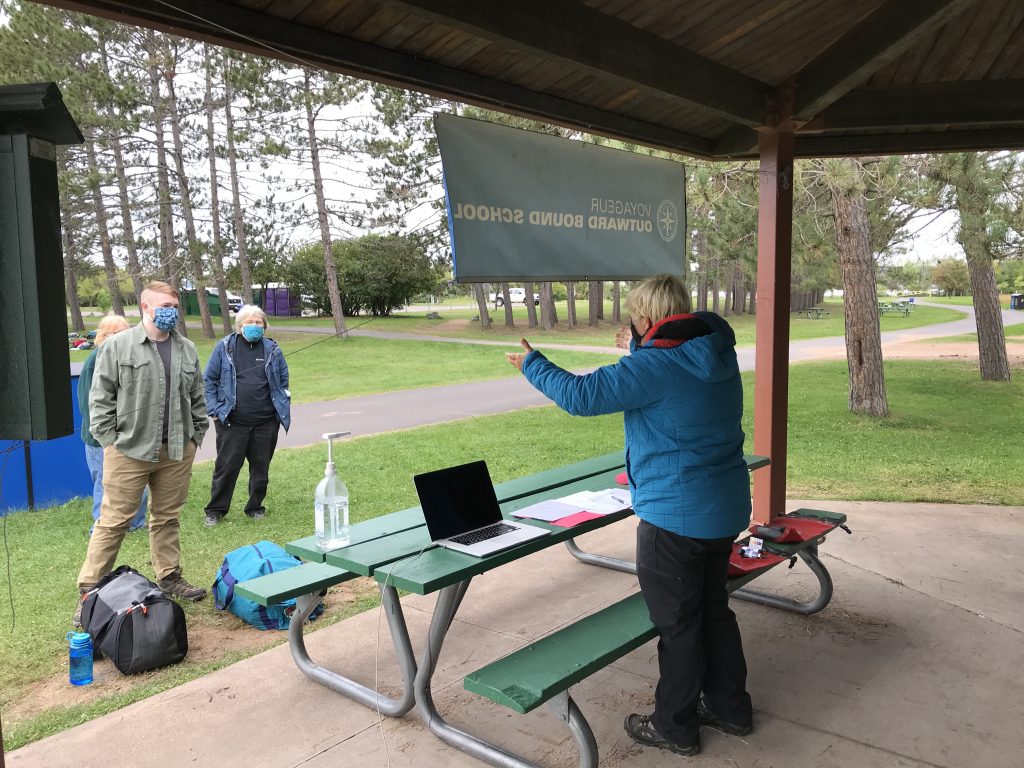 Students were excited to be meeting fresh faces and pumped for the challenges that lay ahead. Engaged and ready for the challenges and the transitions expedition life unfolded. One on one duffle shuffle. Individual gear packs. Gaining self-sufficiency (and solace) setting up a solo tent every day of course. That stinky sock smell could no longer be blamed on tentmates. Wet gear hiding at the bottom of the pack was undeniably your own.
A new goal emerged: to reach 14-days of symptom free. The desire for connectivity was palpable – humans need humans, and the void of human touch, however innocent, was still a basic need. To shed the shackles of physical distance – whether it be to huddle around a campfire after a tough day on trail, to "Gunnel-Up" canoes to share "flappers" on a pre-dawn Voyageur Start or to lend a helping hand with a heavy pack, we came to see our interconnectedness in a new light.
Day 15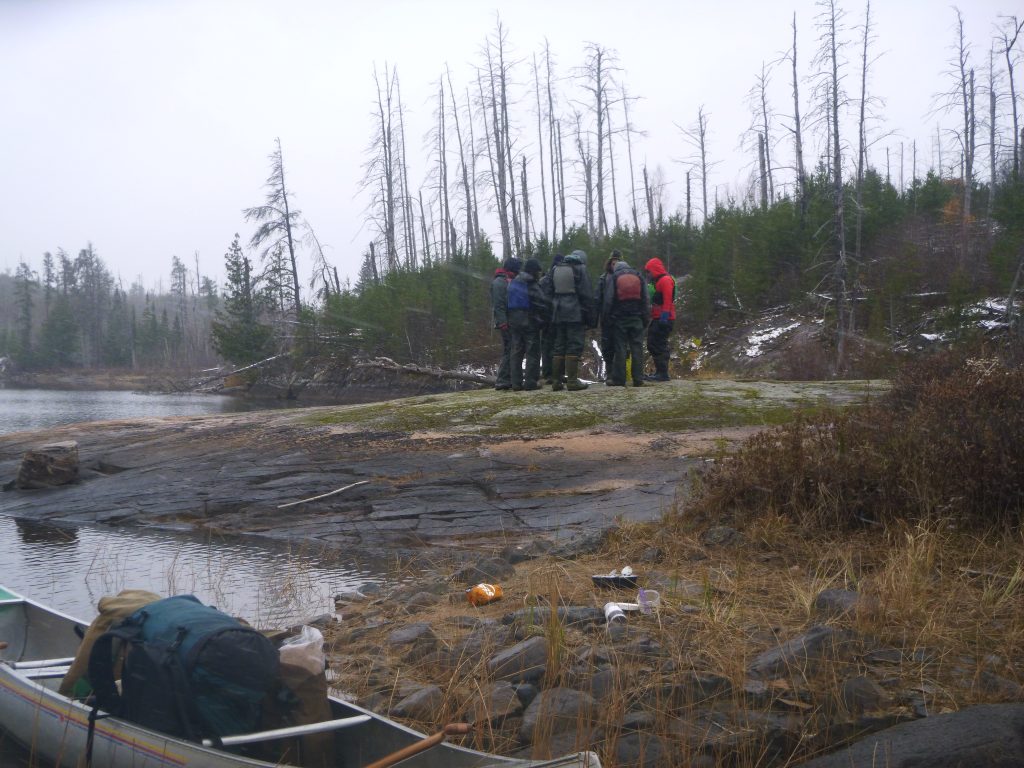 We need each other and after 14-days of distance, we WANT each other to be in our circles even more. Day 15 arrived, and every crew found a way to celebrate this milestone, to lean into a tighter circle with renewed appreciation for what it meant to stand together, arms linked, shoulder to shoulder, feeling truly together.
The magic and cohesion of the group prevailed, despite the greater individualization of systems. Night paddling beneath the expansive Milky Way, bush-crashing over beaver dams and through thigh-deep muck to a remote lake for solo, rock climbing together in the rain, triumphing on bellies with a soggy wet fire to make hot dinner, learning to keep spirits up and fingers warm while paddling through a snowstorm – the challenge and introspection were tangible. So too were the depth of conversations about hope, trust, respect and understanding.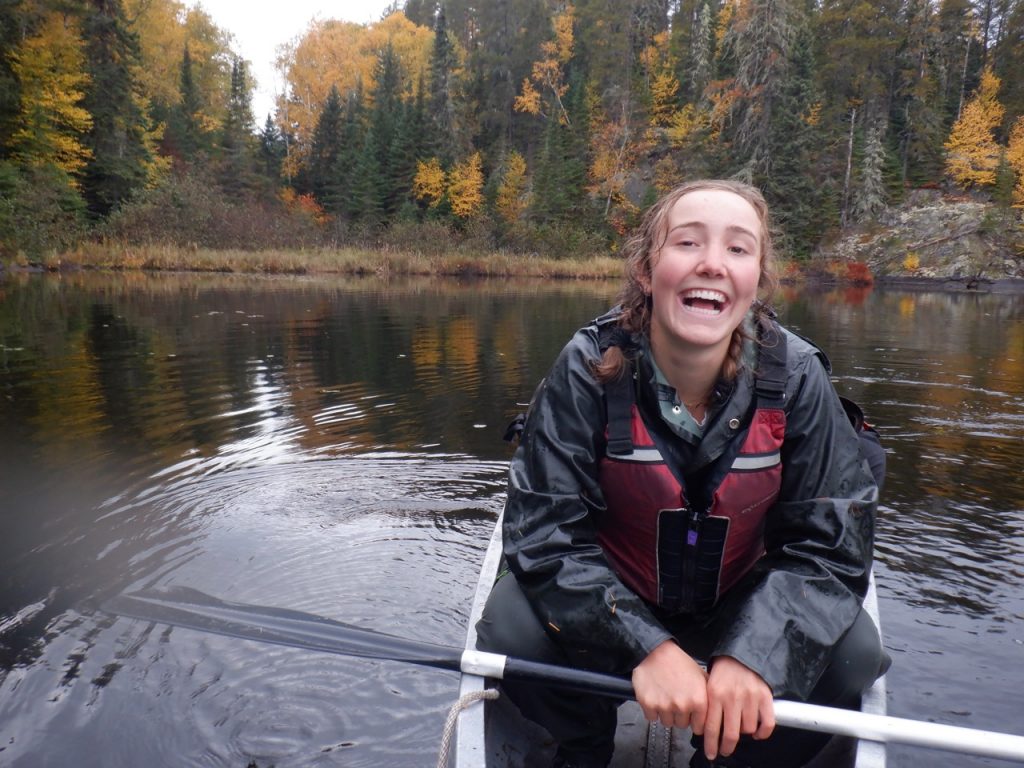 I just completed a 30-day Pathfinder course in the Boundary Waters. I believe this course taught me more things about myself than I am able to understand right now. It's more than just how to tie a bunch of knots and steer a canoe. I learned that when I had no hope in myself to backpack more miles or open up to a bunch of random people, I did it anyway. Vulnerability was seen as a strength – as much or more than the kind of strength it takes to paddle or walk 200+ miles.
There is no sugar coating that we are living in difficult times. The skills learned and applied this year are paramount. With support and mentorship, Outward Bound students were able to write a new chapter in their lives. For many, it is an unforgettable one, filled with a renewed sense of self, confidence, compassion and purpose.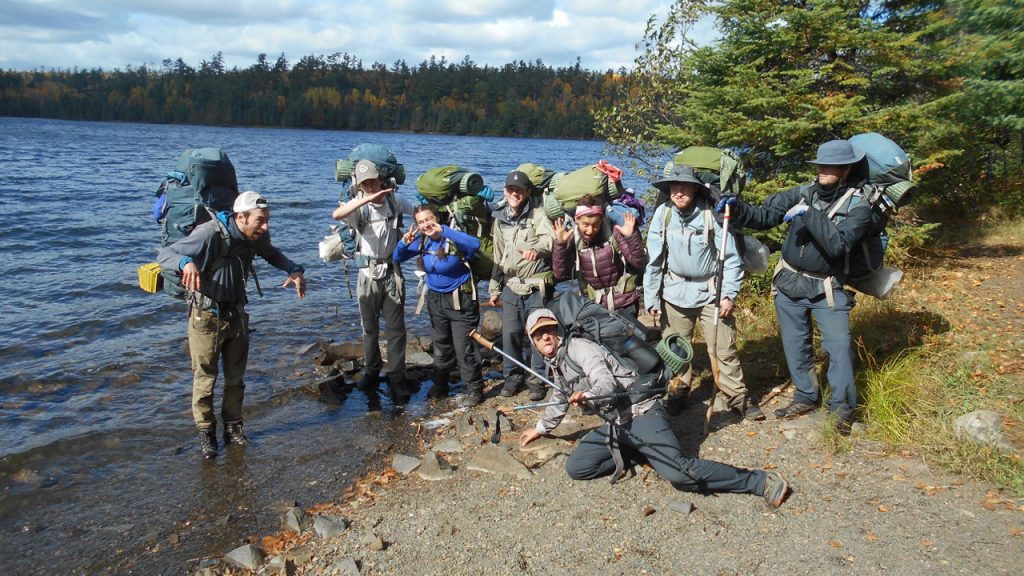 I came into Outward Bound seeking a change from the life I had led until now. Leaving, I find myself filled with courage and hope for my future. During these past 30 days, I've been challenged and pushed emotionally, physically and mentally. I've learned how to push through the tough days in life and gained new discipline for any task I undertake. I believe these things have changed me. Before this, I was a depressed mess of a guy with all the skills one could hope for but no motivation to use them. Now, I will leave as a man who will carve his own path in life, able to overcome any and all obstacles."
There is a decision before all of us: Who will you be during this pandemic? Will you retreat in fear or tear down others who do not agree? Or will you learn to move forward and contribute in a positive way toward the collective good?
About the Author