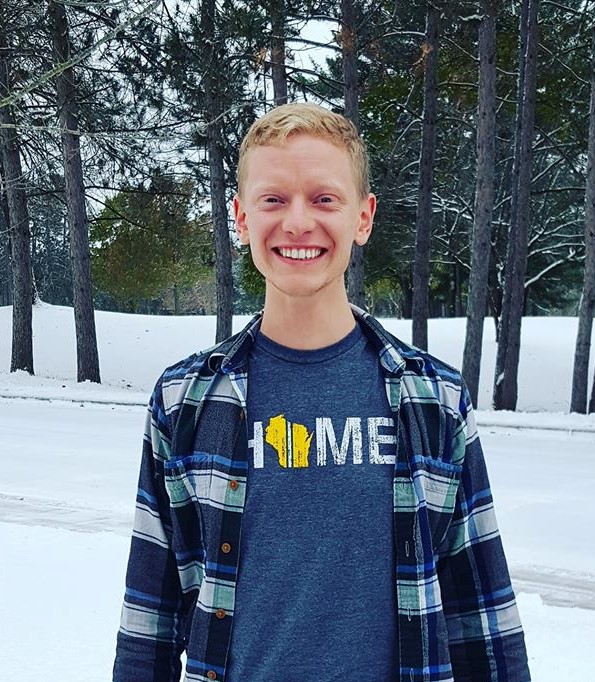 Jon Mallek is many things. He's a dairy farmer, a returned Peace Corps volunteer, a former Americorps Crew Lead, a Green Bay Packer fan, a St. Norbert College alum, an economist with a Masters from American University and an aspiring kickball star.
Jon may be a Wisconsin kid at heart, but he's lived in Nevada, France, Senegal, and currently resides in Washington D.C. He is also my dear friend, and he happens to be a Voyageur Outward Bound School (VOBS) alum.
In 2014, St. Norbert College (SNC) launched The Gap Experience and Jon was hired by the college to facilitate the inaugural program. First year students in The Gap Experience spend the first 22 days of their entire college career in the wilderness with VOBS.
Their VOBS expedition launches them into a semester of experiential learning, service and inquiry that takes them across this country and into Central America, before returning to SNC.
A few months ago, when I was interviewing for my new role as Group Outreach Representative, I happened to mention VOBS to Jon. His face just lit up.
My time on course with VOBS is one of the best experiences I've ever had!
Jon's enthusiasm definitely made an impression on me and he became a great resource for learning more about VOBS. I recently asked Jon if he would mind reflecting on his experience in an interview and he was more than game.
Megan Henning: I know your course was a number of years ago. Remind me of the basics of what you did.
Jon Mallek: We did one week of backpacking the Superior Hiking Trail, followed by two weeks of kayaking Lake Superior. We also spent a day rock climbing. Sea kayaking was my favorite. I had never kayaked before and doing it in completely untouched wilderness was really special.
MH: What did you learn on course?
JM: In general, it was really cool because I didn't have any outdoor experience. As an SNC staff member, I saw the students push their limits. The experiential learning was a different way of interacting with nature. It expanded my horizons. What you can learn in a classroom is limited. Interacting with nature teaches so much.
I would never have thought I was capable of camping for three straight weeks and be a mentor to the students at the same time. I honestly wish I had done it as a teen because I saw the direct impact it had on the students. There was this moment of realization for them. They hated it for the first couple of days. It was hard and new. And each day, each student was assigned to lead different parts of the expedition. The first time they were the leader, they really struggled. But by the end of the second day, they had this moment of realization: I can do it, I can lead. They truly pushed their comfort zones.
MH: That sounds amazing. Are there any other highlights that stick out?
JM: Definitely Solo. Being completely disconnected from other people for 24 hours was great. How often can you say you've spent 24 hours not talking to another human, messaging another human, or seeing another human? It was such a unique experience and so helpful to be alone reflecting on your thoughts.
Another highlight was when we were back at Homeplace at the end of the course. We were so dirty and grimy and then we went in the sauna and jumped in the ice cold river afterwards. I've never felt cleaner!
MH: You've done a lot since your VOBS course. Fill me in on all your adventures and roles.
JM: I had gotten really sick while in Senegal for the Peace Corps, so they brought me back to the U.S. for a while. I was on medical evacuation from the Peace Corps and it was during this time that I went on my VOBS course with the SNC Gap experience. In the end, I wasn't allowed to return to Senegal so I became a volunteer with Americorps doing trail and wilderness restoration in Nevada. I served as a crew lead for the last three months of that experience.
MH: Did VOBS impact your experience with Americorps?
JM: Yeah it did, especially when I became a crew leader. I thought back to the leadership skills I had learned on my VOBS course when I stepped into the role. I also had to teach my crew some camping skills and I drew on my wilderness skills training with VOBS.
MH: After Americcorps you did your Masters, right? And then stayed in D.C.?
JM: I did my Masters (at American University) in International Economics and then I went on to work at the Office of the U.S. Trade Representative (USTR) and the World Bank.
VOBS really helped enforce the idea of giving back and volunteering. So often people think about volunteering as a way to help other people, which is super-important and needed, but VOBS also shows how you can give back to nature as well as people.
There was an important moment on our course that I'll never forget. We were being introduced to rock climbing. Theo, our Instructor, said something that will always stick with me. She told us not to sell ourselves short on what we think we can achieve.
Rather than setting a goal we knew we could make, Theo said we should set an outrageous goal.
Theo taught me the importance of going big. The idea being, even if we don't make the outrageous goal, we'll push ourselves farther than if we set a knowingly attainable goal. We all need to stretch ourselves when setting goals.
MH: Have you set an outrageous goal?
JM: Yes, in my career path. Never did I think I'd work for USTR, but I applied because I thought, 'Why should I not get this job?'
Jon is still Outward Bound. He recently accepted a position with the U.S. Department of Agriculture and he's gearing up to go on a work trip to Geneva, Switzerland this fall.
Thanks to Jon for sharing his experiences and thanks to St. Norbert College for their collaboration and partnership.
To learn more about challenge and adventure for college students, please contact me: megan.henning@vobs.org or (651) 968-3449.
About the Author