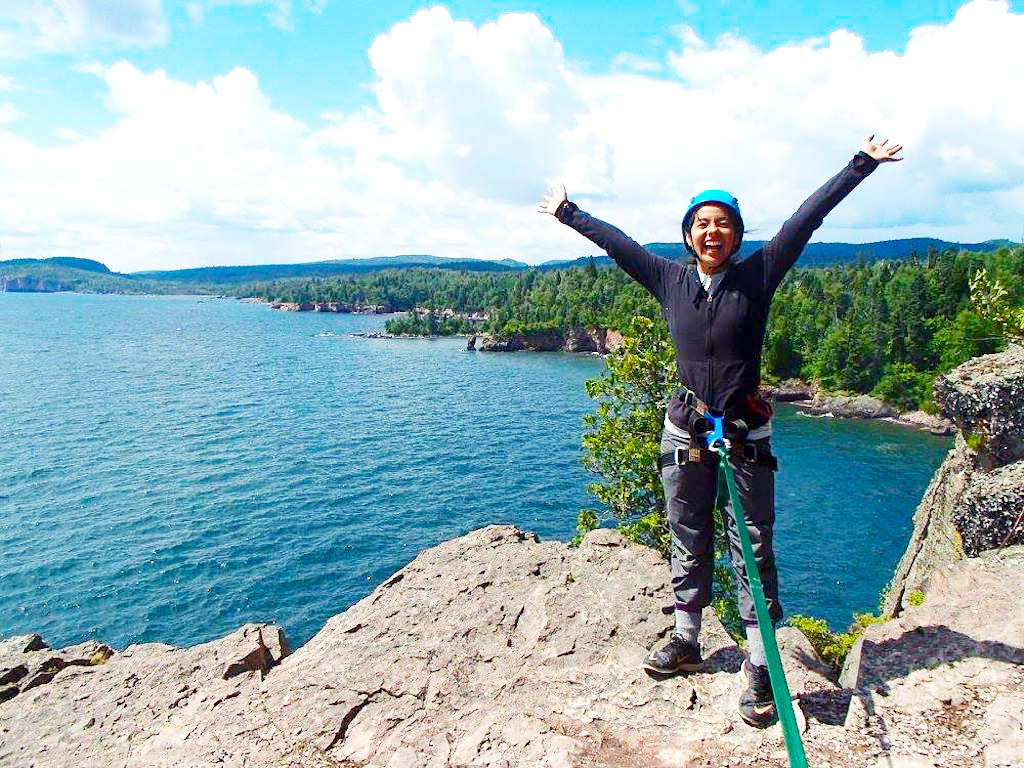 Yoshie Kateada, is a native of Madison, Wisconsin. She was first introduced to Outward Bound through her parents – who met on course as students in Washington. Yoshie's parents continued to mention Outward Bound throughout her childhood, so she eventually enrolled herself on a 30-day Pathfinder Texas Big Bend Backpacking course. It changed her life and thoughts on leadership forever. Now, 10 months later, Yoshie shared how Pathfinder gave her the confidence to apply and complete a VOBS field internship.
Going on Course
Pathfinder is specifically designed for individuals who are searching for a direction in life. As a recent college graduate, this is exactly what Yoshie was looking for. "In college, I was always fascinated by leadership and how culture affects leadership," Yoshie told us. "I even wrote my thesis on Asian American Woman in Leadership. After college I made it a goal to stop waiting to do the things I wanted to do and experience. Enrolling in the Pathfinder course felt like a natural next step for me."
When you prepare to go on course with Outward Bound, every student has their own set of expectations. As Yoshie recalled, "surprisingly, when I got on course, I was the oldest and ONLY woman. I went into this experience expecting it to be a challenge and an opportunity to get out of my comfort zone. I didn't expect to get just as much out of watching my crew go through their own process. My default position isn't to lead. However, in this scenario, I was at least five years older than my crew-mates. My instructors Elle and Morgan pushed me to take on that role."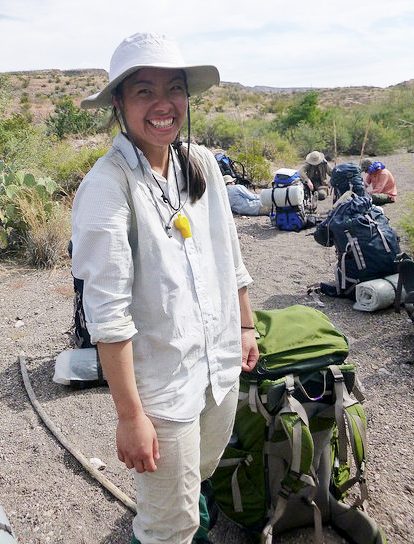 Pathfinder is both the safest and the riskiest place to work on becoming your best self, because the consequences and the support are both very real.
I asked Yoshie how the leadership and survival skills she learned helped prepare her for where she is now. "The Pathfinder curriculum is powerful. It offers practical life tools and then allows you to practice those skills in a wilderness setting. Your survival depends on your ability to use those skills effectively alongside your fellow travelers," she explained. "It is both the safest and the riskiest place to work on becoming your best self. The consequences and the support are both very real. This experience bonds you to people you wouldn't normally come across, in a really intense way."
Common Practices
Yoshie has been dancing since she was five years old, and actually went to college to study it. It was really interesting to hear her compare her time as a dancer to her experience on course. At first, it wouldn't seem the two would have anything in common. However, Yoshie explained "I experienced a lot of similarities between dance and the outdoors. They are both equal parts physical and mental. You are learning tools fast and at the same time applying them. You are also part of a small, tight-knit community and a lot of communication happens even when you're not talking." Yoshie goes on to confess, "I never thought I would find anything as fulfilling, interesting and challenging as dance, until Outward Bound. I saw how skills of listening and processing, translate to teaching. I realized how much I wanted to help others learn these tools and show them how to use them."
Life After Pathfinder
Leading and teaching during her Pathfinder course, inspired Yoshie to apply for a VOBS field internship. The field internship up at Homeplace lasts about nine weeks and consists of a training and support phase. There are usually seven other interns in a crew that help support the basecamp from the bottom up. A majority of VOBS instructors start out as interns. It gives them a experiential background of what Outward Bound is and a better picture of what helps students in the wilderness learn the lessons that the adventure has to offer. Outward Bound values are taught throughout the internship – compassion, integrity, excellence, diversity and inclusion – but everyone leaves knowing that their heart grew a little bigger from falling in love with the work they do everyday. That's why instructors come back year after year.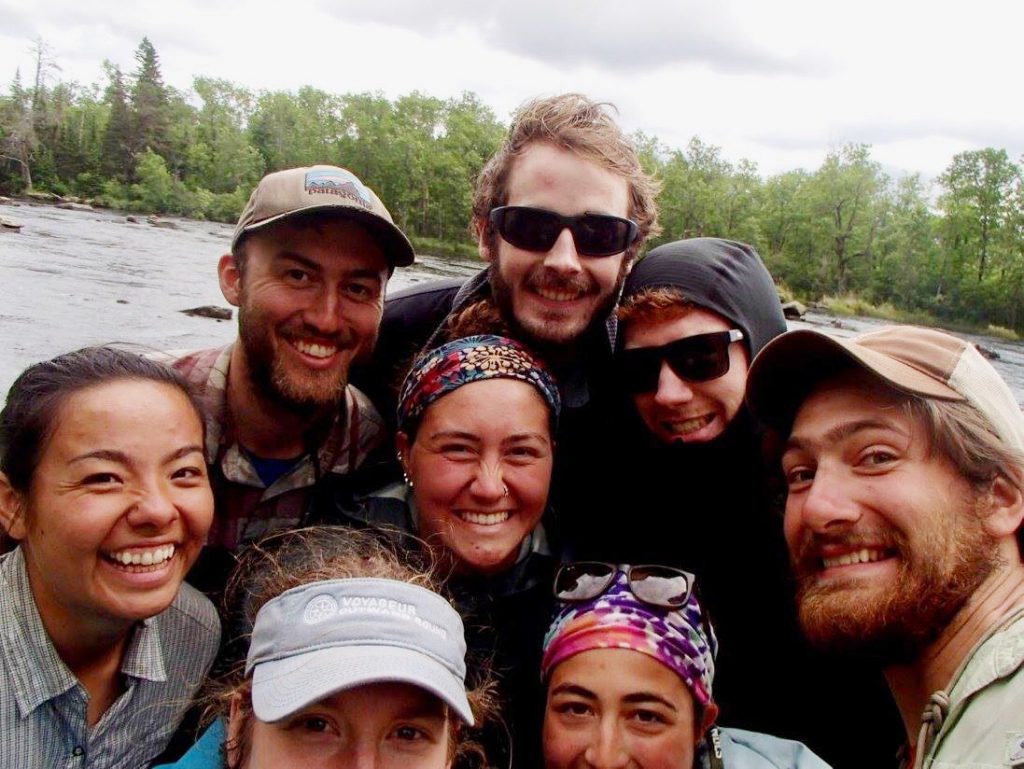 No Place, Like Homeplace
"Working at Homeplace was not what I expected, and at the same time, more than I expected," Yoshie revealed. "I went into it thinking that I would have to prove myself and very quickly. It's hard not to compare yourself to your crew-mates. It was easy to believe that everyone was way more qualified. But it turned out that everyone was EQUALLY awesome. Sam was an experienced whitewater kayaker, Jeremy had experience rock climbing, Wyatt and Geoff knew their way around the Boundary Waters, Katie was comfortable in front of groups and had just finished her AmeriCorps Service Year, Phil was an articulate English major full of profound thoughts, and Julia had been on an Outward Bound course in California. Our crew was a diverse group of interests and strengths. Everyone was excited to share knowledge. Passing around leadership during our 12 day travel was really helpful. Everyone shared their personal experiences when they saw fit."
Microcosm of Life
I asked Yoshie if and why she would recommend others to take an Outward Bound Course. With enthusiasm, she answered, "I appreciate the authenticity. Instructors tell all of their students, 'Even if you decide to never go out into the woods again, you will still discover skills that are useful for the rest of your life.' The wilderness parts of the course were the least stressful to me, but the challenge of being outside of your comfort zone was always around.
I would recommend Pathfinder for anyone that is struggling with the world they're currently sitting in.
One big take away for me was learning to make concrete or S.M.A.R.T goals. Now, when things feel chaotic, sometimes I close my eyes and think back to my time on course. I picture the desert in Big Bend. Going back to that image triggers me to a time when I was problem solving and using those tools. I can still use them today. Group dynamics were also the most challenging and most fulfilling for me. Going on course gave me a lot of empathy for working with students now. I would recommend Pathfinder for anyone that is struggling with the world they're currently sitting in. Being on course is like living in your own little "microcosm of life." You get to practice communicating and problem-solving alongside people you wouldn't normally interact with. Then you go out into the "real world" and apply it.
Life-Changing Experiences
When Yoshie got back from her time on course she remembers seeing her instructors for the first time. "When I saw my instructors again, it made Homeplace feel more like home," she expressed. "I felt lucky for us to know exactly what those 30 days on course looked like," she explained. "It helped me have a better understanding of the Outward Bound world and what it looks like to go from course to course. Pathfinder led me to further involvement with VOBS and put me on the path to becoming an instructor. "I've never been in a group of such highly functioning humans! It's rare to work at an organization where the values are so clear and it's also how everyone lives in their daily lives.
Whether outdoor education is your interest or not – Pathfinder courses offer powerful tools to re-imagine your life and redefine what you're capable of. I wanted to believe that everyone was capable of leadership, but I did not fully believe this about myself until this course. This is the first time I can truly say to someone, 'thanks for changing my life!'"
I've never been in a group of such highly functioning humans! It's rare to work at an organization where the values are so clear and it's also how everyone lives in their daily lives.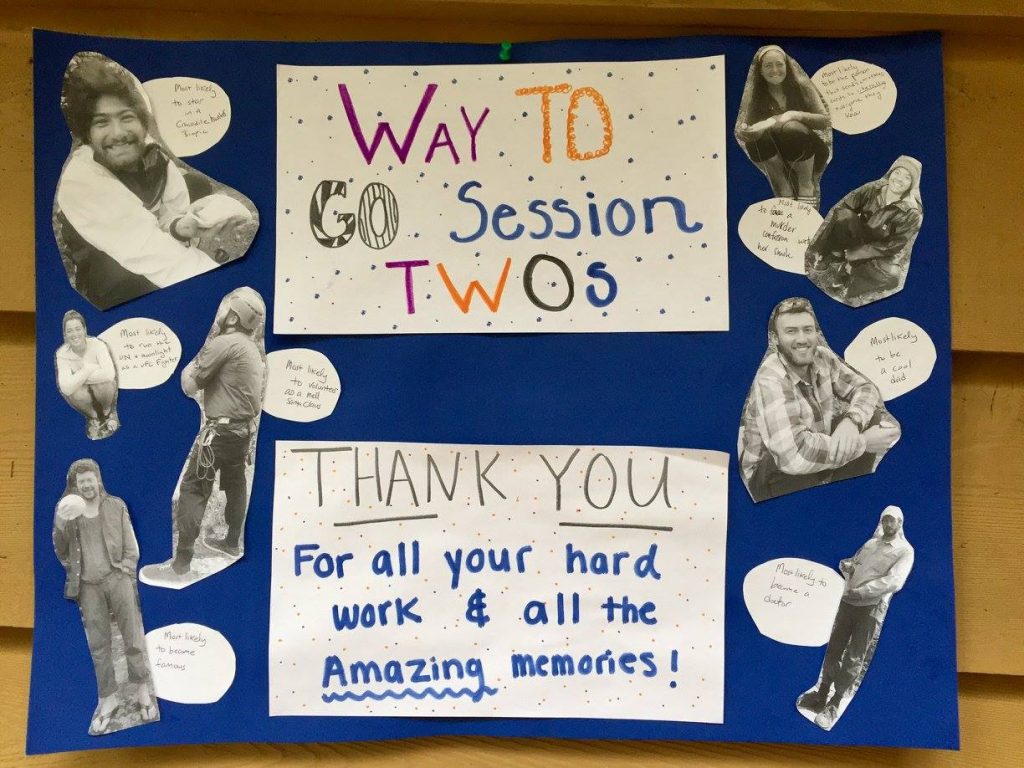 Thank you Yoshie for taking the time to share your Outward Bound experience with us and for all of the time and passion you put into teaching our students. Help us congratulate Yoshie for completing her internship as she repacks to head to Baltimore Chesapeake Bay Outward Bound School to be an apprentice for the year!
About the Author