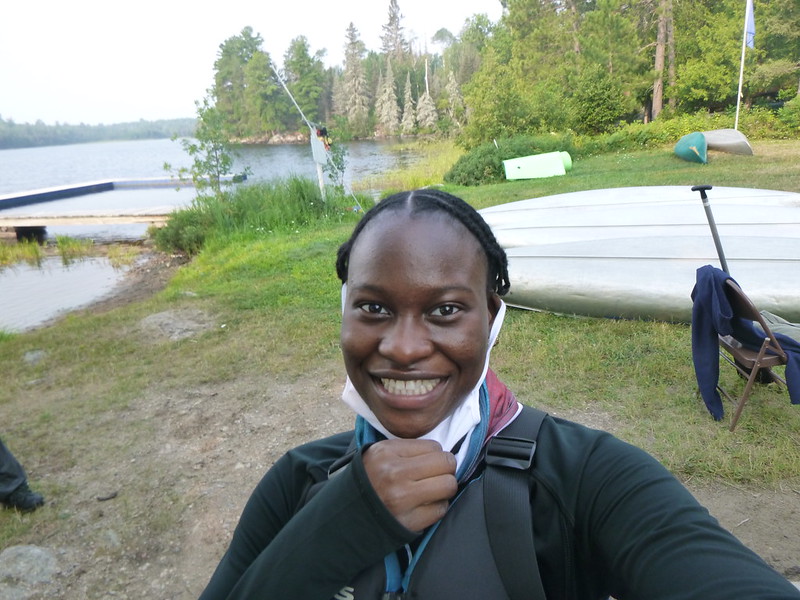 ap·pre·ci·ate
/əˈprēSHēˌāt/
verb
to understand the worth or importance of something or someone
to admire and value something or someone
to be grateful for something or someone
to grasp the nature, worth, quality, or significance of
to value or admire highly
to make a polite request
to judge with heightened perception or understanding
to be fully aware of
to recognize with gratitude
to make a polite request
to increase the value of
'Tis the season of gratitude and gifts, but it occurs to us that gratitude itself is often a powerful gift — to give, and to receive.
It is "standard operating procedure" at Outward Bound to appreciate the skills, strengths, contributions and support of others. The concept is both a verb and a noun at Outward Bound.
Appreciate
Appreciation
When you go Outward Bound, appreciation is presented as a useful and multi-purpose communication tool. An appreciation can tell another person how you see them, can identify and confirm unique strengths and skills, can thank someone for assistance or invite the group to recognize the contributions of an individual or the collective.
Appreciation is an act of generosity, and a gift. It is also a tool for self-actualization. Learning to see and validate value in others encourages us, personally, to grow a muscle that can get flabby with disuse. When we consistently value others, we exercise our own voice and perspective, and we connect with others to grow belonging and discover shared purpose. And there's a nice side effect: the act of appreciating another person pays dividends for both the giver and receiver. Both brains get dual doses of serotonin and dopamine, flooding us with happiness and increasing the resilience of our vagus nerve, thereby strengthening the physical connection between our hearts and our minds. It is marvelous, and true!
So get ready for some serotonin, and bring on the dopamine! We're about to do some appreciating!
The Stillpoint Story
It can take a lot to go Outward Bound.
Courage, understanding, time, energy, money… compassion. Sometimes it takes a small army of caring people — a compassion crew — to make Outward Bound happen for young leaders. Here's the story of one compassion crew.
Jane Reilly runs a nonprofit foundation called Stillpoint Engage. Stillpoint works to support people like doctors, nurses, firefighters, cops and refugee workers with therapeutic resilience training. Stillpoint cares for the people who care for all of us in times of crisis. Jane happens to be an Outward Bound alum, and went on course when she was 15-years-old. Jane says that Outward Bound played a big role in her journey to become a therapist and mental health leader.
About five years ago, Jane began talking with VOBS about collaboration. Together, we explored working with young, indigenous leaders. We co-designed pilot programs and enlisted support. Finally, we were on the brink of launching our first program together, and then COVID happened. Collaboration went on hold. But as soon as VOBS resumed programming and schools re-opened, Jane and Stillpoint were there.
Could we try again? But this time, could we work with young leaders from the 38th and Chicago community? In the wake of George Floyd's murder, Jane and Stillpoint began to focus on the young people stepping up to serve and help around 38th and Chicago in Minneapolis. Without hesitation, VOBS said yes!
And so it began. A community meeting was convened with local nonprofit leaders. A seven day Boundary Waters Leadership Expedition was designed and planned. Funding was leveraged, and, one by one, 38th and Chicago organizations helped identify student leaders, who stepped forward. And Stillpoint stepped up. Things came right down to the wire. A week out, Stillpoint staff were going door-to-door, getting paperwork signed and still hunting for transportation to Ely. Jane and her partner, Viv, fielded call after call from South Africa to Minneapolis. You see, Jane and Viv were overseas because Viv's father was dying.
Jane flew back to help get the students to Ely while Viv stayed on to attend his father's passing.
As Viv left his father's funeral, Jane called. Would he consider chaperoning the expedition? They still didn't have a chaperone. Jane said, "I think this might be what you need." And Viv said, "Yes. I think you're right. This is what I need." And Viv got on a plane, flew back to Minnesota, got off the plane and started packing.
Viv and Jane went door-to-door and picked up all the young leaders that would become the Stillpoint crew and drove them up to Ely, MN. Jane said good-bye and then Viv, Tomie, Moises, Jesse and Isis paddled away from the Homeplace dock and set out into the wilderness.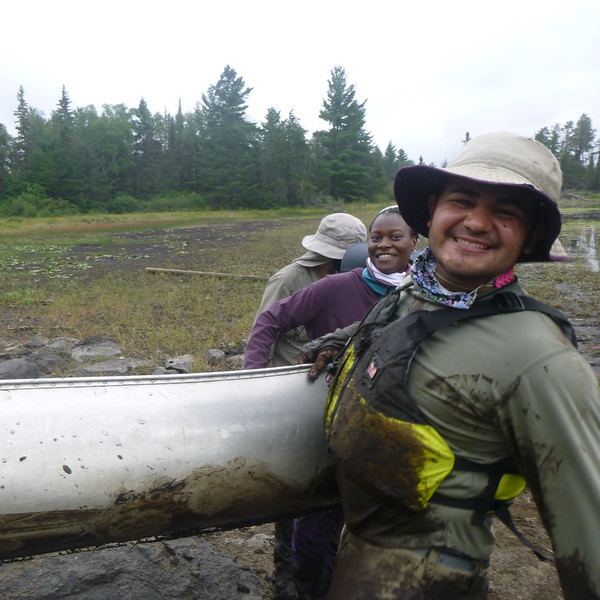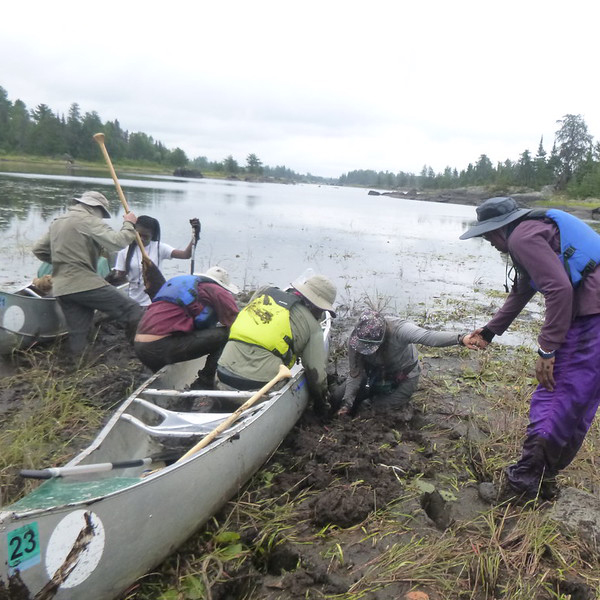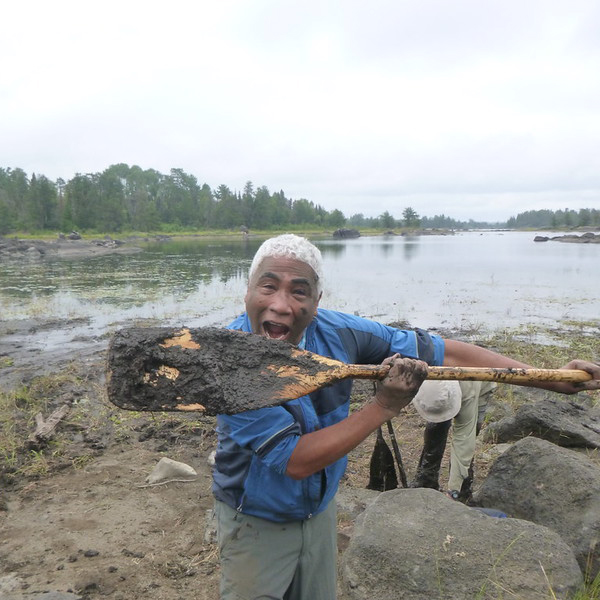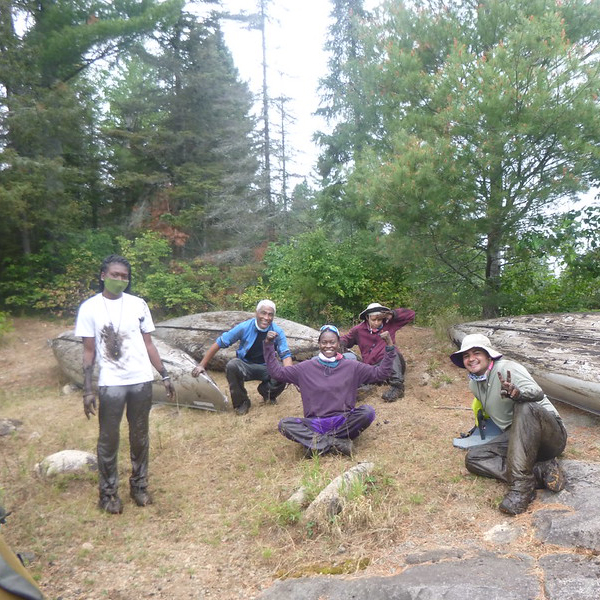 We will never do their experience justice in our words. Water. Wind in trees. Mud, and more mud. Friendship. Joy. Healing. Our words are insufficient. You have to hear it in their words. We invite you to appreciate an interview with one member of this intrepid compassion crew, Tomie.
When you listen to Tomie's words, we suspect you will appreciate the power of Outward Bound, the power of Tomie, and the power of people to embrace challenge and adventure.
People change themselves, and people change the world.
Tomie knows that people have the power to do that for each other. How does she know? Well, for one thing, she's Tomie, and for another, she went Outward Bound. Tomie and her crew know that our compassion and our appreciation for one another is transformative.
Please join VOBS in appreciating the compassion of Tomie, Moises, Jesse, Isis, Viv, Jane, VOBS instructors, Chris and Clara, the Stillpoint Engage team and organizations like, 612 MASH, Irreducible Grace and others who stand alongside these young community leaders to support their neighbors. VOBS is humbled by their courage, tenacity and hope.
VOBS deeply appreciates the donors and foundations who make Outward Bound possible for young leaders like Tomie and her compassion crewmates.
Your contributions make the next Stillpoint expedition possible. We couldn't do it without Tomie and her crewmates, Jane or Viv, and we can't do it without you.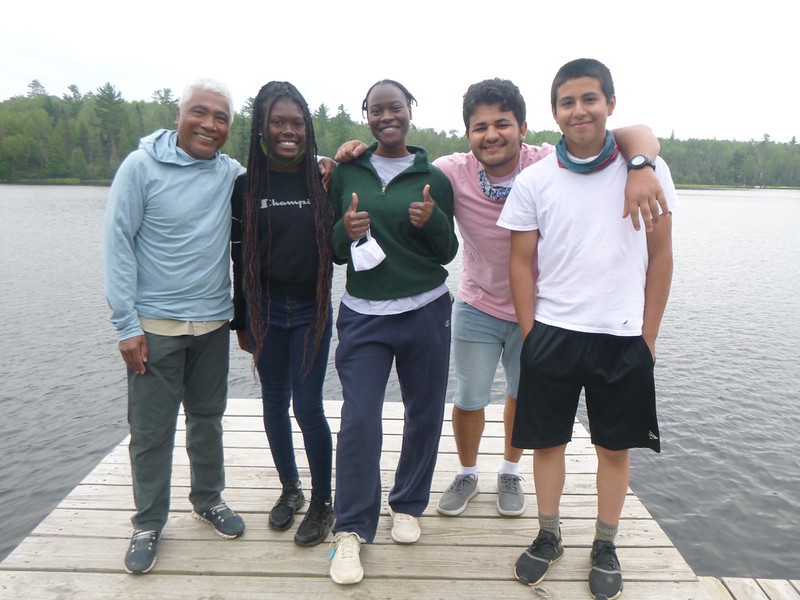 BREAKING NEWS:
As of this writing, Moises and Jesse have both signed-up to go Outward Bound again! Moises aims to become a VOBS Instructor and bring his trauma-informed care skills to Outward Bound. He will head out on both a Pathfinder and Leadership Semester course in 2022. His cousin, Jesse, is also enrolling in another leadership expedition, and thinking about becoming a VOBS Intern as soon as he's old enough.
Thanks to our new VOBS Scholar Initiative, and generous donors, Moises and Jesse only have to invest time — their leadership expeditions are tuition-free.
About the Author