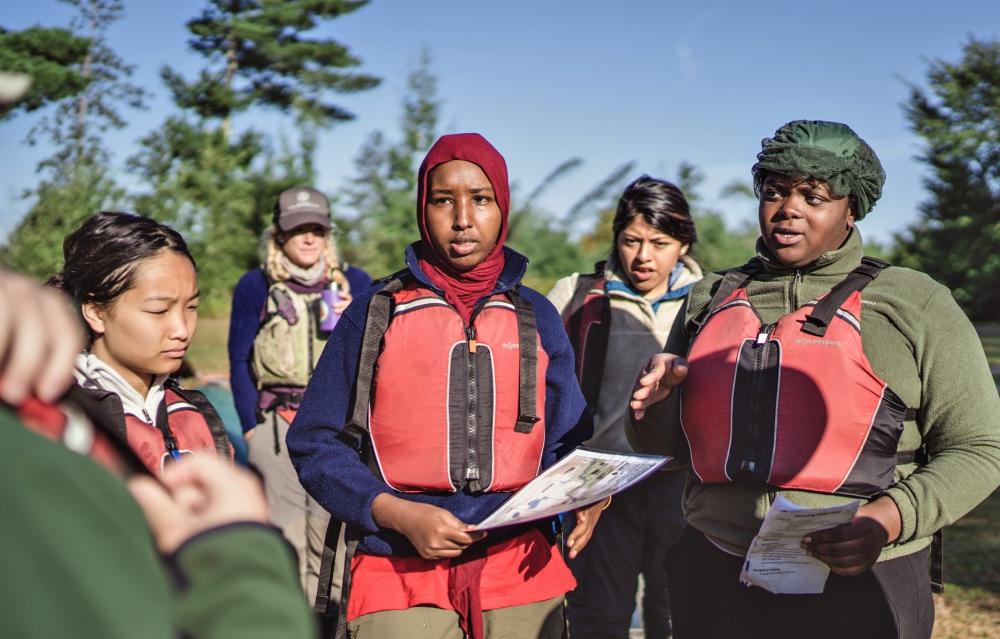 "Up until maybe the last day, I didn't realize the importance of this experience. But when I woke up today, I realized I would miss every single thing about this trip. If you open yourself up, Outward Bound can be transforming, you can be a better version of who you are, and who you want to be."
VOBS Expedition Alum, Open World Learning Community
Greetings VOBS Friends,
Today I'd like to inspire you, our community, with a few stories of transformation.
Why?
Because we plan to resume programming for students this fall, and we need your help to serve this mission.
Outward Bound's vision is a more resilient and compassionate world. We want to change, or transform, the world for the better. What is our role in transformation? We change lives through challenge and discovery. We help people–primarily young people–develop leadership skills to activate their own potential, and contribute to their communities. In the past, we've heard a clear call to action for leadership development:
Our communities need resilient and compassionate leaders.
This is still true, and VOBS is still going to answer this call when we resume programming this fall. The challenges have always been many, and now, together, we must navigate an unprecedented global health crisis, economic crisis and a reckoning with racism. We know that these crises affect the physical and emotional health of young people, and challenge us to support the next generation of leaders with programming that promotes resilience and wellness. If young people are to lead and transform the world tomorrow, we must prepare them for the journey ahead.
Coronavirus has temporarily suspended VOBS programs this summer. The pandemic seriously threatens VOBS' financial health, and, more importantly, it has interrupted our work with young people. The pandemic has forced us to halt programs at a time when young people need connection and belonging. Coronavirus has forced VOBS to implement staff salary reductions and furloughs (unpaid leave), just when we need all hands on deck to create new safety protocols and new programming for our students. We have a lot of work to do today, so we can serve our students to the best of our abilities starting in September.
From virtual curriculum, to trauma-informed care, new safety protocols and best practices in equity, inclusion and diversity, we need to be ready to meet student need by the end of the summer. VOBS will help young people recover from an unprecedented year. Our communities are challenged to rise to the occasion, and so are we. Passion, hard work, selflessness and sacrifice abound in our neighborhoods, and among our staff. This is a time of general uncertainty, but one thing is certain at VOBS:
We will continue to change lives.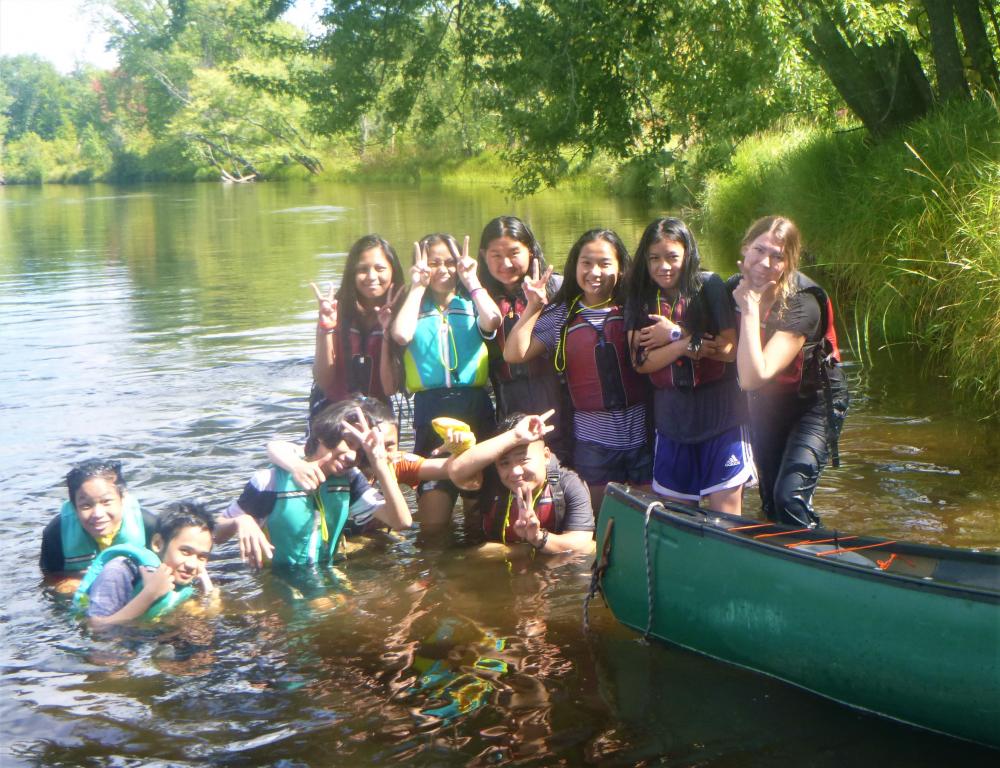 We will stay the course because we are needed, now more than ever. Young people are the future and VOBS will help youth prepare to lead.
Resilient young people will lead the way forward. They will collaborate to tackle pandemics, poverty, climate change, political discord, injustice and racism. This is a tall order. How will they solve these problems? They will lead, as all great changemakers do, with compassion.
To lead with compassion is…
…to enact integrity, excellence, inclusion and safety.
…to lead with and for others.
…to be humble, yet bold.
…to work toward belonging, strength and purpose.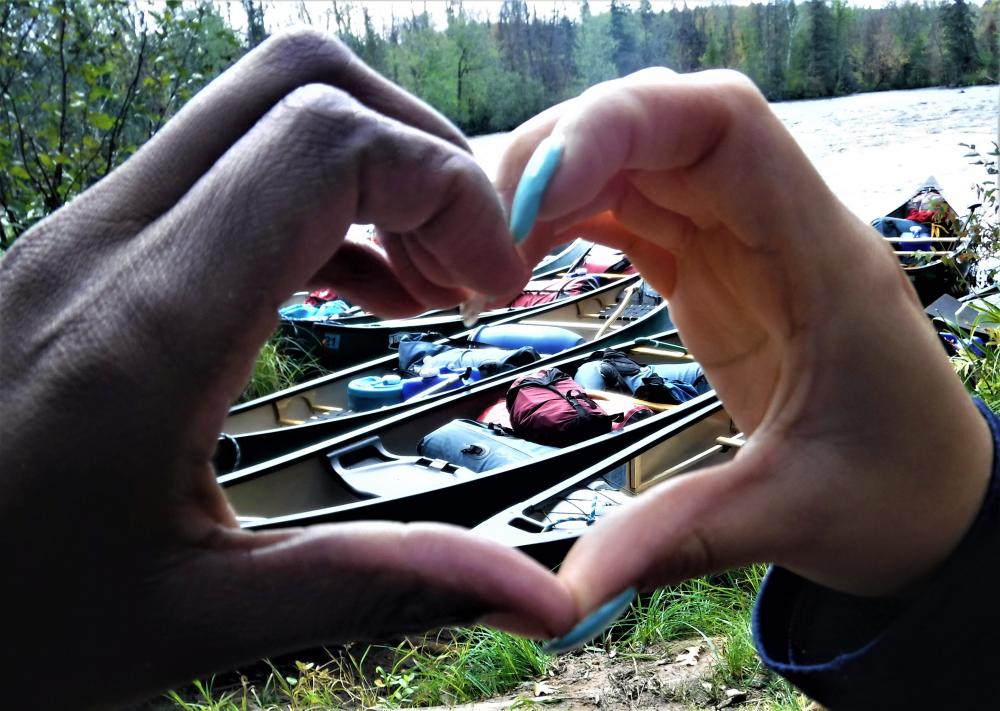 We do this work together. With students, with community partners, with stakeholders, donors and staff. Today, I would like to share a small sampling of our shared endeavors and the fruit of our labor: transformation. I hope these diverse perspectives on changing lives through challenge and discovery inspire you to help us resume programming with a donation today. We need your support to serve again:
"When I went Outward Bound, I learned how very little one actually needs to survive healthily and happily. I learned I was much more capable than I ever would have believed. I overcame tremendous mental and physical challenges to reach my destinations daily. Exhaustion was a constant companion. The mud was brutal. I still have scars from all the mosquito bites. But I have palaces of memories, and mountains of life lessons that I would not have learned any other way. My daughter had been going through a very rough time and I thought Outward Bound could provide her with a similar experience, and it really did. I think Outward Bound should be a national mandatory experience for anyone physically able to do it. The emotional and mental skills the program and your team provide are just phenomenal. I don't know anything else that comes close and I will just be forever grateful that you guys exist and do what you do. It is so unique, so deeply needed and so valuable."
VOBS Expedition Alum & Intercept Parent Alum
"VOBS has positively and significantly impacted our students by providing unique and once in a lifetime opportunities for them. Most, if not all, of the students we send on these experiences have little to no experience in the outdoors, and would not be able to engage in these opportunities normally. The biggest impact we have seen in student growth is in self-efficacy and an overall feeling of community. Most of the students that signed up at the beginning of the year did not know anyone else participating, but because of their shared experience with VOBS, a core group has formed and are regular program attendees. Most of the students displayed little to some confidence at the beginning of the year, but now they are proud and confident individuals. VOBS has provided them with an opportunity to learn grit and persistence to face challenges, and the confidence to find support and solutions to overcome anything."
Nathan Field, North Hennepin Community College Partner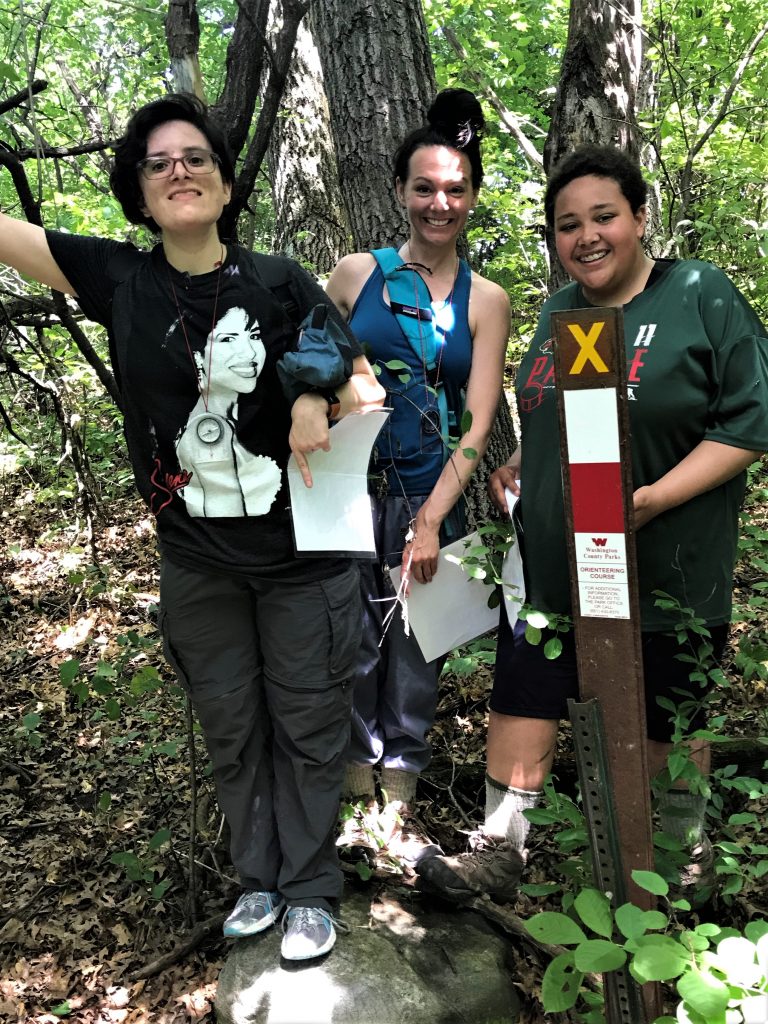 "We have been thrilled with our partnership with Outward Bound. I am impressed that the VOBS staff continue to make a HUGE effort to learn more about how to best support our population (youth with fetal alcohol spectrum disorders-FASD). Just this month, one of our youth was having a mental health issue, and the staff knew how to identify the issue, and help calm and support him. Also, oftentimes youth with this disability feel isolated and struggle with connecting with peers. The team-building activities during our Insight days have been incredibly valuable. By the end of the day, many youth express that they feel like they've made friends."
Marissa Lang, Proof Alliance Partner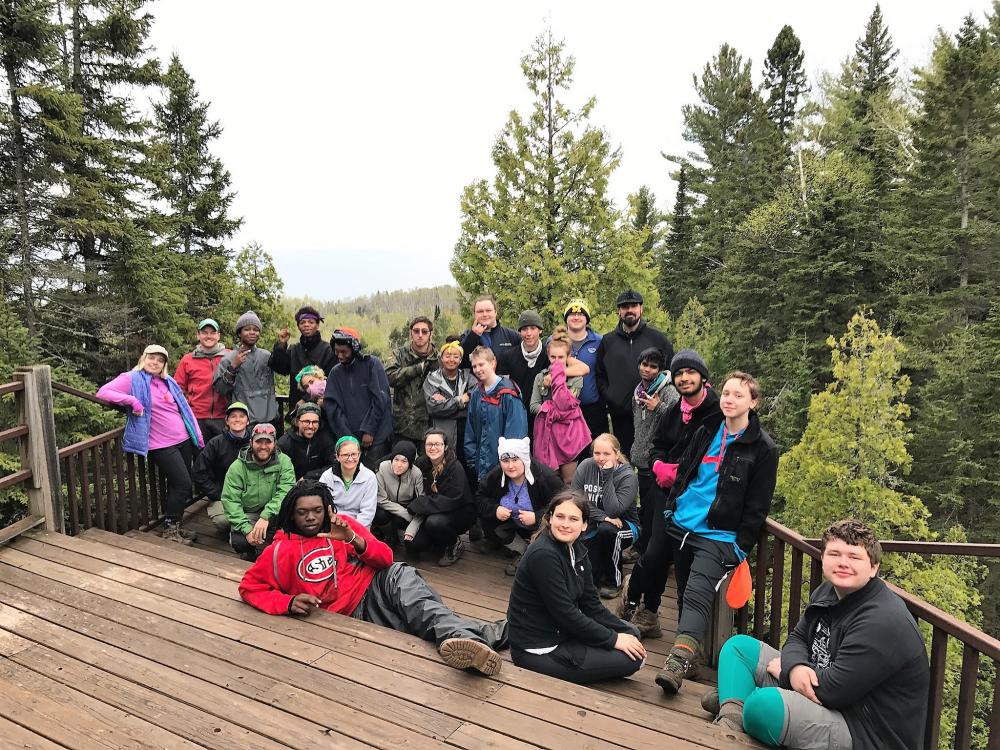 "River's Edge Academy has been partnering with VOBS in many forms throughout the last decade. Our partnership with VOBS helped develop our school's identity as an experiential learning high school. From overnight hiking expeditions along the North Shore of Lake Superior, to day trips rock climbing and snowshoeing in the greater metro area, VOBS has helped provide our students with unforgettable experiences that foster a strong sense of community. REA is a small high school with enrollment capped at just 80 students, so it is critical for our students to build this sense of community early on in their school careers. This year, our 9th graders are participating in monthly Insight Days with VOBS and those students have grown tremendously as individuals and as a community. As one student put in when they came back from a cross country skiing trip: "It was really hard, but it was dope."
Ava Buchanan, River's Edge Academy Partner
"It feels like my whole life has been practice, and now I have proven myself ready for the real thing…I have stopped thinking of failure as an ending, and started thinking of failure as a method of learning."
VOBS Expedition Alum
"My instructors really believed in me and made me feel welcome. My peers and instructors were the reason I had so much fun… they believed in me, even when I didn't believe in myself."
VOBS Expedition Alum, Sejong Academy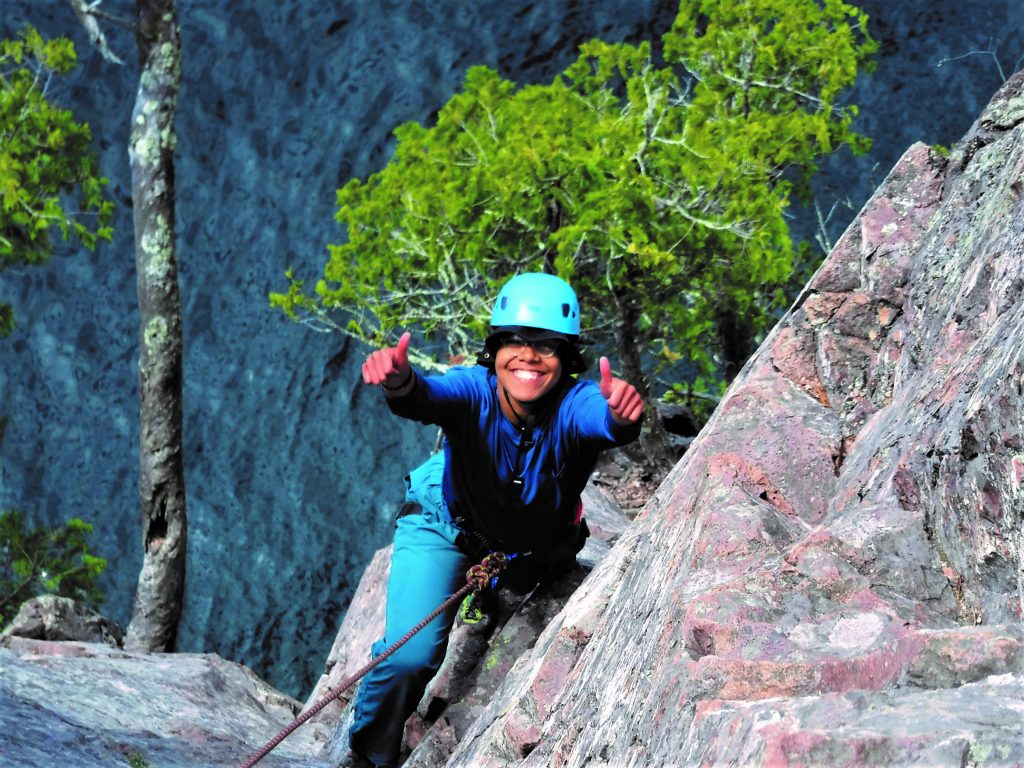 "Somewhere between the grueling miles with a 50lb backpack and learning to survive for a week in the woods, I grew as a leader and person. It was during our longest hike and after one of our toughest climbs that we had the vantage point of seeing most of the miles we had completed that day. I was able to appreciate the peaks we climbed, the river rapids we had crossed, and the vast lake we had traversed. It was from this perspective that I came to the realization that I am strong, and able to accomplish anything. Throughout the rest of the trip I felt empowered, and was able to apply my leadership style to enhance our group's dynamic. I never expected to grow as much as I have. I can honestly say that I am now a different, better, person."
VOBS Expedition Alum, University of Southern Mississippi
These testimonials of change give me hope that we can tackle daunting challenges if we work together. We can make a difference in the lives of young people again. We have a long road ahead of us this summer, but come fall, VOBS plans to resume a combination of in-person and virtual programming across our three sites. We'll start with Homeplace programs in Ely in September, followed by Twin Cities programs in October and then we'll resume Big Bend, Texas programs well before the New Year. Please help us get the word out about fall programming and share this good news with your friends so we can enroll students and serve our mission.
We have an ambitious timeline for program resumption, and we're leading the way in outdoor education when it comes to risk-mitigation and safety. The work may be challenging, but we are confident because, like our students, our team has discovered that there is more in us than we know. We too are crew, not passengers. In true Outward Bound fashion, as we tackle major challenges together, we discover greater resilience and absolute dedication in pursuit of our goal. Today we invite you to join our crew and work toward one important goal with us:
To continue to change lives through challenge and discovery.
So far, 2020 has been tough, for all of us, but it has taught our team that every individual can make a contribution to solve problems, achieve goals and pursue dreams. Join our crew. Make a contribution. Lead with compassion to help young people lead with compassion. Together, we can build a more resilient and compassionate world.
Thank you to the VOBS team and Board, our partners and our champions for your hard work and dedication. We look forward to celebrating with you when we resume serving students this fall!
About the Author