Photo Credit: Jon Reynolds
Ruby Simione is a VOBS Instructor who works out of Twin Cities Center, our urban base in St. Paul, Minnesota. Ruby joined the team in spring of 2019 and then instructed a Leadership Expedition in July. This particular Expedition was designed to support social-emotional skill development for college-bound high school students enrolled in the University of Minnesota Upward Bound program.
Upward Bound is part of a "TRIO" of legislated student service programs across America that support first generation and historically underserved young people. TRIO provides both college preparation and support once a student lands on campus. Upward Bound and Outward Bound have more in common than a name; both educational institutions have been around since 1964, and both strive to prepare students for the opportunities and challenges of home, school and career.
Each summer, VOBS and Upward Bound/TRIO team up to put rising juniors on course for success. This year was no exception. In July, three crews of students embarked on a six day St. Croix River Leadership Expedition to build community, practice skills and leverage leadership: belonging, strength and purpose…in canoes.
Junior year is challenging. Coursework, standardized testing, volunteering, working, college planning– it all takes dedication, know-how and grit to get through this pivotal year. If you are a first generation student, you bring some skills and strengths to these challenges. First gen, college-bound students can be amazing multi-taskers– holding down jobs, caring for siblings or translating mortgage documents.
In addition to making the grades in school, students often have strong value systems and rich cultural traditions. In other words, they have everything to offer our communities as future leaders. Outward Bound recognizes that students already have unique and diverse assets, so our approach is to help students identify those strengths and grow their capacity to lead.
Ruby, like all VOBS Instructors, is humbled by the opportunity to work with young people. She leans right into our vision of more compassionate and resilient people, for a more resilient and compassionate world. We hope you'll enjoy reading Ruby's reflections on working with our future leaders. A heartfelt thanks to Ruby, the brave Expedition students and to Upward Bound. We value your partnership!
Six
I'd never been tearful at a course end before. I stood next to my Co-Instructor, Nick, and watched the eight young adults I'd come to know so well over the past six days join twenty more of their peers and clamber aboard the bus. That bus would take them back to their families and they'd embark on their next adventure, without us. I couldn't hold back a swell of pride, gratefulness and grief as we waved good-bye.
In the flurry of course-end activities–rock climbing, lunch and graduation — I really hadn't had much time to process how deeply I had been affected by our six days together. It hit me all at once. As bus windows lowered and outstretched hands flapped farewells, images from our Expedition flitted through my mind.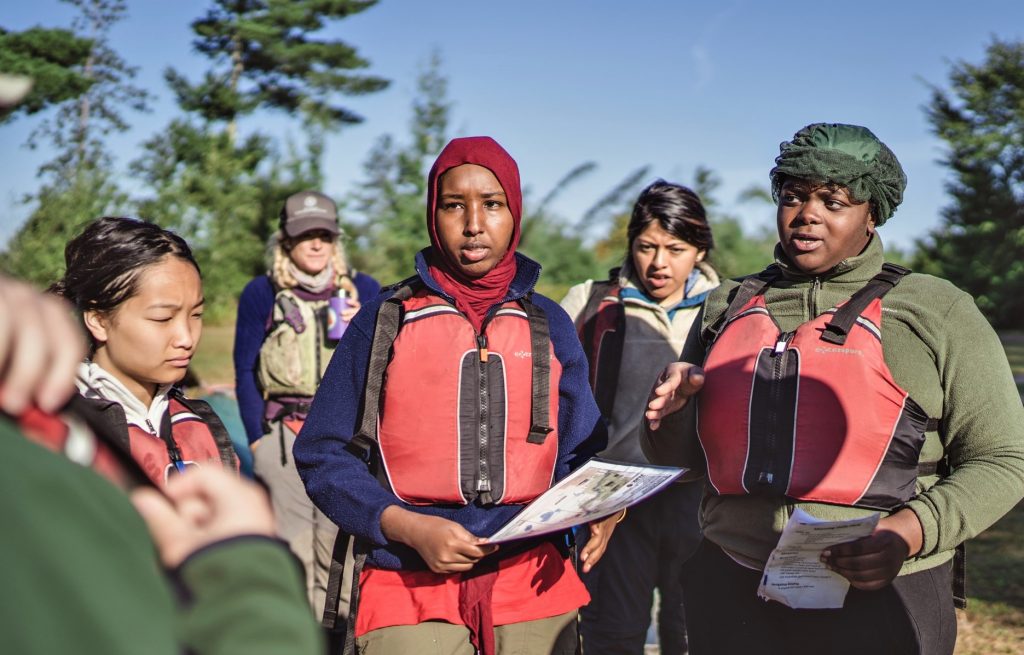 One
The students were stoic and quiet as they disembarked from the van on day one. They listened silently as we walked through Duffle Shuffle, and they studiously filed away information about canoeing and river safety during training. Many students started the course unable to swim. In a few short hours, they began to wade into the current of the St. Croix River, stand against its gentle pull and tentatively lower themselves into the water, testing the buoyancy of their personal flotation devices (or better known as PFDs).
Despite that initial shyness, Nick and I soon discovered that these students were indeed willing to be heard. When Nick called, "TRIO?" they shouted a response: "Works!"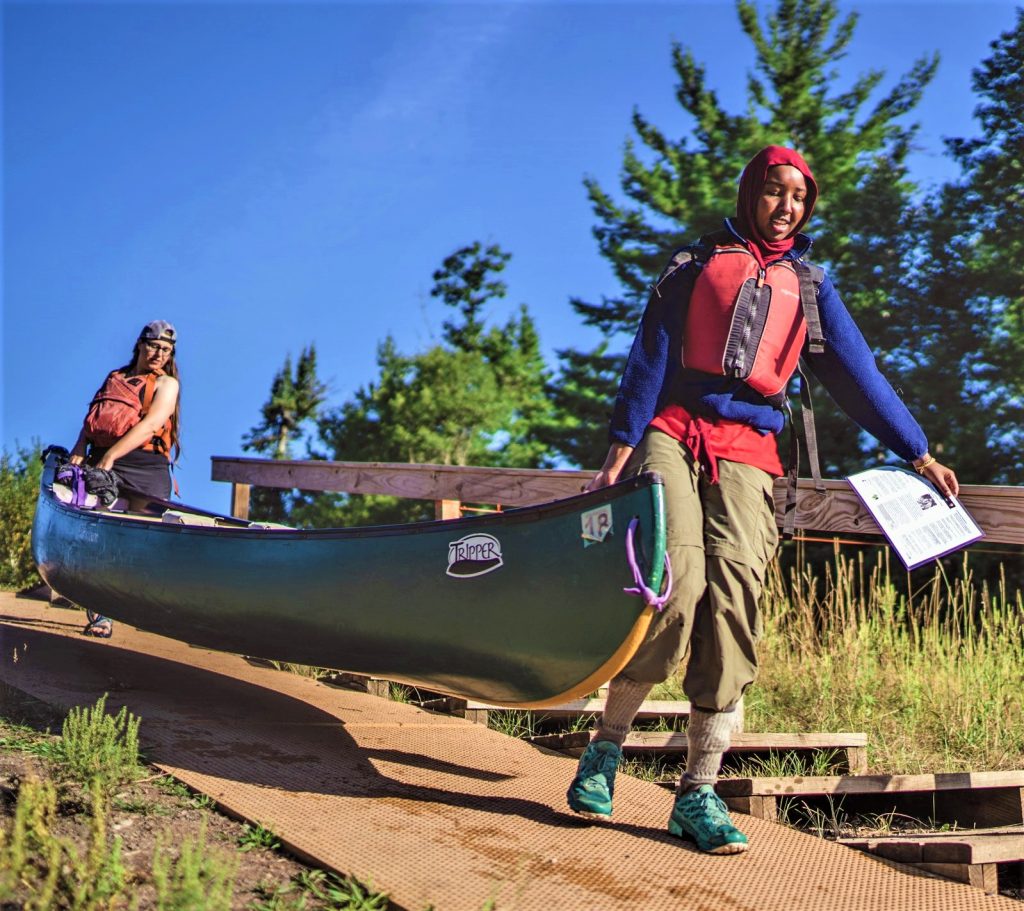 Two
One student shared his fear of water on that first day, but he volunteered to help me pull the boats into the river on day two. It was Immersion Training day. He stepped from the shore, waded out into the current and watched three boatloads of his peers purposely capsize. He was the first to jump into the boat, paddle in hand, for the fourth round of dunkings that day.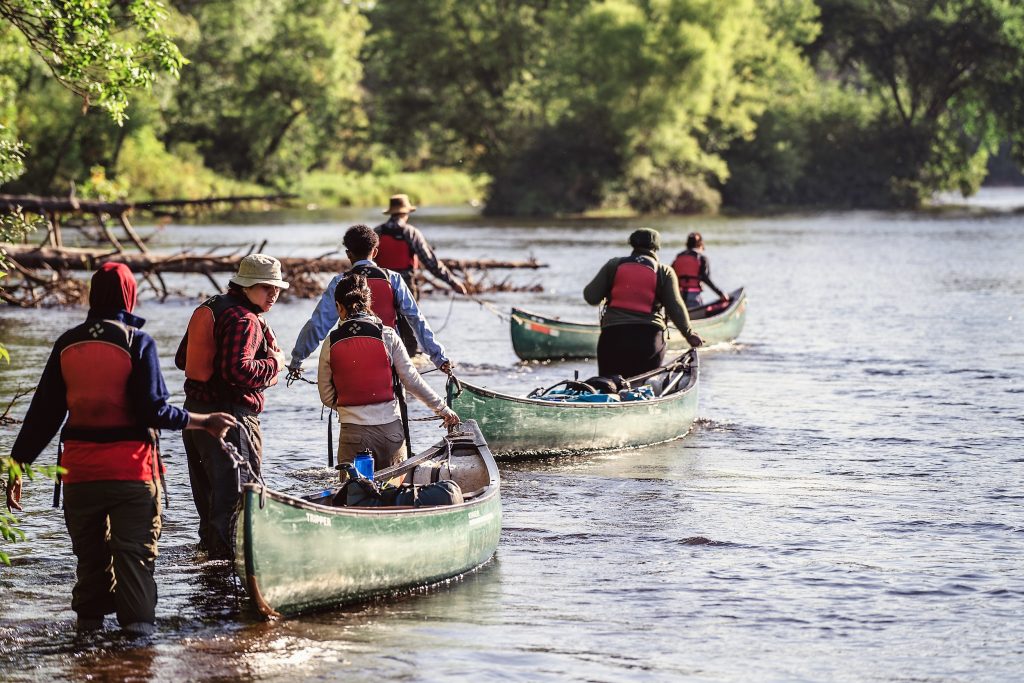 Three
"I love the sound their wings make," I whispered.
It was day three and we were crowded around a picture window in a small natural history museum. The window framed a hummingbird feeder teeming with the tiny iridescent birds. As we filed out the back door, onto their deck and into their territory, the birds scattered. "Let's wait two minutes before we leave, and see if they come back," suggested Nick.
We stood for a moment in silence, enraptured, listening to the tiny vibrato thrummings of their flight paths whizzing over and around our heads, all of us grinning ear-to-ear.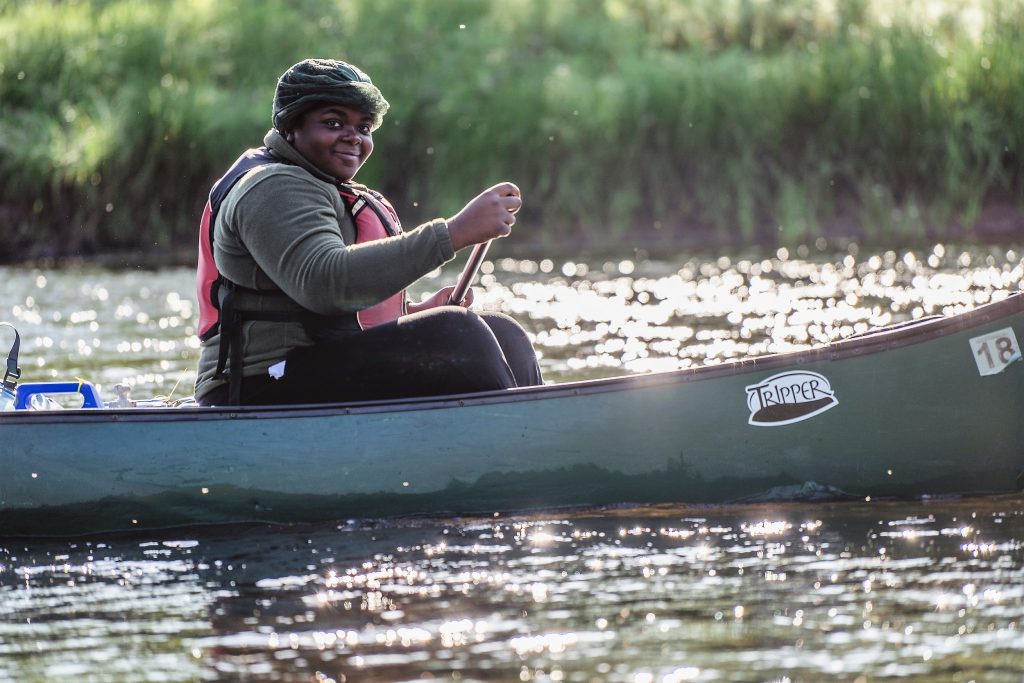 Four
On day four, I paddled in the bow (front) of the boat while a student sterned (back). The night before, in camp, during Evening Meeting, he had shared what we call a "constructive ownership," which means he identified something he could work on. He said, without prompting, "I think I did pretty well in the stern today, for being new at it. And there's a lot of stuff I still don't know that I'd like to get better at– like where to go in the river. So I'm gonna keep working on it."
And here he was, sterning again, peppering me with questions about hydrology as we cruised through the whitewater at the head of the rapids. He skillfully steered us away from pillow rocks and into the deepest part of the current. When another boat got stuck on a tricky cluster of rocks, he signaled for the rest of the group to hold up and then safely maneuvered us into position to help the boat in distress.
At lunch that same day, we sat for a long time in the shade of several large oak trees at a riverside campsite and talked through an activity called Pivotal Points. For this activity, students each share three different occasions or events which have caused their lives to change direction. These Pivotal Points tell the story of how they got to be who they are today. For many students, hardship and loss were part of that journey.
When I was nine, my grandmother died . . . my mom moved out to Minneapolis, but my dad stayed in Chicago. Me and my brother went with my mom.
For sixth months last year, my family lived in a homeless shelter because we had to get out of a really abusive living situation.
I had to protect my little brother from getting bullied when we were growing up. It made it hard to feel like a kid most of the time.
They held each other gently through these moments of revelation, listening and empathizing as tears were shed.
What was her name?
You're not alone.
That was really brave of you.
Some students had never before said these things out loud to another living soul.
Now they saw the similarity in their experiences, and this recognition seemed deepest of all.
I never really had good grades before, and then I joined TRIO.
For a long time I had a really hard time trusting people or feeling like I could make real friends, but that's different now that I'm in TRIO.
The women in my family don't really go to college, they usually just stay at home. I used to think that's what I would do, too, but now that I'm in TRIO I see that I can be the one to change that expectation for my younger sisters.
When we arrived at camp that afternoon, the expert in the stern spontaneously appreciated me for the one-on-one guidance I had shared with him, and then he recognized his own hard work.
I can't believe how much I improved my paddle skills today, especially after feeling like I was never going to get any better.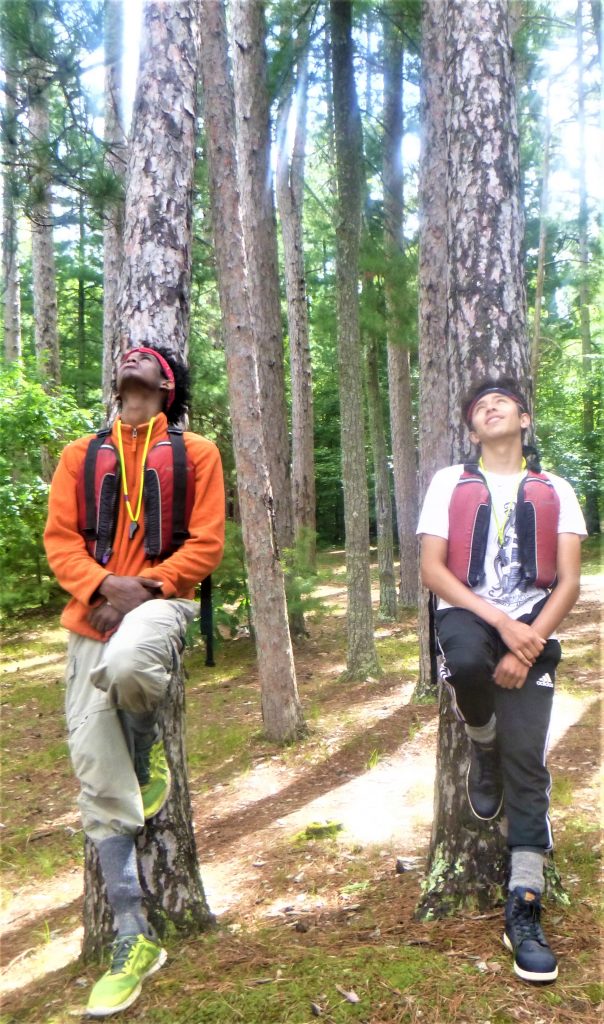 Five
On day five, a student shared his Solo experience with the group. Solo is a powerful element of our Outward Bound curriculum. Near the end of every course, as students are moving into greater autonomy, they are invited to spend time alone, resting and reflecting on their journey, and what they have learned. They have no phones, no peers, no distractions– nothing to do but care for themselves, think and write. On a longer Expedition, Solo might be several days, on shorter courses, it might be a single day, or a few hours. The student shared that for the first time in his life, he spent three whole hours totally alone with his thoughts.
At first, I couldn't get comfortable. I was feeling really scared and paranoid, like everything around me was out to get me. And then I heard an owl hooting, and it reminded me of something, an experience from my past, and made me feel safe . . . Listen! There it is again!
We left camp in record time that day, and paddled the fastest eleven miles I have ever travelled with students. Morale never flagged, and students held each other accountable to some of their most ambitious time-goals for breaks, snacks, and arrival at our pick-up location.
And then, on day six, they were gone. Just like that.
Truly Outward Bound
As the sound of the diesel engine faded, images flitted through my mind, like so many hummingbirds. Then my mind stilled and one powerful thought swept over me.
The things these students had shared, what was most precious, was the space they had created for vulnerability. They had been brave enough to create a space to be themselves– to laugh, to discover, to try, to fail and to try again.
That bus was driving away into the future with a cargo of hope, and it was so much bigger on the inside. It was filled with belonging, strength, and purpose, with young people uninhibited by the fear of failure. They were truly Outward Bound.
I am proud of the students' bravery and tenacity in the pursuit and maintenance of this vulnerability, this space to strive, and I am so grateful to have had the opportunity to share this space with them.
Now they have the tools to rebuild this space wherever they go. Even when things get tough, when they lose connection, or their confidence flags, these students have the strength and skills to lead with compassion. I know how capable they are, but it's a little painful to know that our time together is over and their adventure continues, without us. They belong to the future now.
Outward Bound is for everyone. If you would like to learn more about partnership programs that lives through challenge and discovery, please reach out.
About the Author