"There is more in us than we know.  If we can be made to see it, perhaps for the rest of our lives, we will be unwilling to settle for less."

– Kurt Hahn, Founder, Outward Bound
Today we are pleased to share the VOBS 2021 Strategic Plan with our broader community.
We invite you to review the Plan and reach out with your questions or feedback. You will find that our 2021 priorities, goals and strategies are bold. The Plan is bold because VOBS must answer an urgent call to action today, for tomorrow.
This year, and in the years to come, VOBS will strive to meet the growing student need for compassion and resilience. Our communities and our world need compassionate and resilient leaders who are equipped to cope with challenge and solve problems together.
In the years to come, VOBS will serve more students, and a greater diversity of students, with challenge and discovery for sustainable leadership, and lasting community impact. 2021 signals our return to changing lives in-person across all three sites.
Ours is a bold, but flexible Plan, designed to respond to the emergent needs of our students, parters and stakeholders. We explored this plan in-depth with our staff earlier this week. Staff experience and expertise informed the 2021 Plan, and our entire team will review this plan quarterly to measure progress towards goals, and to evolve strategies as we pursue success.
Pursuit of our 2025 goals starts this year, with a nimble, responsive 2021 Plan to get back on track and deliver on our mission. This year, and in the years to come, VOBS will be relentless in pursuit of our mission. We have big plans. We will lead in leadership education by investing in our purpose, our people and our place. By 2025, we will be stronger, better and bigger; 2021 is only the beginning.
In 2021, VOBS plans to serve more than 600 students,
and conduct more than 12,000 student program days,
across all three of our sites.
In pursuit of our program goal to serve more diverse students at all sites, it is our objective to serve more than 300 students who identify as Black, Indigenous and People of Color. 350 metro community youth and young adults will participate in 123 Twin Cities programs. Almost 200 of these students will be in multiple touchpoint programming with VOBS from January to December of this year. We will deliver more than 182 programs across all three of our sites:
74 Expeditions
72 Virtual Programs
36 Insight days
We will reset. With our mission to change lives through challenge and discovery, we know how important it is for us to return to programming year round. And after a summer with no programs, in 2021 we will get back on track.
We will answer the urgent call to action. Our communities face unprecedented challenges. We continue to contend with deep-seated divisions, a global pandemic, racial inequities and economic crises. Today, these challenges require us to work with each other, our stakeholders and our students for a better tomorrow. Together, we will continue to develop compassionate and resilient leaders.
We will empower people. Any student should have access to discovery and transformation. As we know, our programs motivate youth and adults to lead with compassion and resilience – to transform their own lives and the lives of others. There is more in us than we know.

Our 2021 Plan is oriented to the conviction that every student has the potential to grow. Our 2021 strategies will eliminate barriers, promote awareness, increase inclusion and enroll a greater diversity of students. VOBS students will discover strength of character, aptitude for leadership and a desire to serve. They will change their own lives, the lives of others and their communities. VOBS alumni will go on to use their strengths and skills to create more compassion and resilience in their communities.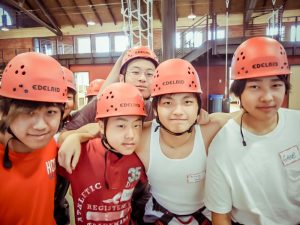 PROGRAM IS OUR PRIORITY
We will remain committed to changing lives. We will deliver safe and effective leadership programs, in the COVID context, where we are called to do so–online or in the wilderness, suburbs, and cities. We will engage students, families and communities in challenge and discovery. VOBS will empower people through hands-on experience. Our students will discover belonging, strength and purpose, and continue to cultivate key attributes of leadership: empathy, compassion and resilience.
We will strengthen program leadership and staffing. VOBS is a storied organization and we will keep innovating and leading the way, as we have since 1964. Outward Bound students will continue to build vital skills and habits for success: assertiveness, perseverance, courage, teamwork, belonging, self-awareness, social responsibility, reflection, self-regulation and confidence. Our team will continue to train to research-informed best practices in human development, and we will continue to improve our practice to support individual student success. Through intentional program structure, curriculum, staffing and student-centered delivery, we will create the conditions for life-changing learning today, and for many years to come.
We will partner to build compassionate and resilient communities. In 2021, VOBS will continue to be a humble partner in ensuring equity in our communities as we support schools and organizations directly serving students who identify as Black, Indigenous and People of Color. We will strive to eliminate economic barriers through robust tuition funding. We will continue to partner with schools, colleges, youth-serving nonprofits and businesses to enroll students and expand opportunities for relevant education that is responsive to all identities and experience.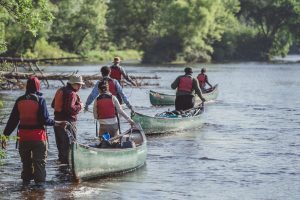 REVENUE IS OUR PRIORITY
We will fund challenge and discovery for more students this year. Compassion will be our compass. VOBS will secure $4.2M in 2021 to eliminate financial barriers and increase access to Outward Bound, change more lives through challenge and discovery, and build more compassionate and resilient communities. We will raise $2.2M via Annual Fundraising and $2M for the VOBS Endowment (to ensure sustainable impact). We will retain, grow and diversify our donor network by maximizing Marketing and Communications. We will call on compassionate change-makers and diverse alumni to join our crew and make Outward Bound possible for all.
We will reach more students. We will enroll more students on all VOBS courses, across all VOBS sites, through relevant, targeted, national and regional marketing. Personal and strategic outreach will maximize current regional and national partnerships, and activate new pipelines to enrollment, and discovery. We will maximize fill rates through improved service and systems, and we will optimize our course offerings through nimble calendar management and responsiveness to enrollment trends.
We will practice diligent fiscal responsibility for budget success and sustainability. We will manage our budget to an intentional loss of ($275k) in order to restore staff salaries and invest in our staff. With the help of a new Finance Director, we will manage VOBS' cash, investments and Endowment. We will carefully manage department budgets and lean into quarterly reviews to maximize fiscal oversight. We will improve payroll, accounting and customer relationship management systems for greater integrity and improved employee and stakeholder service.

PEOPLE ARE OUR PRIORITY
We will invest in our team. We will meet challenges with targeted improvements for reliable and equitable staff support. We will reinstate administrative salaries and institute field staff raises. We will hire a Human Resources Manager and a Finance Director to serve staff with improved systems (on-boarding, payroll, leave, benefits), intentional staff development and consistent oversight.
We will act on our value of inclusion. We will improve equity, inclusion and diversity. We will continue to listen to our community, our stakeholders and our students. We will partner with Youth Outside and VOBS stakeholders to audit operations, identify opportunities for growth and chart a course for sustainable action. We will continue to invite diverse voices to participate in tough conversations to improve our operations, and deliver programming that is relevant to and effective for the students and communities we serve.
We will strengthen our culture of community. VOBS' culture is founded on strong community. We are crew, not passengers. Through the pandemic and beyond, we will continue to challenge distance with connection. We will maximize internal communication channels for awareness, and exchange of information and ideas. We will host relevant, routine and reliable meetings and events for our team and stakeholders. We will analyze and share results of our Staff Survey. With employee input, we will conduct workload audits and train supervisors to support workload management. We will empower next level leadership via mentorship, Trustee support and relevant staff development events.
You help VOBS build a bright future, for a lasting legacy.
Outward Bound alumni are equipped and inspired to make the world a better place, and give back. Middle or high schooler, young adult or senior citizen— in the years to come, VOBS alumni of all ages will continue to return to communities with the skills and drive to make a difference. VOBS is a leadership incubator and we will continue to be a catalyst for lasting, positive change and an ethic of service beyond self.
About the Author